Community Raises $ 120,000 at Al-Shifa Fundraiser

A Pakistan Link Report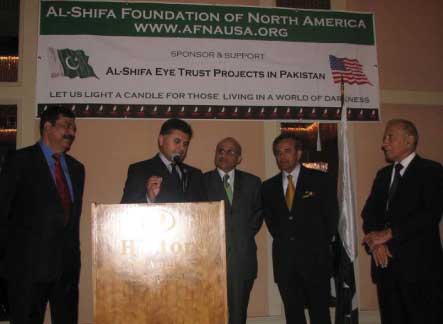 From left: Ahmed Ali, Najeeb Ghori, Tahir Zafar, Mansoor Shah and General (retired) Jahan Dad Khan
Los Angeles, CA: Pakistani-Americans are visibly unhesitant in feeling proud of their latter hyphenated identity. It is rare that they demonstrate pride on the first one, though their love for the motherland can hardly be disputed.
But on May 17, a fundraiser at the Hilton LAX saw prominent members of the community applaud a Pakistani institution and the man behind it. The laudatory remarks were spontaneous and uttered with a degree of conviction.
A number of community achievers - Ahmed Ali, Dr Mansoor Shah, Najeeb Ghori, Acting Consul General Ahsan Wagan, et al. – were unanimous in paying their heartfelt tribute to the Al-Shifa Trust and its patron saint, General Jahan Dad Khan.
The Trust's noble undertaking – providing sight to the sightless – and state-of–the-art equipment and services at its hospitals in Rawalpindi, Sukkur and Kohat were highly commended.
Since their inception, over four million eye patients have been treated at the three eye hospitals. An average of two thousand patients are examined at each center every day.
Acting Consul General Ahsan Wagan
In his remarks on the occasion, General Jahan Dad Khan paid tributes to Dr Mansoor Shah, Dr Badr Kurwa, Ahmed Ali and former Consul General Tariq Azizuddin for their sustained help in supporting the Al-Shifa Trust. He was also highly appreciative of the Al-Shifa Trust of North America and the sincere endeavors of its six chapters. "Let's stop the cascade of darkness together," he urged the audience.
"Al-Shifa Trust is the name that has given the hopes of light to the sightless in their lightless world," says a paper distributed among journalists by General Jahan Dad Khan. "Al-Shaifa Trust is a non-political, non-governmental, and non-profitable organization involved in the delivery of high quality eye care services for the past 20 years... Within a short period of its existence, the standard of eye care at these hospitals and its widespread, need-based prevention of blindness program led to the recognition of Al-Shifa Trust as WHO Collaborating Center and Center of Excellence for the prevention of blindness in East Mediterranean Region. WHO has recently awarded the international partnership award to the Al-Shifa Trust for its outstanding contribution s in the prevention and control of blindness.


Guests at the fundraiser
"The aims and objectives of the Trust are to provide free treatment to poor people… to provide mobile ophthalmic services and finally to rehabilitate the visually handicapped …Our future vision includes establishment of two more modern eye hospitals in Quetta and Muzaffarabad…"
Almost 75 per cent of all patients attending Al-Shifa hospitals are treated free. The Trust is able to meet only 30-40 per cent of its expenses from its own resources; the remaining expenses are met through Zakat, donations and support from philanthropists.
It was gratifying to see the Los Angeles community raising $120,000 for the Al-Shifa Trust on May 17.
-------------------------------------------------------------------------------------