Bapsi Sidhwa Honored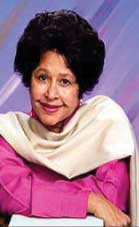 New York: Renowned Pakistani novelist Bapsi Sidhwa has won the Literature Achiever of the Year Award at the first ever South Asian Excellence Awards ceremony held recently.
Created by Sony Entertainment Television Asia, the awards have been instituted to honor the accomplishments of South Asian Americans in multiple categories.
Bapsi Sidhwa is one of South Asia's most distinguished writers. Her novels include The Crow Eaters, The Pakistani Bride, Cracking India, An American Brat, Water, and an anthology, City of Sin and Splendor: Writings on Lahore.
Winners of 10 categories were announced. Apart from Bapsi two other Pakistanis were among the winners. Ms Shazia Sikander, who was born in 1969 in Lahore and specializes in Indian and Persian miniature paintings, was given the Performing and Visual Arts Achiever of the Year Award.
Ms Lena Khan won the Entertainment Achiever of the Year Award. She is a writer and director of several films, including "A Land Called Paradise", winner of the LinkTV's "One Nation, Many Voices" short film festival.