Atif Aslam et al. Enthrall Los Angeles Audience

By Salma Ahmed

From left: Atif Aslam, Amanat Ali, Richa Sharma, Kailash Kher, and Atif Aslam
Long Beach, CA: Super Entertainment Inc. of Los Angeles organized a spectacular concert "Summer Beats 2008" at The Long Beach Performing Arts Center. The performers included the very famous Atif Aslam, Richa Sharma, Kailash Kher and Amanat Ali.
"The show in Long Beach rocked!" stated one audience, adding "…(it was) the best (show) ever!"
Amanat Ali, also known to fans as the "Golden Kid" from the TV show "Sa Re Ga Ma Pa" won the hearts of the audience.

Richa Sharma and Amanat Ali

Manoj Kay Tee, Bhalinder Bhalla, Atif Aslam and Virender Bhalla

Madhu and Manoj Kay Tee, Shahina and Bhalinder Bhalla, Atif Aslam and Reita and Virender Bhalla
He was one of the opening performers, his sweet voice and adorable personality brought roars and cheers in like the ray of a sunlit day. Ali was joined by Richa Sharma, who is best known for her number of successful Bollywood film songs. Her most recent hit "Billo Rani" literally rocked the crowd. Several members of the audience couldn't help unbuckling themselves from their seats to do a little belly dancing shake along.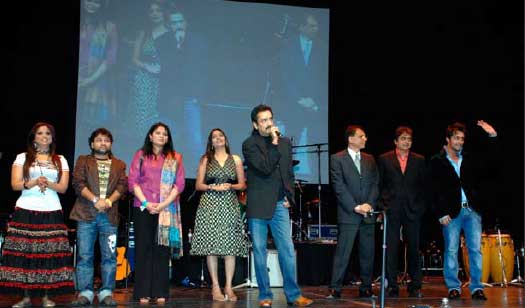 Manoj Kay Tee, Bhalinder Bhalla, Virender Bhalla, Atif Aslam, Richa Sharma and Kailash Kher on stage at the end of the show
The program continued with the playback singer Richa Sharma and Kailash Kher.
Kher is specially known for his soul music, his captivating voice and "Sufiana" songs. He brought a unique wave of energy to the whole audience when he sang "Allah ke Bande", a track from another hit Bollywood film.
This song brought more than half of the audience dancing on their feet. Kher also paid a tribute to the great Nusrat Fateh Ali Khan by singing "Sanu ek pal chen na away". This feature nevertheless touched every audience's soul.
After Kher, Ali was brought back on to the stage by a number of requests from the audience to sing "Tujh se naraaz nahin" which has contributed in a big way to Ali's fame.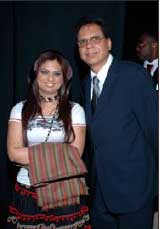 Richa Sharma and Bhalinder Bhalla
The concert was concluded by Atif Aslam who was long awaited by the cheerful and eager crowd.
"…I still don't have my voice back from yelling so much…," claimed an audience.
Like a grand finale, Aslam, was the ultimate highlight of the event. At the start of each of his songs, the echoes of the crowd singing with him were heard right away. Some famous songs Aslam sang included: "Who Lamhe" which is his original first hit, "Heeray" from Junoon and "Na Gilaff Na Lihaaf" from a Bollywood film. Besides, he also sang a number of his most recent hit songs.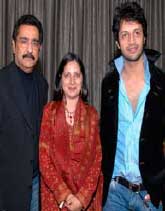 Madhu and Manoj Kay Tee with Atif Aslam

The audience drooled at his performance and overall rated the night as sensational and one of the best concerts yet. Aslam is known to this day as to be one of the most famous rock stars of the century. He brings award winning beats and music to Pakistan, India and many Bollywood films.
"The event was very well organized, everything went in a timely manner… it was great!" said Sameer Moosani, Vice President of LAX Promotions, Inc. "This show was a phenomenal success and was greatly enjoyed by everyone, predominantly Pakistanis and Indians of all ages. We would like to thank all sponsors, especially the largest Pakistani-American newspaper, Pakistan Link, for their patronage of this program."
Food catering was provided by the well-established and famous Pakistani restaurant "Shanawaz".
At the end of the show the organizers from Super Entertainment Inc. - Mr.Bhalinder Bhalla, Mr. Manoj Kaytee and Mr. Virender Bhalla - and Richa Sharma, Amanat Ali, Kailash Kher and Atif Aslam came to the stage to thank the audience and expressed special thanks to Mr.Sameer Moosani and YKKB from LAX Promotions for their marketing and promotional efforts.
Super Entertainment also announced their upcoming event "Unforgettable" which is scheduled for July 26th, 2008 at the Los Angeles Sports Arena. This show will host Amitabh Bachan, Abhishek Bachan, Aiswaria Rai, Preity Zintha, and others Bollywood performers.