OPEN Forum 2008
All Smiles & Well-Deserved Sense of Pride
By Ali Hasan Cemendtaur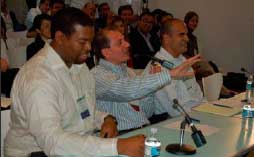 Lively and enthusiastic discussions marked the OPEN Forum proceedings
Word or phrase ever picks up then 2008 would definitely be known as the year of the 'change' mantra. Change is what Obama campaign has been promising to the Americans. And 'Leading through Change' was the theme of the recently held OPEN Forum 2008. Far from being an exclusive group of successful businessmen, OPEN (Organization of Pakistani Entrepreneurs of North America) is an organization that wants to promote the virtues of entrepreneurship.
Right from the very start when illegal immigrants from Europe took the risk of crossing a big ocean and reach the new world to start life afresh, entrepreneurship has been the most powerful theme of existence in the US. The system is set up to reward those who take risks. Silicon Valley is definitely the mecca of technology enterprise and OPEN-Silicon Valley wants to induce the spirit of venture in people who attend its programs.
On June 14, more than four hundred attendees of OPEN Forum 2008 got plenty of advice and tidbits from over thirty speakers and panelists, all but two men. To fit so many speakers in a daylong conference the organizers had arranged for proceedings to take place in three parallel tracks. This concurrent arrangement of events meant one had to make tough choices about presentations to attend.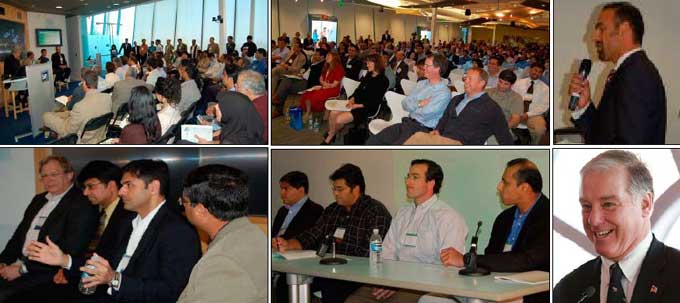 Pictures above and below : Glimpses of the OPEN meeting
This scribe, like other attendees, ran from one presentation to the other, to make the most of the largest Pakistani technical show in the San Francisco Bay Area. The first presentation he caught was a video conference with Mike Moritz of Sequoia Capital, a venture capital firm. Moritz was being interviewed by Adam Lashinsky of Fortune magazine. In response to a question about what should Pakistanis do to make it conducive for the venture capitalists to invest in Pakistan Moritz said the journey could be similar to India's wherein initially Silicon Valley's Indian-Americans started opening backend offices in India and the wider venture capitalist community learned from their experiences and gradually felt itself comfortable in investing in India.
The next presentation this correspondent attended was a panel discussion on "The Secrets of My Success" but he had to miss Sohaib Abbasi's speech in another hall. Dr. Safwan Shah, CEO of Infonox and co-founder of Chowk dot com, moderated the discussion. The panelists included Raghib Hussain, CTO, Cavium Networks; Imran Shah, Managing Partner, IBB Consulting; Dr. Naveed Sherwani, CEO, Open-Silicon; and Omar Hamoui, CEO, AdMob. The topic was pretentious and none of the panelists — they were all very humble -- was ready to claim that he had reached the summit of "success" but we did find out that the fear of losing a regular paycheck must be overcome before the journey on the entrepreneurial path can possibly be started.The next event in the same hall was a contest dubbed 'Entrepreneurial Idol.' Contestants described their entrepreneurial ideas to a panel of three judges.
By that time this correspondent had learned to slip out of one presentation and go to the other, to catch at least a glimpse of every concurrent show. In a room upstairs, a panel discussion on 'Opportunities in the Growing Pakistani Economy' was moderated by Michael Kaskowitz, founder and president of Sunaira. The panelists included Jauher Zaidi, CEO, Palmchip; Faizan Buzdar, CEO, Scrybe; and Faraz Hoodbhoy, Founder and CTO of Pixsense. Here we learned the challenges of operating a business in an environment of weak infrastructure and political instability. We found out that even with all the undesirable aspects of the Pakistanis society, it is a good market for the businessmen because of the sheer number of the customers.
This scribe was soon back in the big hall where Mahmood Panjwani was introducing Steve Westly. Westly, ex-Controller and Chief Fiscal Officer of the State of California, spoke on 'CleanTech and Emerging Markets'. We found out from Westly that the fastest growing economy in the world is not that of China, not India, it is that of Colombia. He also told the audience that presently one-fourth of smoke responsible for creating smog in Los Angeles comes from China! Westly thought the next technological breakthrough needed right now was that in energy storage.
This correspondent could only get a glimpse of a panel discussion on 'The Next Billion-dollar Opportunity: Where are the VC's Investing?' Waheed Qureshi, founder of Zenprise was the moderator and panelists included Ayaz Ul Haque, General Partner and Managing Director, ePlanet Ventures; Ryan Floyd, General Partner, Storm Ventures; Sujit Banerjee, Partner, BlueRun Ventures; and Saeed Amidi, Founder, Amidzad Ventures. Concurrently, Munawar Hidayatallah, Chairman of the Board and Chief Executive Officer of Allis-Chalmers Energy, spoke on 'Global Opportunities in the Energy Sector'.
Upstairs, a panel discussion on 'New Opportunities and Rules for the Global Entrepreneur' was moderated by Saad Khan. Panelists included Maurice Gunderson, Partner, CMEA Ventures; Tariq Samad, Chief Scientist, Honeywell; Dr Atul Kumar, VP SaaS Ops, Serena Software; and Rehan Jalil, President and CEO of WiChorus.
Back to a hall downstairs this correspondent caught Pakistan's new Ambassador to the US, Husain Haqqani, speaking on 'Investment Climate in Pakistan.' Ambassador Haqqani told the audience that whereas he submitted his credentials to the US just days ago, he decided to attend OPEN Forum 2008 because he wanted to meet the Silicon Valley Pakistanis. Haqqani was a good choice to be a speaker at an entrepreneurs' conference because what can be more enterprising than politics, where one day you are on the street protesting a regime you consider hostile towards you and the next day you are at the helm. Ambassador Haqqani asserted that the era of confusion about what Pakistan was about was now gone and that the country had finally embarked on a democratic path from which it would not be derailed. Describing his expectations from expatriate Pakistanis, Haqqani said, "Your investment (financial) is obviously very important, but your involvement is more important."
Another peek taken was that of a panel discussion on 'Bootstraping Your Business from Zero to Millions.' Arif Janjua, Partner, Boston Consulting Group moderated the panel discussion and Amir Wain, CEO, I2C Inc.; Kerim Baran, CEO, Yonja Media; Zulki Khan, Founder & CEO, NexLogic; Zain Jeewanjee, Founder, Insure1234.com; and Faraz Syed, CEO, DeviceAnywhere were the panelists.
A concurrent panel discussion on 'Participating in Global Social Change' was moderated by Lucy Bernholz, President, Blueprint Research. Panelists were to include Troy Stremler, Founder and CEO, Newdea; Mari Kuraishi, President, Global Giving; Charles Slaughter, CEO, Living Goods; and Mark Ward, Sr. Administrator, USAID Asia Bureau.
The breakneck-paced — and inspiring — exposition ended with the speech of Howard Dean, the ex-governor of Vermont who presently chairs the Democratic National Committee. Dean was welcomed by OPEN Silicon Valley President Dilawar Syed. Dean's speech on 'Leadership and Empowerment' was mostly about his role in making Democratic Party gain grounds in the conservative states (which have historically gone to the Republicans). Dean predicted the Democratic Party to be the future party of the US, and the Republican Party that fields "candidates that look like actors from the 1950s TV shows" (all White) to soon become a party of the past.
-------------------------------------------------------------------------------------