Pakistanis Should Be Proud of Recent Elections: Sen Kerry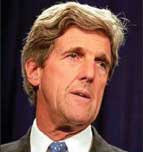 Washington, DC: Senator John Kerry, who has visited Pakistan more than once, has said that the people of Pakistan should be proud of the recent elections and the peaceful transfer of power to a new assembly and government made up of opponents of a sitting president and should give this new setup an opportunity to work.
At a reception hosted by Democratic party activist Shahid Ahmed Khan in Farmingham, Massachusetts, Senator Kerry recalled that during his election monitoring visit, he and his Senate colleagues had met all major political and military players.
He indicated that there was solid support among his colleagues for the expanded development aid package of $1.5 billion a year to Pakistan for education, health and job creation. He said winning hearts and minds at the grassroots level was very important as it would improve the lives of ordinary Pakistanis. He suggested that the Pakistani-American community could become involved in expressing its support for its elected congressional representatives for such an aid initiative. He encouraged the community to help shape details of the package.
Harassment: Kerry deplored the harassment experienced by people at US airports when they return from overseas trips. In his view, this was the result of how regulations were written and implemented by the current administration rather than any specifics in the laws that Congress had passed. Only a new administration in Washington could review and rewrite such regulations, he added. He asked the audience to become involved in bringing about change in Washington.