Karachi City Nazim Meets Boucher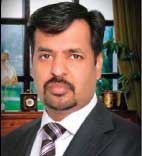 Washington, DC: Karachi City Nazim Syed Mustafa Kamal, who is currently visiting the US at the invitation of the US Department of State, has met Assistant Secretary, Bureau of South and Central Asian Affairs, Richard Boucher, in Washington DC.
During the meeting, which lasted for over an hour, Kamal discussed a host of issues with Boucher, including measures to develop Karachi on modern lines, besides the political situation in the context of the city affairs.
The Nazim briefed the US assistant secretary on the city government's plans initiated over the past several years to develop its infrastructure. These measures have been greatly helpful in overcoming problems like water shortage, sewage, sanitation, etc.
The Nazim told Boucher that the incentives offered by the city government had attracted foreign investment to the tune of $1.2 billion so far, and more investment was in the pipeline. He also discussed opportunities for American investors in the development of Karachi and assured the assistant secretary of full security for their investment.
The US assistant secretary appreciated the role and endeavors of the Nazim in the rapid development of Karachi. Talking to The News from Washington, Mustafa Kamal said he would meet Houston Mayor Bill White and propose to him to declare Houston and Karachi twin cities. Mustafa Kamal would also meet Congresswoman Sheila Jackson Lee during his visit to Texas.