Arizona Community Supports Barry Wong

By Yousuf Bhuvad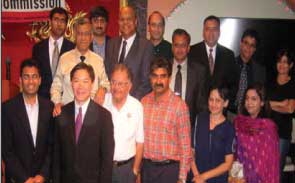 Members of the Pakistani-American community in Arizona with Barry Wong
Last week many key community members of the Pakistani-American community in Arizona attended a campaign meeting and dinner hosted by former Congressman Barry Goldwater Jr., in honor of Barry Wong (former Arizona State Legislature). Mr. Wong is beginning his campaign for the office of the corporate commissioner for the State of Arizona.
Last year, Arizona Governor Napolitano appointed Mr. Wong to be the corporate commissioner to fill a temporary vacant position. He will now be running to return to this position for the next four years.
The Pakistani community as well as other South Asian communities, are supporting Mr. Wong, because they have stakes in corporate investments, utilities, oil and gas, and in-corporation handled by the office of the Arizona Corporate Commission. Mr Arif Kazmi played a key role in bringing these communities together in support of Mr. Wong.
Some of the key community members present at the dinner were: Mr. Arif Kazmi; Mr. Uzair Qureshi, Intel Engineer and member of the PANSEP (Pakistani American Network of Scientists, Engineers and Professionals); Mr. Asim Ameer, column writer for the Arizona Republic Newspaper; Mr. Tariqullah, businessman member ABOA (Arizona Business Owners Association); Dr. Azhar Jan, member APPNA (Association of Pakistani Physicians of North America); Mr Zain Rahman, businessman and Secretary General ABOA; Mr. Terek Khan , USA defense contractor, Ms. Shamsa Khan, Mr. Ahmer Syed, President PAN SEP; Dr. Asim Khawaja, President AZ. APPNA; Mr. Barry Wong; Mr. Mushtaq Khan, Senior Engineer; Mr. Tanvir Kayani, contractors representative; Ms. Yasmeen Kazmi and Ms. Sabra Rahman.
Mr. Wong and his team expressed gratitude to the community members at the dinner for their support in mobilizing over 18,000 registered voters just in one Maricopa County of Arizona.