Renewable Energy Gala at the United Nations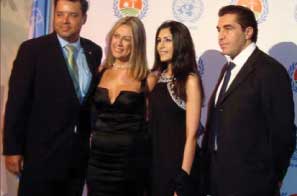 L to R: Founders of IREO Robson Mello, Rosely Saad, Natasha Paracha, and P. Zampoli
New York, NY: International Renewable Energy Organization-United Nations (IREO-UN) held a Renewable Energy Gala at the United Nations on Friday May 2nd 2008. The Diamond Awards for Renewable Energy event provided a launch pad for the organization and provided an opportunity to introduce the United Nations based NGO to the outside world.
Co-chaired by the Director of IREO, Natasha Paracha, the evening was dedicated to raising funds and awareness for renewable energy and green efforts. The event successfully brought together foreign dignitaries, distinguished diplomats, high-level business officials, and celebrities who have made it a common goal to protect our climate and foster change. Joined by 90 United Nations Ambassadors, the attendees included an impressive list of celebrities, including actor and activist Leonardo DiCaprio, supermodel and philanthropist-Petra Nemcova, music record label Damon Dash, supermodel-Naomi Campbell, billionaires Ivanka Trump, entrepreneur Amy Sacco, supermodel Ana Paula Juanquiera, CEO AsmallWorld Erik Wachmeister, Brazilian Olympic medallist Fernando Sherer, and entrepreneur Eros Ramazotti.
After passing the red carpet and being greeted by the founders of the organization; Paolo Zampoli, Robson Mello, Rosely Saad, and Natasha Paracha, guests entered the reception area at the United Nations.
The night saw public and private sector individuals sharing common goals and understanding about fostering development through renewable resources. American Heiress Ivanka Trump and IREO's Director Natasha Paracha discussed how the two could work together to foster change through renewable energy and green initiatives in developing regions.
IREO and the United Nations aim to contribute to the global battle against environmental degradation through the implementation of pilot projects designed to educate, promote, and expand the use of renewable energies around the globe.