COPAA's Memorable Eid Milan Party
By Shaista Khan
Pictures by YKKB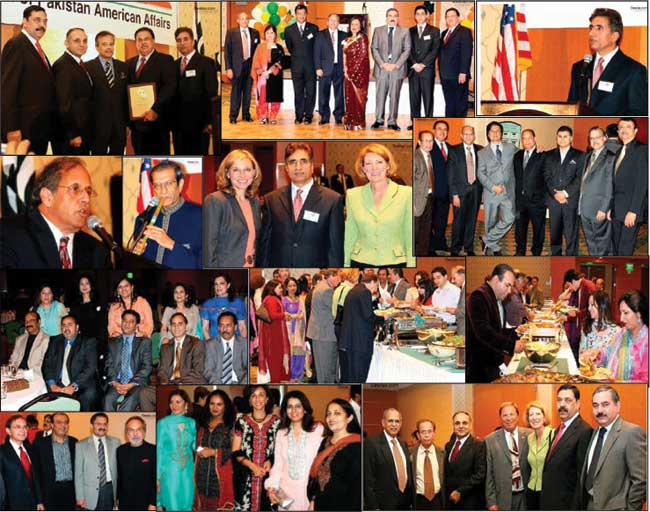 Pictures above: Glimpses of the Eid Milan party organized by COPAA
They came in celebrity style to attend COPAA's eagerly awaited annual Eid ul Fitr party. The venue of the party was Anaheim's Hyatt Regency in Orange County.
Guests mingled in the foyer catching up with friends and family, tasting delectable hors d'oeuvres by Shahnawaz and an extravagant and delicious fruit display by Rubik.
After the social hour, guests proceeded to the main hall. Here several honorable guests including Consul General Syed Ibne Abbas and his enchanting wife Sadaf; Sheriff Sandra Hutchens of Orange County who accompanied Sheriff Lee Baca on his 2002 visit to Pakistan; Mayor Beth Krom of Irvine; Mayor Debbie Cook of Huntington Beach; and Muslim-American candidate Todd Gallinger for the City Council of Irvine, were present.
Once the guests were seated the proceedings began with tilawat by Ismail Keekeebhai, who was called upon to make the recitation from the Holy Qur'an, by the master of ceremonies for the evening, Javed Iqbal. Both Ismail and Javed are directors of COPAA.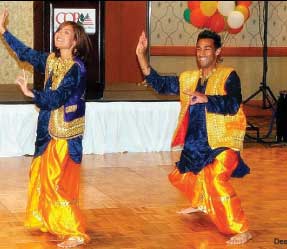 Bhangra performance by Kumba Entertainment
The talawat was followed by Dr.Razaq Chaudhry's speech. As president of COPAA since 2007 he outlined the Council's mission and achievements, especially in building relationship between public officials and the community. Details of these can also be found on the COPAA web site. Dr. Razaq then acknowledged the contributions of the past presidents of COPAA by presenting them with plaques. They included Ahmed Ali, Hamid Malik and Dr. Farhat Zubair. He then went on to acknowledge the hard work and dedication of the other Board Directors (Anila Ali, Firoze Fakhri, Javed Iqbal, Ismail Keekeebhai, Adnan Khan, Tanvir Khan, Nargis Kurwa, Farida Merchant, Hafiz ur Rehman and yours truly Shaista Khan).
Dr Razaq's address was followed by Consul General Syed Ibne Abbas' speech. He expressed profound appreciation for COPAA's outstanding community services and efforts to strengthen ties between the governments of the US and Pakistan. He went on to emphasize the importance of the community's participation in mainstream politics and asked the community to reach out and engage with officials at all levels - local, congressional and senatorial.
Consul General Syed Ibne Abbas went on to ask the Pakistani-American community to support each other more and to try to establish a center where they could meet. It could be called a club or a center and should serve the purpose of bringing the community together as no such place exists as yet in Los Angeles.
Following his speech came a mesmerizing flute performance by Dr. Budrudin Kurwa (his good wife Nargis Kurwa is one of the founding members and vice president of COPAA). An ophthalmologist by profession, Dr. Kurwa first played a Sindhi kaafi (a folk song) "Tere Pavandie saa" and then followed it with a very old song from the movie "Baeju Bawara" - 'Tu Ganga ki mauj mae Jumna ka dhara". His passion for the flute and music were certainly shared by a captivated audience.
The flute performance set the pace for a bhangra and dhol performance by Kumba entertainment who then topped off the evening with their eclectic sounds. Their DJ certainly knew how to get the guests "grooving" with the desi and non-desi beats.
The high-octane chatter coupled with a fashion display that would put a Dubai catwalk to shame were the charms of this beautiful evening. Those with their charged energy cells continued past midnight enjoying the memorable Eid party.
If you would like to join COPAA please go to the Council's web site at www.copaa.us
-------------------------------------------------------------------------------------