Ramadan at the California State Capitol
By Ras H. Siddiqui

Azan (left) and Maghrib prayers (right) at the California State Capitol on September 3
Sacramento, CA: The California State Capitol building once again became the focal point of Ramadan celebrations in the state on Wednesday, September 3, 2008, as over a hundred people heard the prayer call (Azan) inside the Capitol building and broke bread at a sumptuous Iftar.
The presence of a large number of non-Muslim sponsors and guests added a great deal to this multi-faith and ethnically diverse gathering as Muslim men and women broke their fast with the traditional dates and milk/water and proceeded to say their prayers while others, including members of the legislative staff workers, observed them.
This was the fifth time that the Council on American-Islamic Relations of the Sacramento Valley (CAIR-SV) has held this event at the Capitol as encouragement from the corridors of power in the state for this effort has grown considerably.
State Senators Elaine Alquist, Ellen Corbett, Lou Correa, Denise Ducheny, Darrell Steinberg and Sheila Kuehl along with members of the Assembly Dave Jones, Warren Furutani, Jared Huffman, Sally Lieber, Fioni Ma, Mary Hayashi, Kevin deLeon and Lois Wolk lent their support this year along with Board of Equalization Chair, Dr. Judy Chu and Vice Chairwoman Betty T. Yee.
And for their sharing of Ramadan with us, the state's Muslim community is deeply appreciative (and for the joint Members Resolution which was issued specially for this occasion).
After the evening prayers were performed everyone headed towards a fine Persian dinner which was certainly shared by all. CAIR-SV Executive Director Basim Elkarra welcomed everyone. He said that we are blessed to be here during Ramadan, even though this year the State Budget crisis is still unresolved and that it would help if we all said a long prayer for a successful outcome to this impasse.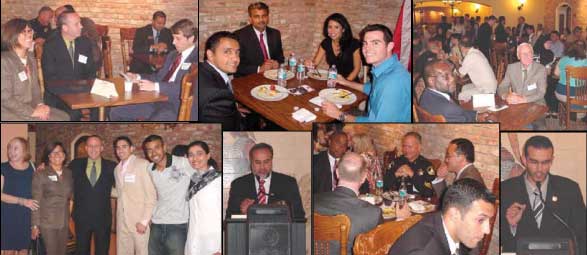 Glimpses of the observance of Ramadan at the California State Capitol
Shaikh Refat and his beautiful Qur'anic recitation opened the formal event. Various members of the local legislative staff, interfaith community, law enforcement (FBI, Sheriff's Department and local Police) along with members of a bank that sponsored the event had a chance to express themselves. The presence of Senator Steinberg, Assembly Member Jones and Betty Yee, was especially noteworthy. Guest speaker Masoud Nassimi from the CAIR Los Angeles Area Chapter was another welcome participant.
Earlier in the day, many local Muslims, including this writer, received Ramadan greetings from Assemblymen Dave Jones from California's 9th District. To quote from his email; "I would like to thank our Muslim community for contributing to and leading the efforts to share one another's culture and heritage and to strengthen relationships with other faiths and communities."
California Senator Darrell Steinberg's email arrived a little later. He said, "California is home to many faiths, and our society is enriched by our Muslim citizens. Ramadan festivities such as community iftars and Eid-al-Fitr celebrations provide us the opportunity to learn about the faith and culture of Muslim Americans. In this month, Muslims also seek to strengthen family and community ties and share God's gifts with those in need. This Ramadan, Sacramento Muslims have launched The Spirit of Ramadan Food Drive, in which the entire community comes together with one common goal to feed the hungry."
The California State Capitol is a symbol of our state's diversity. Within its corridors of power are found people who were born in many other countries and who practice different faiths. Our Governor is one prime example of California's cultural enrichment. And although he was not present at this occasion, we certainly hope that he will break bread with our community here soon.
CAIR-Sacramento Valley Executive Director Basim ElKarra and his team deserve praise for keeping this Ramadan tradition going for the past five years. America 's Muslims are not only good citizens but patriots as well. And with the number of local Muslim supporters that this sharing of faith and culture has found, it is good to note that even though many of us were born overseas, we are now just as Red, White and Blue as America's majority.
-------------------------------------------------------------------------------------