Sacramento Celebrates Pakistani Independence Day
By Ras Siddiqui
Pictures by Shahid Hussain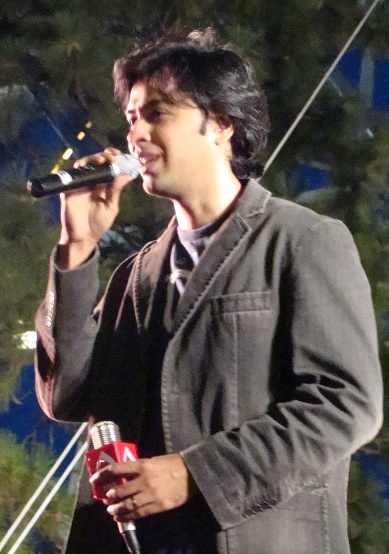 Shehzad Roy In Action
The Pakistani-American Association of Greater Sacramento celebrated Pakistan's 62 nd Independence Day with a great deal of fervor at the California Exposition Center (The Cove) on Saturday, August 1, 2009 (officially August 14 th) , attracting over 1000 people some of whom traveled long distances including many from the San Francisco Bay Area. Premiere entertainment from Pakistan was a major attraction for many young people here, attesting to the popularity of Shehzad Roy and Jawad Ahmad, who have quite a fan following in Northern California as a whole.
"Pakistanis" have lived in California's Central Valley ( Lodi , Live Oak, Sacramento, Stockton, and Yuba City) for about a century now as Muslims from Punjab and the North West Frontier of British India settled in this part of the world long before India's Partition and the birth of Pakistan. The descendents of the original immigrants and later additions are predominantly of Punjabi and Pashtun origin. People from present-day Faisalabad and the area around Attock in Pakistan are in majority here, along with a few others from Sindh and even a Baloch or two.
The formal event began with a recitation from the Holy Qur'an by Imam Mumtaz Qasmi from the Downtown " V Street" Muslim Mosque founded in 1947, the year coinciding with the birth of a new nation called Pakistan. Imam Qasmi included a special dua for Pakistanis as they are currently facing much difficulty. He also hoped that the dreams of the founding fathers and the masses of the country will one day be realized.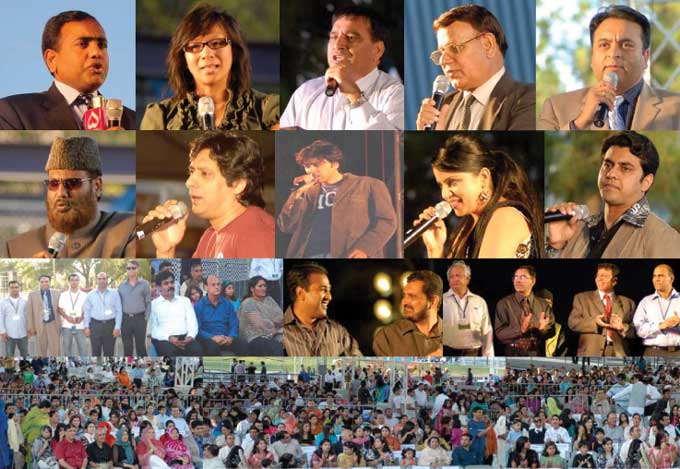 Glimpses of the Independence Day celebrations in Sacramento
The recorded national anthem did not materialize due to some technical difficulty, but Naeem Syed immediately came to the rescue by vocalizing it without music.
But on a happier note, in the backdrop of Pakistani Fashions and Food for sale, the entertainment lineup for the evening started off with Ajeet Singh on dhol and Faisal Lucky vocalizing a number of Bhangra hits to get the audience in a more festive mood. Zaki Syed with his "desi rap" next imparted not just entertainment but wisdom as well as his ever developing "Pakistan Zindabad, Desi Dads" and the new addition on terrorism "Why do you do this?" held our attention.
Bashir Choudhry, President of the Pakistani American Association, next welcomed everyone, especially the distance travelers. He also quoted from Allama Iqbal to add to the sentiments of the occasion. Representatives from the Office of Sacramento Mayor Kevin Johnson (former Basketball star KJ) and from the office of State Assembly Member Dave Jones also said a few words after being introduced by Mr. Rashid Ahmad. Also recognized and very much present was former Pakistani field hockey captain and icon Islahuddin Siddiqui.
Invited to the stage by program Emcee Kamran Amin, Pakistani Consul and Head of Chancery Mr. K.K. Ahsan Wagan also took the opportunity to grace the occasion with his words of wisdom. Consul Wagan congratulated everyone on this occasion and offered some advice. He said that the Pakistani community needed to be respectful of the laws of our adopted country ( America), and that we could take pride in the fact that our Pakistani-American community is amongst those with the lowest crime rates in this country. He also suggested that the community needed to open its homes and events to non-Pakistani mainstream Americans to share their rich culture and heritage. He ended his speech by wishing everyone a "Happy Independence Day".
After event sponsors said a few words, local Punjabi singer Ishmeet Narula added a great deal of energy to the program with her musical trip from Lahore to Bollywood. Ishmeet is becoming a familiar face and voice for us here, ever since her performances at India-Pakistan peace programs in the Bay Area.
Shehzad Roy is currently one of the most popular Pakistani musical performers. His fan following, especially amongst young Pakistani-Americans is reminiscent of the popularity of the Vital Signs performer Junaid Jamshed during the 1990's here in California. Soon after Shehzad appeared on stage, young people congregated up front (although one could also observe a number of aunties amongst them). Shehzad has almost patented his relaxed, kick back, and even just woke up look that endears him to his female fan following. But he also remains a serious musician, singer and social commentator. Starting off with Yeh Jo Aag Hai followed by Payal Jab Bolay and the crowd shaker Teri Soorat all the way to that "Saali" often used politically, Roy also delved into the world of Punjabi music here with Meray Sohnia, followed by Jhoolay Laal. His song/commentary on white mansions and black Mercedes vehicles was also quite a crowd pleaser. He inserted into his performance a few words about his Zindagi Trust which is currently educating 8000 kids in Pakistan (a commendable effort Shehzad!). And not by chance, the main song from his latest CD "Qismat Apnay Haath Mein" or "Laga Re" which basically translates to "Keep at it". He ended his performance with "Yeh Udasi Kiyoon" .
The last performance of the show was by Jawad Ahmad, one of the other young Pakistani singing icons. His "Bin Teray Kiya Hai Jeena" is still a local favorite. Jawad has had numerous concerts in this area and his Punjabi songs retain quite a following. Oh Kendi Hai and the sentimental "Dholna" are amongst his most popular numbers which he presented once again for us. Due to the shortage of time he could only sing Shahbaz Qalandar and a fine rendition of the Pakistani national anthem to close the show this time. Jawad's voice has both power and range but it needs new songs to enrich his performance. Jawad is also heavily involved in his "Taleem For All" education program, something that Pakistani-Americans might also want to look into.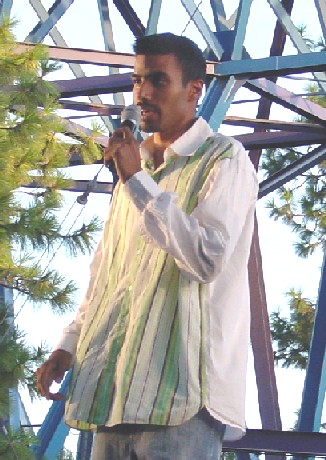 Zaki Syed

In conclusion, another good effort by the local Pakistan Association and the community in general here in Sacramento plus guests from the San Francisco Bay Area (whose association is holding their Independence Day celebrations on Sunday, August 16 , at the San Francisco Civic Center featuring Najam Sheraz). One is also glad to observe that younger people are now defining the Pakistani-American identity for us here in America as we older folks slowly move out of the way.