Chicago Roundup
Chicago Celebrates Pakistan's 62 nd Anniversary with Traditional Fervor
By Dr. Mujahid Ghazi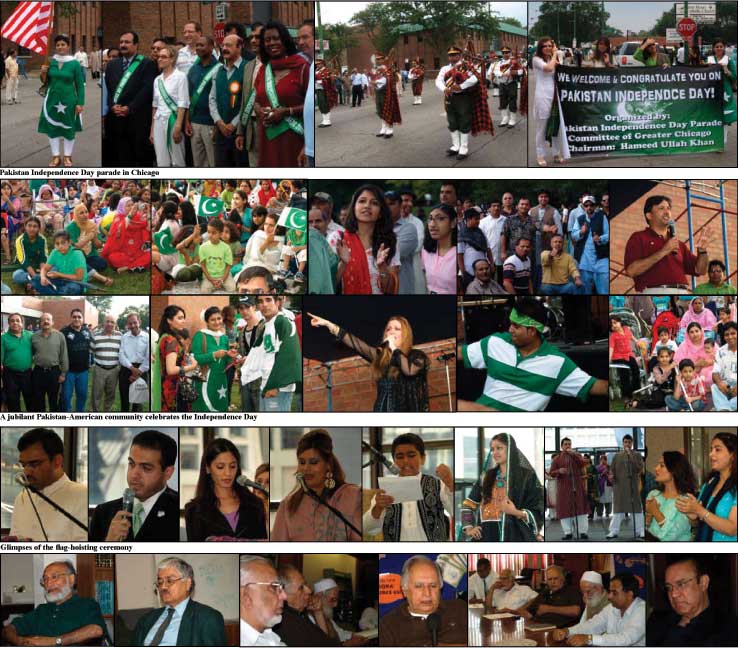 Chicago: On August 16 the Pakistani-American community in Chicago celebrated the 62 nd Anniversary of Pakistan's Independence with traditional fervor. The Parade came out of Devon/Damen intersection with young boys and girls in green and white attire in the lead. A large group of prominent Pakistanis and local dignitaries followed.
This year the grand marshal of the parade was county board president Todd Stroger. Other participants included Dorothy Brown, clerk circuit court of Chicago; Ira Silverstein, State Senator District 8; Younis Suleman representing Congressman Bobby Rush; Mike Murnene of the Chicago 2016 Olympics Committee; Secretary of State Jessie White who is running for Lt. Governor in the next election; and Terrence J. O'Brien, president of the Metropolitan Water Reclamation District of Greater Chicago, who is running for the county board president in the next election.
Twenty-five floats from local organizations and corporate and government agencies also formed part of the impressive parade. 50 th ward Alderman Honorable Bernard Stone was seen in a convertible with his lieutenant Majid Hasan. Zam's Hope's Zehra Quadri followed the Alderman in her convertible Mercedes covered with green and white stripes. Developer Tariq Siddiqi closely followed with local American dignitaries. A delegation from the Federation of Indian associations was also seen in the Parade lead by Mr. Sher Mohammad Rajput and Mr. Sohan Joshi. Mr. Hameedullah Khan, Chairman, Parade Committee along with other members walked with the Chief Guest Mr. Mashhud Rana, Deputy Speaker of Punjab Assembly. The Guest of Honor Consul General of Pakistan Dr Aman Rashid and the Grand Marshal walked to the end of the course where a stage was beautifully set for the viewing of the floats and short ceremony.
Maham and Ambereen Hussain emceed the ceremony and announced the floats as they passed in front of the podium. Consul General of Pakistan, speaking on the occasion, congratulated the Pakistani-American community and read out the messages of the President and Prime Minister. The Deputy Speaker of the Punjab Assembly, Mr. Mashhud Rana, also spoke on the occasion. Mr. Hameedullah Khan thanked his committee and sponsors for their help in organizing the parade and festival.
The festival which was held in Warren Park started with a children's program. As usual Ibrahim Khan of Asian Broadcasting Network delivered an emotional speech and emceed the children's segment. Ammar Siddiqi did the recitation of Holy Qur'anand Ali M. Khan presented a Naat while Ali Khan, Rachel Waseem, Mikhail Ali, Iqra and Ehsan Chittha delivered speeches on the importance of Independence and the culture and history of Pakistan. A beautiful tablo was also presented at this occasion. The only thing which bothers me is the timing. By default the children's program is always kept by the organizers at the very beginning of the festival when very few people are around. Then the heavy rain also kept some people away. In spite of this impediment the children's segment was very well organized by Ms. Chand Sultana. Shehzad Ahmed and Janice Miller sang their hearts out and were duly applauded by the crowd. Mr. and
Mrs. Jamal Siddiqi, a local broadcaster, were the emcee of the event. A short quiz on Pakistan and raffle ticket drawing was conducted by this scribe. $ 10,000 worth of raffle tickets were sold. The credit for this goes to Shaheen Pervez and his team. PIA donated two round trip tickets. There was a 50" flat panel TV, a laptop and multiple digital cameras and gift certificates that were given away by corporate and restaurants. The quiz on Pakistan was sponsored by area restaurants and boutiques. Devon Bar-B-Q and Grill, Sabri Nehari, Chopal, Usmania, J K Kabab, Al-Habib Grill and Sahiba Boutique donated gift certificates for dinner and dresses. A Kodak digital camera was also given away by Dish Network. Mr. Hameedullah Khan thanked the audience for their patience and perseverance for staying on in spite of heavy rain.
Story telling at IQRA attracts children of all ages


Above: Story telling at IQRA attracts children of all ages
Amidst the festivals and parades, IQRA's retail store on Devon Avenue attracted children from the Muslim community to attend the 'Story Telling' program. Muslim children from all ethnic groups showed up to listen to the "Three Festivals of Islam", a book printed and published by IQRA' International Educational Foundation. Usra Ghazi was the story teller. She is a young Muslim activist who has earned a good reputation for her story-telling skills.
IQRA' International Educational Foundation is the only non-profit Trust working on the Islamic curriculum and making it more integrated and balanced for the children growing up in western environment. IQRA' has a global outreach and its curriculum is being used in many countries of the world. IQRA' Book Center at 2749-51 W. Devon Avenue in Chicago has books and artifacts for every age group and ethnicity. "Story Telling" is a regular feature at this store attracting hundreds of kids every year. To watch these Story Telling sessions one can visit www.iqrafoundation.com and click on IQRA' you tube channel.
Flag hoisting by Picasso at the Daley Center
A flag-hoisting ceremony and short cultural program brought together the Pakistani community and dignitaries at the Daley Center on August 14, 2009 to officially commemorate the 62 nd Anniversary of Pakistan's Independence Day. After the flag was hoisted by the Honorable Dr. Aman Rashid along with prominent Pakistani Americans a short cultural program was held inside the Daley Center.
Speaking on the occasion Dr. Aman Rashid read out the messages of the President and Prime Minister and commended the Pakistani-American community for its contributions for the development of their country of birth, especially during the recent IDP crisis. He congratulated the community and wished them a very happy Independence Day. The youngest Pakistani reporter for a Talk Show, nine-year-old Ibrahim Khan delivered a very emotional speech to win a standing ovation from the audience. Samreen Khan, advisor to the governor, read out his message while Pat Michalski represented the Cook County treasurer Maria Pappas. Khalid Al Khateeb represented the Mayor's office.
The program was emceed by Ambreen Hussein. Shobi and Asad of Khismat group sang popular national songs. Veteran Chicago Singer Shehzad Ahmed hyped up the audience by singing Jeevay Jeevay Pakistan. Maham Khan choreographed and organized a beautiful Pakistani Dress show with boys and girls wearing traditional and regional Pakistani costumes.
Iqbal Society of Chicago holds seminar with Dr. Syed Nomanul Haq
Iqbal Society of Chicago had a meeting with the renowned scholar on Allama Iqbal Dr. Syed Noman ul Haq. He is an internationally acclaimed scholar who has devoted his life to study Allama Iqbal. Dr. Nomanul Haq earned his PhD. from the Harvard University. He has held academic appointments at Brown, Rutgers, Pennsylvania and Tufts. Currently Dr. Haq is Director of Islamic Studies at the Lahore Institute of Management Studies, Pakistan. He is the author of Names, Natures and Things: The Alchemist Jabir ibn Hayyan and Kitab al-Ahjar. He is a member of the Advisory Board of the UN sponsored Forum on Religion and Ecology, board member of the Ghulam Ishaq Khan Institute of Science and Technology, Islamabad; He is advisor and honorary professor of Hamdard University, Karachi. He is currently working on a book on Mansur Al-Hallaj.
Mr. Habibuddin Ahmed introduced the guest. President of Iqbal Society Dr. Teepu Siddiq welcomed the eminent scholar. Dr. Wasiullah Khan, Chancellor, East West University gave a brief history of the Iqbal Society. Dr. Arshad Mirza also briefly explained the evolution of the group. Dr. Syed Noman ul Haq talked extensively about the poetry and philosophy of Iqbal. He stressed the importance of introducing Iqbal to the new generation of Indo-Pak origin. He said that it is necessary to spread the philosophy and poetry of Iqbal to keep him alive. He commended the work of the Iqbal Society and said that Mr. Habibuddin Ahmed has been trying for a long time to invite him to Chicago and because of his busy schedule he could not make it earlier.
A day before the event Dr. Noman Ul Haq spoke at the Loyola University. Also present at the meeting were Dr. Marcia Hermansen, Mr. Wahajuddin Ahmed, Dr. Khursheed Khizir, Mr. Aqeel Khan, Dr. Javed Bhatti, Dr. Sarwar Nasir and Mr. Shamsuddin. Amidst the Independence Day celebrations of India and Pakistan, it was indeed a very auspicious occasion to talk about a poet and philosopher who is respected equally in both countries.