Aligarh Alumni Association in Washington Organizes Grandiose International Mushaira
ByZafar Iqbal, PhD
Germantown , MD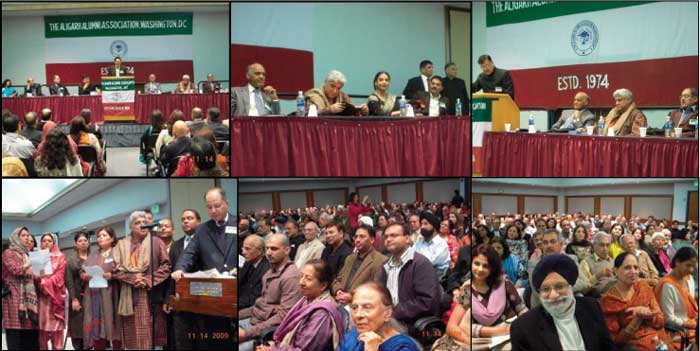 Pictures above: Glimpses of the mushaira organized by the Aligarh Alumni Association in Washington
"The Aligarh Alumni Association of Washington DC (AAA) deserves congratulations for cultivating an appreciation of good poetry," said Shabana Azmi. Azmi, is a social activist dedicated to getting justice for all irrespective of gender, race and religion, and an accomplished creative actress of the Indian Subcontinent. She was the guest of honor at the mushaira organized by the AAA on November 14, 2009.
More than 800 Urdu connoisseurs from the suburbs of Washington and neighboring states had come to listen to their famous poets from Pakistan, India, Europe, and Northern America at the 35th Annual Mushaira held at The Universities at Shady Grove, Rockville, Maryland. Although the AAA had arranged the event in the spacious hall, a large number of "shaeqeen" could not enter the hall because of fire and safety regulations. This mushaira was one of the best literary and cultural programs Metropolitan Washington had witnessed in a long time. The Minister for Community Affairs, Embassy of India in Washington, Mr. Sanjay Sinha along with his wife represented the Indian embassy.
The participating poets and audience were thoroughly impressed with the event. Following are some of the comments expressed by them:
"The mushaira of this caliber is a thing of the past," said Javed Akhtar, an established poet and leading lyricist and scriptwriter of Indian film industry. He and Shabana Azmi had come especially for the AAA mushaira. He was very impressed with the quality of poetry he heard at the mushaira and overwhelmed by the sophisticated audience.
"This mushaira was bey-missal," said Amjad Islam Amjad, a well-known poet and scriptwriter of drama serials in Pakistan. He emphasized that his comment reflected the views of all participating poets. He told the audience that he was back to AAA mushaira after a gap of 25 years and he could say with all sincerity that he was so glad to be a part of this mushaira.
"This was the best mushaira I have ever attended in North America," opined Manzar Bhopali, a very popular poet from India. He said that he was introduced to the US audiences for the first time in 1991 by AAA and Urdu Markaz, Los Angeles, California. Since then, he had opportunities to participate in many literary events organized by various organizations and he could say without any exaggeration that he never had such a receptive audience anywhere. This was the best.
Saleem Kausar, another famous poet from Pakistan conveyed his appreciation of the event saying that a mushaira is successful when poets, poetry, audience, and the nizamat are all in sync. He concluded that all these factors blended superbly making this mushaira a great success.
Sadaf Mirza, a poetess from Demark said that she was very thrilled to be in the company of renowned poets. It meant a lot to her because she had heard in literary circles that a poet gets world recognition only after participating in AAA mushaira. "Now, that I have the privilege of considering myself a bona fide poet," she added.
Similar sentiments were expressed by a number of people in the audience.
Dr. Navin Shah, a senior physician in the area, conveyed his heartfelt thanks to the association for providing him an exceptionally memorable program that touched his heart, mind, and soul. Umesh Agnihotri, a well-known drama artist and Hindi-Urdu scriptwriter for Akashvani and Voice of America, said that the event was very powerful and he felt intoxicated until the next morning. He thoroughly enjoyed listening to superb poetry. Nuzaira Azam, a veteran journalist and winner of the best novel of the year award from Urdu Markaz International, said that the AAA deserves a big applause for promotion of Ganga-Jamuni culture and for providing quality literary programs for more than three decades. "This program was the best I had attended in North America," she added. Dr. Saeed Zaidi, a leading physician from Frederick, congratulated the AAA team for arranging such an excellent evening and said he shall be looking forward for similar events in the future.
The formal proceedings started with an invocation followed by a welcome address by the president of the association, Dr. Rafat Husain. Husain said that AAA was established 35 years ago and with a humble beginning and focused efforts, we have established certain traditions, including holding an annual mushaira, that has become an integral part of the cultural life of the South-Asian community in Metro Washington. Husain received a big applause when he talked about the success of the scholarship program of the association. He was given even a bigger ovation when he mentioned that all volunteers of the association, whether they were on the stage, inside the hall or outside attending various duties, have purchased tickets for the event. This portion of the program ended with a rendition of the famous Aligarh Tarana, "Yeh Mera Chaman Hai". There was a big round of applause when Javed Akhtar joined the team to sing the Tarana which was written by his mamoon (maternal uncle), Majaz Lucknawi.
Ms. Shabana Azmi was introduced by Dr. Abdullah. He paid tribute to her for her efforts to empower the common man and said that her contributions have made this super star a super human being as well. Ms Azmi started with a humorous comment that "she is often asked that her father, father in-law, and husband all are great poets and how come she does not write poetry? My response is that I am not a poet, but I give inspiration to write poetry." On the insistence of Abdullah, she recited a poem 'Makaan' written by her father, the late Kaifi Azmi. She pleasantly surprised the audience by presenting a poem written by Faiz Ahmad Faiz, 'Bol ki lab azaad hain terey...' with tarannum. Certainly, this was a bonus for the audience.
Ms Shabana Azmi graciously presented life-time service awards to the AAA volunteers, S. Aley Ahmad Hashmi, Azimur Rahman Khan, and Ghulam Yazdani Siddiqui for their dedication to the association.
Dr. Abdullah, who is credited with the establishment of the mushaira tradition in North America and known for his graceful nizamat, said in his opening remarks that in the early years some people used to comment that "the Aligarh people are crazy, each year they organize a mushaira and lose hundreds of dollars." He said that what he had told to critics then he was repeating here again, "This mushaira has never been a source of income for the association and it was never meant to be a few hours of entertainment or advertisement for us." He further elucidated that the mushaira was instituted with the objective of providing a forum where people could come together in the name of shared values transcending all boundaries. Additionally, the intention remains to promote the language, culture, and traditions to retain our identity in this adopted land. He remarked further that for the continued success of this program, the credit goes to AAA volunteers who adopted this objective as a mission, to the poets for their cooperation, and to the audience for their patronage in spite of the association's shortcomings.
The following poets participated in the mushaira: A. Abdullah, Razi Raziuddin, Sadiq Bajwa, and Shakeel Azad (Metropolitan Washington), Sadaf Mirza (Denmark), Javed Akhtar and Manzar Bhopali (India), and Anwar Masood, Amjad Islam Amjad, and Saleem Kausar (Pakistan). A selection of poetry recited at the mushaira is as follows:
Sadiq Bajwa
Sadiq gham-e-hayaat , gham-e-kaaenaat hai Hum nafratoN kay daagh sey daaman no dho sakey
Shakeel Azad
Hum ko inkar nahiN aap agar kahte haiN Leejiye hum bhee shab-e-gham ko saher kahte haiN
Razi Raziuddin
Apne ajdaad ka chehra tha main Eik gaye waqt ka saaya tha maiN
Jis ne surayya pe pheinki kamand Eisi millat ka shanasa tha maiN
A. Abdullah
Recited Unkahi BaateiN- a nazm about remembering his mother from distant land. He also presented another poem 'Bus ke Musaafir' on the request of Shabana Azmi.
Sadaf Mirza
Huzoor aurat muqayyad aap ke hathoN meiN abhi tak hai
Harum mein, ishtiharoN meiN, ghazal meiN aur naaloN meiN
Manzar Bhopali
Siyasat apni wahiN rakhna daal deti hai MuhabbatoN se jahaN log milne lagte haiN
Khud apne aap sudhar jaaeye to behtar hai Yeh mut samajhyie ki duniya sudharne waali hai
Who badshah bane baithe haiN, muqddar hai Magar mizaj hai ab tab wahi bhikari ka
This couplet received thundering applause
Zakhm bhar jaeN dil ke, sabhi phool khil jaeN barood meiN DonoN humsae kar leiN dosti agar dosti ki tarah
Saleem Kausar
Adalat ko na-jaane kiya bana rakhkha hai tum ne Jo qaatil haiN use ghar meiN chhupa rakhkha hai tum ne
Jalte huwey shahroN mein izaafa to ho ga Jab rasm koi aag bujhane ki naiN hai
Kabhi is jurm par sar kaat diye jaate the Ab to inaam diya jaata hai ghaddari par
Amjad Islam Amjad
KahaN aake ruke the, kahaN moR tha usey bhool ja Jo mil gaya usey yaad rakh, jo nahiN mila usey bhool ja
Woh tere naseeb ki baarisheN kisi aur chhat par baras gaeN Dil-e-be-khabar meri baat sun, usey bhool ja, usey bhool ja
He also recited a long nazm advising his son and another long nazm that he had recited 25 years ago at the AAA mushaira.
Javed Akhtar
Jidhar jaate haiN sub , jaana udhar achha naiN lagta Mujhe pamaal rastoN ka safar achha nahiN lagta
Ghalat baton ko khamoshi se sunna, haami bhar lena Bahut haiN faede is me, magar achha nahiN lagta
Jo mujh ko zinda jala raheN haiN wo be-khabar haiN Ki merii zanjeer dheere dheere pighal rahi hai
Mein qatl to ho gaya tumhari gali meiN lekin Mere lahoo se tumhari deewar gal rahi hai
Pur sukooN lagti hai kitni jheel ke paani par but (buttakh) PairoN ki beytaabiaaN, paani ke under deykhiye
He also recited MeiN aur meri awaargi- a nazam that has been recorded by Nusrat Fateh Ali Khan and Kishore Kumar and two philosophical nazmein (Waqt and Aansoo) on public demand.
Anwar Masood
Apni zauja se kaha eik maulvi ne neik bakht teri turbat par likhun tareekh kis mazmoon ki
Aheliya boli ibaarat sab se mazun hai yahi Dafan hai yahaN bewa maulvi marhoom ki
Is eid par qurbaan kiya jo meiN ne duNba Is nek amal ka mere maula mujhe phal de
Yaa rab meiN nahiN aur kisi cheez ka talib Jitna bhi sawab is ka hai dollar meiN badal de
Professor Masood also recited a few Punjabi compositions on public demand.
The mushaira ended with a brief remark by the Sadr-e-Mushaira, Professor Anwar Masood. He appreciated the excellence of the kalam of participating poets and sophisticated "zauq" and reverence for poets demonstrated by the Washington audience. "I have been reciting poetry for over three decades in different parts of the world and this evening was exceptionally satisfying and it would remain the most memorable event of my life," concluded Professor Masood.
The audience gave a standing ovation to the poets for more than five minutes.