Chicago Roundup
American Hyderabadi Association Celebrated Victory of Amjadullah Khan
By Dr. Mujahid Ghazi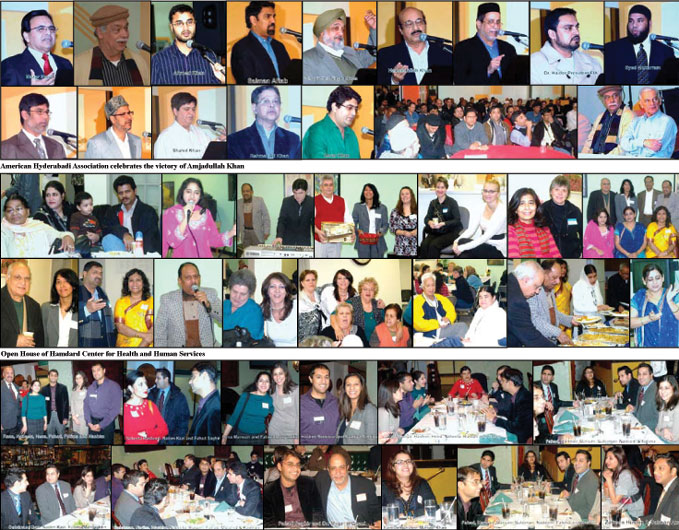 Pakistani American Bar Association Chicago meets in Downtown Chicago
Chicago , December 13, 2009: A large number of Hyderabadi Americans gathered in Bombay Banquet Hall on Devon Avenue last Sunday. They were celebrating the victory of Mr. Amjadullah Khan alias Khalid as Corporator from Azampura Division. This was his second consecutive victory as Corporator. Mr. Shakeelullah Khan and Syed Mukarram of Hyderabadi American Association were the organizers of this event. After the recitation of the Holy Qur'an by Hafiz Syed Jamil young speakers Asrar Khan and Ahmed Khan spoke about the political situation in Hyderabad. They shed light on the mission of Majlis Bachao Tehreek (MBT).
Ahmed Khan, who is also executive Director of Indian Muslim Council and nephew of Mr. Amjadullah Khan, briefly spoke about the political character of his uncle and said that he had worked alongside my grandfather Ghazi-e-Millat Mohammad Amanullah Khan and learnt strong political values from him. He further said that his family in Chicago and all supporters of MBT congratulate Mr. Amjadullah Khan and hope that he will keep fighting for truth and justice.
Popular Devon Avenue personality Bhopinder Singh Bhola said that it is not the victory of an individual but a victory of the minorities. Political activist Salman Aftab, quoting Faiz Ahmed Faiz,commended the Hyderabadi community for their activism. Chairman Pakistan Parade Committee Mr. Hameedullah Khan thanked the Hyderabadi community for inviting the Pakistani community to their events. He said we are like one body in Chicago. Our happiness and our sorrows are mutually shared. He congratulated the audience for the victory of MBT in Hyderabad Local Council. Dr. Mujahid Ghazi mentioned his fathers and father-in-law's relationship with Majlis-e-Itahadul Muslameen and said that anyone who wants to see the Majlis as a better organization should be commended. He congratulated Syed Mukarram, Shakeelullah Khan, Liaqat Khan and Ahmed Khan on the political victory of the MBT in Hyderabad. Dr Haider Khan, President FIA congratulated the audience and said that the whole city was watching this election. He hoped the win will keep the MBT on the road to progress. The chief organizer of this event and the most popular young leader of the Hyderabadi community Syed Mukarram mesmerized the audience with his oratory. He said the late Ghazi-e-Millat Amanullah Khan was a true leader of the Muslims in Hyderabad. He was above all selfish considerations. He would go anywhere to save Muslims and fight for their rights. Not only Muslims, he was always there to stand for anyone who was oppressed irrespective of cast and creed. He commended the Mehdvi community for their struggle for justice and truth under the leadership of the late Amanullah Khan. He said Nawab Bahudur Yar Jang was also a Mehdvi Pathan who founded MIM. He said Amjadullah Khan who is the youngest son of Amanullah Khan is now carrying the flag of MBT. He said in his previous term he had worked hard for his constituency. He said he not only worked for his constituency but for the whole Hyderabad. He said this was the reason that he was re-elected. He thanked everyone who helped in the election campaign of Amjadullah Khan.
Mr. Abidullah khan nephew of Late Amanullah Khan thanked the community for electing Amjadullah Khan. Liaqat Ali Khan, a prominent businessman and brother-in-law of Amjadullah Khan said MBT is a splinter group which was established on the principles laid down by the founder of the Majlis Nawab Bahadur Yar Jang. He said, "The lion can die of hunger but would not eat grass". MBT will never deviate from its principles. He said people participate in elections for power but MBT's members fight in elections to serve the community. Mr. Shahid Khan said the love for a party or personality, money or power usually drives people to become active but there are some people who do things without any selfish gain. He said Syed Mukarram is one of those people who do things without any self gains in mind. He said people like to see him working for justice and humanity. He said in this victory Syed Mukarram has played a very important role. Rehmat Ali Khan, President of the Mehdvi Community Center, said that when a Muslim gets victory he doesn't feel prod but feels humble and thanks Allah (SWT). He said that we should congratulate those voters who had made the right decision. He said the meetings, speeches and slogans are not signs of victory. It is the work which makes one victorious. He said that's what has given Amjadullah Khan victory - his work. He said that he hoped people will elect him as MP and MLA in future. President of the meeting Ameer Mohammad Khan gave an account of his acquaintance with the late Amanullah Khan. He worked very closely with the great leader. He quoted incidents when the late leader had daringly worked for the community. Shakeelullah Khan thanked the audience and commended Syed Mukarram for his leadership and efforts in the election campaign of MBT and the victory of Mr. Amjadullah Khan. Nazar Naqvi was the emcee of the event and he did his job perfectly well.
2nd Annual Eid Milan Dinner of University of Karachi Alumni Association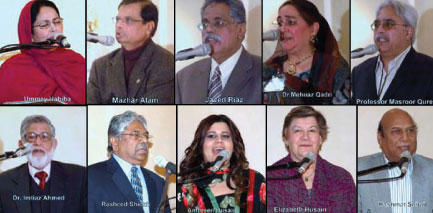 The UOKAA Chicago Chapter organized an Eid Milan and an evening with Itrat Husain at Monty's Banquets last Friday. A good number of alumni from the Karachi University and other community members came to show their respect and love for Itrat Husain, who is a popular poet and community activist in the Chicago Indo-Pak community. Adnan Siddiqi, a recognized emcee of Mutahida Qaumi Movement Chicago Unit, welcomed the guests. Rasheed Shiekh recited the Holy Qur'an. Pakistan's presidential award winning na'at khawan Mohtarma Ummey Habiba presented a na'at written by Itrat Husain Itrat.
Madina hai rushk-e-jinan Allah Allah
Yeh hum sub ka Dar-ul-aman Allah Allah
Yeh Hasrat Hai Itrat Ki Alam key Wali
Nikal Jai Rozey Pay Jan Allah Allah
Mazhar Alam, President of UOKAA, addressing the audience, said that the purpose of this organization is to bring all the old students of Karachi University at one platform to promote educational, social and cultural activities. He said that Karachi University has some big names as teachers like Abul Lais Siddiqi, Dr. Farman Fatehpuri, Pirzada Qasim and Dr. Shamsul Doha. He said one of the big names among the students of KU is that of Itrat Husain who graduated from the KU as pharmacist but later acquired fame as a poet and social activist. "That's the reason we thought to celebrate this evening with him," said Adnan. He welcomed the guests and asked the audience to cooperate with UOKAA in its future projects. Javed Riaz then thanked the audience again and said, 'We always talk about our rights but we have to think what we can do for our University.' He said, 'We have decided to help the University in its projects. We are not asking for donations but I request you to fill the membership forms.' He concluded by asking people to help monetarily and physically so that the UOKAA could helpthe KU.

Dr. Mehnaz Quadri, who is daughter of the late Prof. Waheed of Dow Medical College, further stressed the importance of helping the alma mater. She said, 'We are here because of our university. We have to support our institutions back home.' She asked the audience to fill in the registration form. She asked the audience to visit www.UOKAA.org for further information. She repeatedly asked them to donate funds.
Adnan Siddiqi then introduced Masroor Qureshi as the Gold Medalist from Karachi University and Ex-Professorof Federal Urdu College. Professor Masroor Qureshi said that the purpose of founding this alumnus was the same as the purpose of founding of Pakistan 62 years ago, and, that was to gather the old students of Karachi University on one platform, to serve Karachi and the University of Karachi. He said that the first program was inaugurated by the Member of National Assembly from MQM Mohtarma Khushbukht Shuja'at last year. 'We did a humorous mushaira in March with the help of Urdu Times.' He said the real purpose of this organization was not to organize mushairas or ghazal programs but to help the Karachi University in educational and research projects. The president of the session Dr. Imtiaz Ahmed who was Dean of the Department of Islamic Studies in Karachi University and in Brunei Darus Salam, congratulated the founders of UOKAA. He said that the purpose of this organization is noble and we all have to extend help in this endeavor. He said that the standard of Karachi University was not less than any university in the West and we should be proud of it. Although Dr. Zaib Yusuf, who was Dean of Faculty of Basic Sciences in Karachi and a very loving Professor of this scribe, was duly recognized and invited to sit on the stage, he was not asked to speak.
The second part of the program was emceed by Professor Masroor Qureshi.He said that this session is dedicated to the popular Urdu poet of Chicago Mr. Itrat Husain Itrat. He gave a detailed introduction of the poet. He invited Javed Riaz to come to the stage and co-emcee the program. He invited Chairman Parade Committee Mr. Hameedullah Khan to preside over the session. Rasheed Shiekh was invited by Javed Riaz and introduced by Professor Masroor Qureshi. Rasheed Shiekh gave an account of his acquaintance with Itrat Husain. He talked about the poetry of Itrat. He said that he has a unique style of writing which he didn't see in any other poet. Khalid Anwer, who co-authored the book Maraj al Bahrain with Itrat, spoke about his life with Itrat and said that the love between them is more than the love of brothers. He said that the tradition of Tarahi Mushaira was started by him and Itrat in 1979.
A slide show on the life of Itrat was narrated by Professor Masroor Qureshi.Ambreen, daughter of Itrat Husain, said it is a miracle that her father is alive as he had a heart transplant three years ago. She said he never talked to his children in Urdu and hence she said, 'We only know him as our dad.' She said may be he didn't want to tell his children what was there in his poetry. A message from a childhood friend of Itrat, first ambassador of US to OIC Sada Kumbar, was read by Andaleeb Javed. Elizabeth Husain, Itrat's wife said when she first met him she thought that he should be a prince of a small country. She said that she is a musician and when she met Itrat she thought they would create something in collaboration but 'we got busy in raising children.'
Hashmat Sohail represented the poets in paying tribute to Itrat Husain. He spoke about his poetry in a very literate manner mixing his humor every now and then. Itrat Husain thanked the Alumni and the audience who came to pay their tribute. He said he had not only studied in the Jamia but also lived there in the campus. He equated the Karachi University with the United Nations and said like the UN, the University of Karachi had students from all provinces of Pakistan and also students from many countries of the world. He said there use to be a harmonious relationship among the students. He asked the audience to help the Alumni in its projects. Later he presented a selection of his poetry.
Mr.Hameedullah Khan in his presidential address claimed that the relationship of his and Itrat's family dates back to more than a century. He spoke about his relationship with Itrat in Chicago. Professor Masroor Qureshi said that though everyone is important there are certain personalities who add to the grace of any occasion and with this remark he recognized Mr. Younus Sulaiman and Homeo Dr. Iqbal Husain, brother-in-law and brother of MQM chief Mr. Altaf Husain. Though Amin Haider wrote a masterpiece about Itrat, but fortunately or unfortunately he couldn't get a chance to read it.
Later famous singer of Pakistan Naila Mughal mesmerized the audience by her melodious voice and selection ofg. Especially she chose some beautiful ghazals of Chand Nagar Ka Basee Ibn-e-Insha.
Delicious food was served by Chopal Restaurant. Monty's Dr. Qadri and Aftab Baig once again did a great job.
Pakistani American Bar Association Chicago meets in Downtown Chicago
Pakistani American Bar Association Chicago met at the Khyber Pass Restaurant. It was amazing to see so many young promising attorneys at one place. It was more like a casual meeting to meet and network.
Marium Khan Vice President of PABA, welcomed the guests and said PABA is very quickly growing. She said it is only a year old organization but picking up steam thanks to the wonderful support of the community and younger attorney members who are taking the helms and running with it. She then introduced Sadiya Siddique, the President of PABA. She said Sadiya knows how to motivate people to get things done. She added PBA has taken great strides under her leadership to move forward. Someone from the crowd said we are adopting Sadiya's child as young PABA member. Sadiya is expecting her first child in January. Marium then introduced Fahad Saghir, the secretary of PABA. She said he keeps every one organized and is very actively involved. Next, she introduced Meher Dar, the treasurer of PABA. She said she is very fiscally responsible and kind of person that we need on our board. She keeps us well connected with the community. She then recognized the Board members who included Nadim Kazi, Hashim Siddique, Hena Mansori and Zafreen Husain.
Marium Khan gave a brief report of PABA's activities during the past year. She said back in April PABA had a Schiff Hardin event co-sponsored by PABA and Northwestern Muslim Law Students' Association. It was a nice mix of attorneys from different practice areas who guided the students. She said the Pakistani-American community does need leaders in the legal field and fields other than Science and Technology. This panel encouraged students and gave them guidance. She said PABA also co-sponsored with Pakistan Club of Booth School of Business at University of Chicago, a talk with famous economist Nadeem ul Haq. It was a well-attended event by PABA members and other professionals. She said PABA recently celebrated Pamela Leeming's appointment as Judge of the Cook County Circuit Court. She said it is an honor for PABA as she was the founding member of PABA and the first Pakistani-American judge in the United States. It is an outstanding achievement and we are all excited because she went from PABA. She further added that couple of weeks ago PABA had a philanthropy event with Jamieson Elementary School. Nine PABA attorneys volunteered.
Present at the event beside this scribe was Rizwan Kadir, President of Pakistan Club of Booth School of Business at University of Chicago and Dr.Nabeela Rasheed, community activist and attorney.
The group enjoyed delicious dinner served by Khyber Pass Restaurant which is located at 233 East Wacker just under West Tower of Hyatt Regency downtown.
Open House of Hamdard Center for Health and Human Services
Hamdard Center for Health and Human Services held an open house to educate the community of various projects available at the Center. A large number of community members attended the event. Dr. Mohammad Hamid, Executive Director of Hamdard, introduced newly appointed Associate Director Kiran Siddiqui. Kiran has a long track record of working for human service organizations. Before Hamdard she was working for Apna Ghar.
Hamdard Center provides counseling and shelter for abused individuals. It is also a recognized agency by DCFS for foster parenting program. Hamdard also organizes senior citizen programs.
Open House showed a conglomerate of communities benefiting from the projects of Hamdard. These included Bosnians, Russians, Indians, Pakistanis and Bangladeshis. There was a musical program organized by Mr. Khan and his band. While the desi singing and dancing was going on in one corner, the Bosnian women were singing their folk songs in chorus. It was a happy occasion. Food was provided by Sabri Nihari Restaurant.
-------------------------------------------------------------------------------------