Community Enjoys Haleem Party Hosted by Karachi Club
By Wasim Zaidi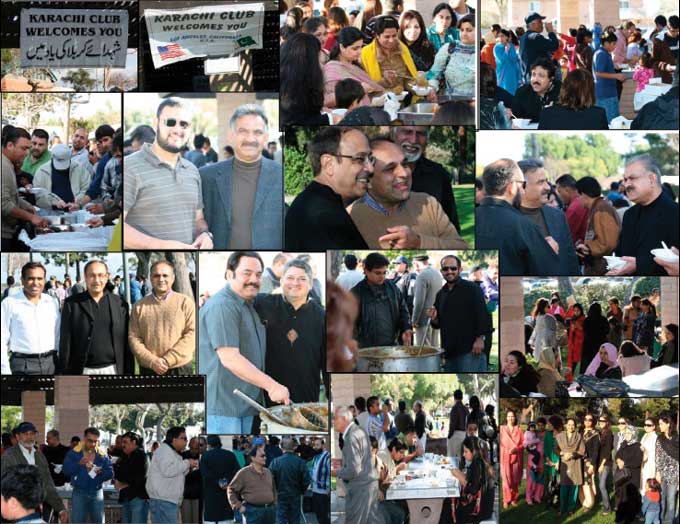 Members of the Pakistan-American community enjoy the hospitality of the Karachi CLub
Westminster, CA: The Karachi Club (LA), in collaboration with the MQM Los Angeles Unit, hosted its annual event - a special Haleem cookout for the Pakistani-American community - on January 25, 2008, in Westminster, CA.
Perhaps the most eagerly awaited annual event and talk of the town throughout the year, the Haleem Party attracts members of the community from all walks of life in appreciable numbers. Despite the wet and inclement weather – a cold wind lashing the invitees on the chilly Sunday and more rain in the forecast - Angelinos turned up at the spacious Westminster park with usual fervor.
Several prominent community members graced the occasion, including the very popular Pakistan Consul General Syed Ibne Abbas and Vice Consul Mr. Ahsan Wagan, who freely mingled with the crowd. The Consul General was visibly happy to see a large turnout of community members at the Haleem Party and lauded the efforts of members of the Karachi Club in organizing the party on such a large scale every year.
Karachi Club, a twin organization of the LA Unit, has organized several community gatherings over the years but the Haleem Party in the month of Muharram is indisputably the most popular event that is eagerly awaited throughout the year. The delicious dish is served in the best traditions to the delight of the community members.
Members of the Karachi Club and workers of MQM LA unit are thankful to the community for their support in initiating the silver jubilee celebrations of MQM. The haleem event is the first of the few specials lined up to celebrate the silver jubilee. As part of the celebrations
the Los Angeles Unit will endeavor to hold a Cricket Tournament during the month of February.
-------------------------------------------------------------------------------------