South-Asians Celebrate Valentines Day in Sacramento
By Ras H. Siddiqui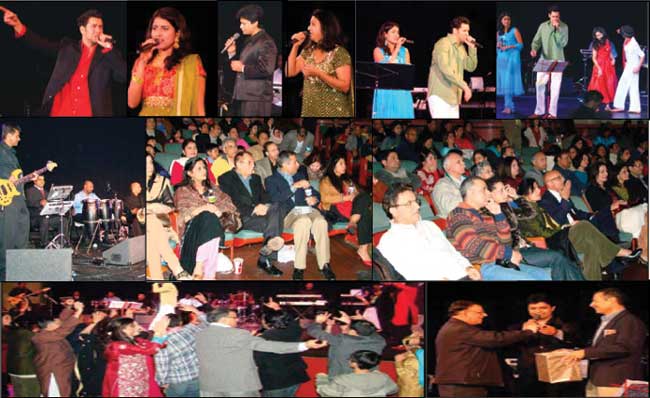 Glimpses of the Valentines Day celebrations in Sacramento
Sacramento , CA: Downtown Sacramento was buzzing on February 14 (Valentines Day) as the city hosted cycling's Amgen Tour of California featuring the legendary Lance Armstrong. Also at the Capitol the California Budget voting was reaching the midnight hour as Governor Arnold Schwarzenegger was waiting for the late Assembly decision on the solutions to the state's fiscal crisis. But for the approximately 600 South Asians and their friends who ventured to the Crest Theatre in downtown Sacramento, it was Valentines Day in the garb of "Desi" culture as a wonderful "Mega Bollywood Show" awaited those who braved wet weather and the traffic jams (10 th Street was blocked off) to celebrate a night of love.
Arranged by the South Asian Cultural Association of America and EasternMpire Promotions, this Bollywood ( India 's version of Hollywood) style event spearheaded by local physician Dr. Aslam Godil, featured two young headliners Darshana Menon and Jeffrey Iqbal along with local singer Meera plus dances by young performers Kristina and Karina. The emcee for the evening was Parminder. And last but not least the music of the Sargam Band certainly added to what turned out to be a beautiful evening.
The diverse audience comprised of people originally from India, Pakistan and Bangladesh (along with their American-born generation), and some curious locals who have recently become exposed to the "Pelvic" dance moves (as the King of Bollywood, Shahrukh Khan recently described Bollywood dancing at the Golden Globe Awards). Exposure of mainstream America to dance and music via the recent movie " Slumdog Millionaire" and its gifted song composer A.R. Rahman along with Sri Lankan origin M.I.A. has perked up the interest of many locally in this art form. We will keep our fingers crossed as to how many Oscar's Slumdog wins later this month, but one thing is for sure: many from the Desi community are rooting for A.R. Rahman.
The evening started off with "Karam Ho Karam" by Meera as a bilingual "Oh my love" followed by emcee Parminder who set the tone for this Valentines evening. And almost immediately Jeffrey Iqbal appeared on stage with his "Wallay Wallay", Zohra Jabeen (a real crowd pleaser. Darshana Menon started off with a song of love "Kabhi Akhiyon Sey" and "Babuji" as dancers joined her on stage for a beautiful ballad. Darshana speaks many languages and even sang a song in French before Jeffrey and her sang a nice duet to slow things down.
Jeffrey next picked up the tempo with his version of "Hollay Hollay, Ho Jai Ga Piyaar". He is a natural stage performer and photographing him is not easy because he moves around quite a bit while singing in his high energy style. In that manner Darshana compliments him by her stage stability. One wonders what American Idol would think of these two (they are both Americans). One important point of note is that both of them received wide recognition from their appearance on Zee TV's " Sa Re Ga Ma Pa Challenge" program where they were both finalists. Jeffrey also appeared on the A. R. Rahman Talent Hunt and described his joy on being chosen as a winner there by the great maestro himself, who won the Golden Globe recently and is a strong Oscar contender. In A.R. Rahman's honor Jeffrey sang a song from the film "Guru" composed by Jeffrey followed with "Ajab Si Adain Hain" and Darshana came back with a very nice "Jhumka Gira Rey" to our collective delight. Intermission came too soon but Desi food was being served at the Crest Café next door and some had not had dinner yet. On their return Mr. Bashir Choudhry of Comprehensive Security Services, an event sponsor, drew the winning ticket for a cash prize. Meera started with a popular song from the movie " Umrao Jaan Ada" (if memory serves correctly here).
Jeffrey and Darshana sang many more memorable Bollywood love songs on this Valentines Day evening. The readers will forgive this scribe for not keeping track of the details because it was time to join in the mood that had been set by these two very talented singers, Kristina and Karina's dances, along with Meera and the Sargam Band.
Many couples got up to show their moves during the show and the grand finale of " Mast Qalandar" brought a large number of the audience to the dance floor.
Thanks are in order to the show sponsors Car Deal (Adenwala), Advantage Health Care, Crest Café, El Pollo Loco (Farrukh and Anjum Saeed) Gokul Printing Press, L.A. Merchandise, Cancer Awareness and Charity Society, Universal Travel and Comprehensive Security Services, for making this fine event possible. And a special thanks to Dr. Aslam Godil and his wife Fouzia for brightening up Valentines Day for Sacramento's South Asian community by bringing Jeffrey and Darshana to sing in this town which is not exactly known as a Desi cultural capital (most people here drive 2.5 hours to the San Francisco Bay Area for such shows).
In conclusion we can comment on a number of related issues but one must keep things in context. South Asia may experience many challenges (terrorism for one) and upheavals especially in the India-Pakistan context and we here in America can do little about it. But what we can do as Indian- and Pakistani-Americans is to keep the delicate flame of friendships that we have, alive in this country. In the Sacramento area our common ancestors arrived together more than 100 years ago. We have many things in common and love for "our" music and food is just the beginning. Happy Valentines Day!
-------------------------------------------------------------------------------------