Friends of Pakistan International Convention a Grand Success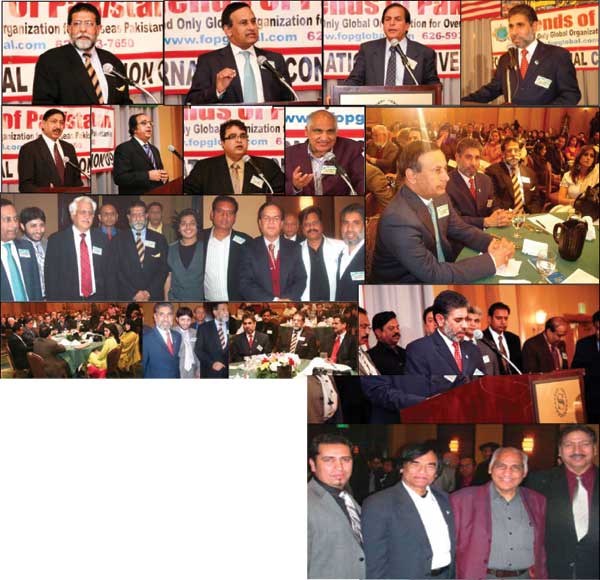 Pictures above: Glimpses of the Friends of Pakistan Convention
Cerritos , CA: "The Friends of Pakistan (FOP) held a successful international convention in Cerritos, California on Sunda,y February 15, 2009," says a Press Release issued by the FOP. The Press Release added: Chairman Pakistan Senate Mohammad Mian Soomro was the chief guest and Ambassador of Pakistan to the US Mr. Hussain Haqqani was the keynote speaker. Senior Vice President of PML (N) Mr. Javed Hashmi (MNA) was the special guest speaker from Pakistan. The three addressed the convention and threw their support to the FOP's mission to have overseas Pakistanis' representation in the Pakistani parliament to help Pakistan's prosperity.
A large number of FOP officers and members from across the world attended this mega event.
The two-day convention was a grand success for the three-year-old Friends of Pakistan, a grassroots level non-resident Pakistanis organization that has opened 80 chapters worldwide and has become the only global representative organization for overseas Pakistanis.
In his welcome address, Friends of Pakistan Chairman Sarfaraz Khan said that we had started this global campaign last year in October and in a very short period of time this "Tahreek" or campaign gained momentum and people from all over the world joined us because we raised their voice to have the right of vote and representation in Pakistani parliament for overseas Pakistanis. We are over 10 million expatriates living all over the world and have no voice in Pakistan at any level. This is a voice of every overseas Pakistani.
He said our demand is genuine and will give us a sense of security to invest in Pakistan to reduce poverty and illiteracy and bring prosperity to the country. Sarfaraz Khan also said that what we are presenting is not a new concept. There are several countries that already are having this kind of system for their expatriates, such as Italy, France, Columbia, Ireland, Portugal, Switzerland etc.
After his speech, president Calgary, Canada, Mr. Burhan Khan endorsed Sarfaraz Khan's speech and said loudly that all Pakistani-Canadians are with you and we fully support this cause.
Dr. Nisar Chaudry, prominent scholar from Washington DC and president of Pakistan American League and National Advisor of Friends of Pakistan, endorsed the FOP demand and said that the government of Pakistan must consider it to grant the expatriates access to the parliament and the senate which will definitely provide great help and assistance to the motherland.
Dr. Khaja Ashraf, president, Pakistani American Congress (PAC), also extended support to this idea and announced that the PAC will stand beside the Friends of Pakistan all the way.
According to the FOP Press Release, Mr Hussain Haqqani, ambassador of Pakistan to the US, especially flew from Washington DC to attend the conference and deliver his speech with well balanced and selected observations. He said FOP has a great plan to help Pakistan. He suggested the FOP must consider a name for the organization in Urdu too. He said we have religion and ethnic extremism in Pakistani politics and these should be eliminated. He also mentioned that terrorism is the core problem that Pakistan is facing these days and we must stay united to fight this menace.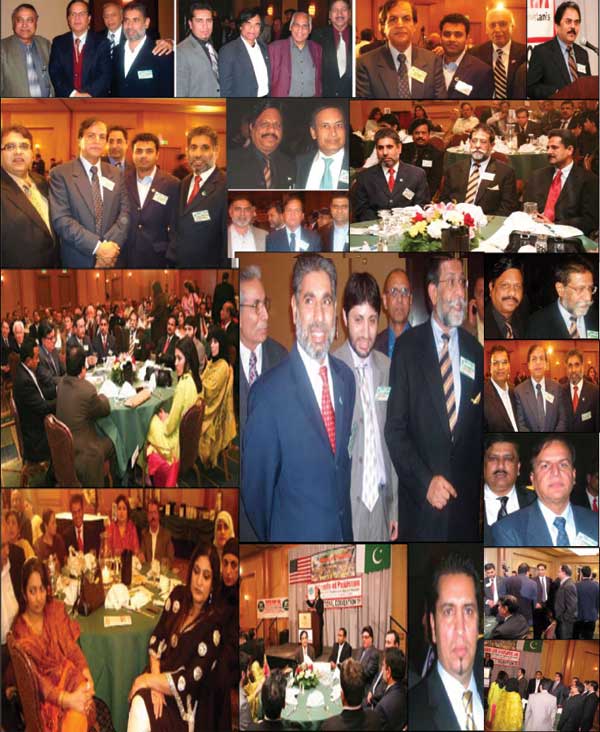 Pictures above : Glimpses of the Friends of Pakistan Convention
Makhdoom Javed Hashmi next came to the podium and received a big round of applause from the audience. He described the current situation in Pakistan and said there has been a war on our borders since the last 30 years and we are hosting more than 6 million refugees inside Pakistan and this is a great burden on our shoulders as we have lean resources. He defended Pakistani politicians and said we had sent the army back to the barracks without any bullet being shot.
Mr Hashmi observed that Pakistan has two weapons: one is the nuclear bomb and the other is the overseas Pakistanis. He described overseas Pakistanis as the second weapon after the nuclear bomb that always came forth to protect Pakistan when needed. Overseas Pakistanis are the defenders of Pakistan. He assured his support to Sarfaraz Khan and his team and said they will have his full support to achieve this goal as it seeks the betterment of Pakistan.
The chief guest of the evening, Chairman Pakistan Senate Mohammadmian Soomro, in his brief remarks said he was delighted to see hundreds of Pakistani under one roof: they are all true Friends of Pakistan. I will support your idea, and we will consider your demand because overseas Pakistanis are our asset and we must connect them to the motherland, he said.
Earlier, at the beginning of the event, Sarfaraz Khan,chairman FOP, introduced his global team and called every one of them to the stage. Each one of them received a great round of applause.
Renowned TV host Faiq Siddiqi from New York was the emcee of the event. Prominent community activist Saghir Aslam made an impressive presentation on the services rendered by the Saba Trust founded by him. Safdar Akhtar made a presentation on agriculture. He showed how we could boost agriculture production by applying modern techniques. Sarfaraz Khan presented an "Overseas Bond" scheme which could help raise several million dollars in foreign exchange and generate several hundred thousand jobs in Pakistan as well. Javed Syed presented a resolution which was adopted by the FOP General Body and every one present in the Convention.
Comedian Ayaz Khan had especially come from Pakistan to entertain the Friends of Pakistan.
The event ended late that night but the audience remained patiently seated until the very last moment.
A delicious dinner was served by Mehfil Restaurant located in the heart of the city of Artesia, the FOP Press Release concluded.
-------------------------------------------------------------------------------------