Pakistan Founders Day Celebrated in the San Francisco Bay Area
A Pakistan Link Report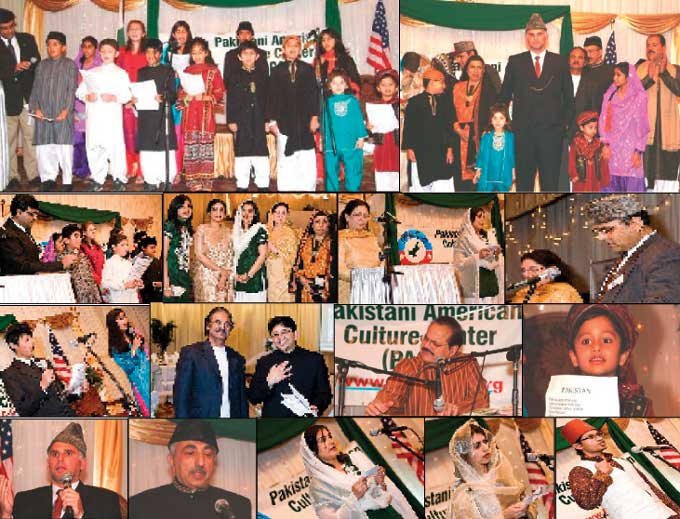 Pictures above: Glimpses of the Pakistan Founders Day celebrations in the San Francisco Bay Area
Silicon Valley, CA: On the occasion of the birthday of Pakistan's founding father, Quaid-i-Azam Mohammad Ali Jinnah, the Pakistani American Culture Center of Silicon Valley organized a very tasteful Founders' Day Program.
Attendees of the event were encouraged to dress up as one of the founding fathers or mothers. Many people came dressed up as Quaid-i-Azam, Allama Iqbal, Miss Fatima Jinnah, Liaquat Ali Khan, Begum Rana Liaquat Ali Khan, Maulana Mohammad Ali Jauhar and Chaudhary Rehmat Ali.
The program started with the recitation of national anthems of Pakistan and the United States sung by children of the Pakistani-American community. Following the spirited recital, the children furnished interesting facts about the life of the Quaid-i-Azam spotlighting the many milestones in his illustrious life. Young Ahmer Jafar delivered a speech of the Quaid-i-Azam with such perfection and enthusiasm that people appeared visibly impressed and moved. Noor Ali interviewed Quaid-i-Azam (acted by Kashif Salim) in a very entertaining way. The dialogue was absorbing.

Later, Noreen Tariq, Secretary of PACC, enumerated the activities of the PACC in the year 2008. She said that Pakistani American Culture Center is the first of its kind in the whole of the United States. PACC's sole purpose is to share and teach Pakistani culture, languages and history to the local Pakistani and American public. In the past year, PACC organized and sponsored Pakistan Day March 23rd, a Basant kite festival, Independence Day of Pakistan, Eid Milan Party, Amjad Sabri Qawwal's program and the Pakistan Founders Day program.
PACC is also conducting Urdu classes for children and adults, chess classes, karate classes, music classes, monthly music concerts, and family music nights.
Farrukh Shah Khan, President of PACC, thanked the sponsors who supported the organization and made the event possible. Iqbal Qasim of PTV fame was the main ghazal singer for the night. Syed Arshad performed on the tabla.
Pakistan Link extends its felicitations to the PACC for keeping our rich culture and heritage alive and acquainting the younger generation in the United States with its vibrant and dynamic nature. (Pictures courtesy of G. Nasreen and Shariq Qureshi).
-------------------------------------------------------------------------------------