Musharraf to Speak at Stanford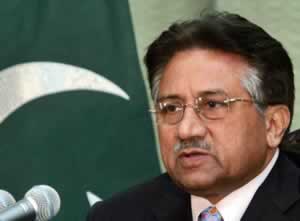 Stanford in Government and the ASSU Speakers Bureau are hosting President Pervez Musharraf to Stanford as this year's Big Speaker, says an announcement. It adds:
President Musharraf will be sharing his opinions and experiences in a keynote address entitled "Terrorism and Extremism - The Need for a Holistic Approach." This address will be followed by a unique conversation format with Stanford professor Scott Sagan, in addition to an audience question and answer session. During the question and answer session, students are encouraged to engage the speaker in an open and honest dialogue. The event aims to promote free speech and discussion on the Stanford campus.
This event is cosponsored by the Public Policy Program, Stanford in Washington, the Center for International Security and Cooperation, the Freeman Spogli Institute for International Studies, the International Relations Program, the Abbasi Program in Islamic Studies, the Bechtel International Center, the Stanford Journal of International Relations, and the Muslim Student Awareness Network.
Tickets will be available at the following times and locations during week of January 12:
-White Plaza, Monday through Thursday, noon to 1:00pm
-Old Union, Monday through Thursday, 8:00-9:30pm
-GCC, Tuesday and Wednesday only, 8:00-9:00pm
SUID required to pick up ticket. NO tickets will be sold at door.
-------------------------------------------------------------------------------------