APPNA's 32nd Annual Meeting in San Francisco
By Dr M. Shahid Yousuf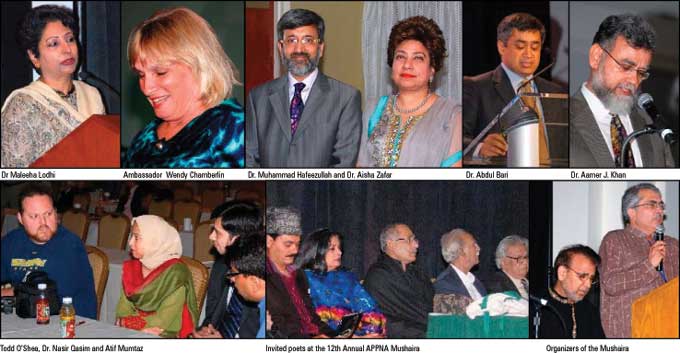 The five-day APPNA summer meeting 2009, held at downtown Marriott from July 1st – July 5 th, once again demonstrated the organization's commitment to charitable, scientific and educational activities, both in the USA and Pakistan. There have been only three West Coast meetings since the founding of this organization. Nevertheles,s the banquet sold some 1900 seats while the last summer meeting hosted 2500 guests at the banquet in Washington DC. Given the size of this organization of some 3000 members a large number of activities occur at any one time and one has to pick and chose as it is impossible to attend all. On Saturday afternoon there were 9 separate sessions and meetings!
Charity Remains Premier APPNA Activity
As APPNA's membership has grown its charitable endeavors have mushroomed. This year was no exception. Ongoing internally displaced persons (IDPs) problems continued to occupy APPNA's Social Welfare and Disaster Relief Committee ( SWDRC). Many Pakistani charitable entities sent delegations to APPNA for better coordination and needs assessment. Apart from donations to the Pakistan Red Crescent and the Bilquis Edhi Foundation, a major ongoing work necessitates cooperation with Khyber Medical College and its components such as Social Welfare Society of Khyber Medical College and Swat Medical Students Association. Vice Chancellor of Khyber Medical University Dr. Muhammad Hafeezullah attended a joint planning meeting between SWDRC and other partners of APPNA in Pakistan for IDPs relief. Three members of the UM Healthcare Trust of Mardan, Pakistan, Dr. Nasr Qasim and Mr. Atif Mumtaz and an information technology officer also arrived from Pakistan for the APPNA Convention. Todd O'Shea whose inspiring story was published in the New York Times and its video can be seen at
( http://www.youtube.com/watch?v=SVdXcKeaQtY) also came to attend and participate in the IDPs relief operation. Some $ 200,000 has been raised for IDPs by APPNA's members alone. About $ 2 million had been raised for earthquake of Kashmir in 2005 in cash alone while the value of medical and surgical supplies and services have not been computed and may run more than the cash raised. A US AID official also addressed the banquet gathering asking the physician community to learn about US AID and participate in bringing better health to all Pakistanis.
Diplomatic Duties Beckon APPNA
Numerous Pakistani Ambassadors to USA have praised APPNA's membership as being the best ambassadors that Pakistanis could hope to have by their services to the patients in USA. Their professional achievements and quality of care delivered helped to improve Pakistan's image in the USA. This was again stressed by Dr. Maleeha Lodhi who was a speaker at the banquet. She said during both her postings as Pakistani Ambassador to the USA she looked forward to APPNA's members to help in promoting better relations between Pakistan and the USA. She pointedly praised PAKPAC ( Pakistani American Public Affairs Committee) which is an independent organization but many of its members are drawn from APPNA's ranks.
The keynote speaker Ms. Wendy Chamberlin, President of Middle East Institute and US Ambassador to Pakistan during 2001-2002 continued with the theme of APPNA bringing the two nations closer by reducing mutual suspicions that have existed. She began by stating that with so many familiar faces she felt that even though she was not a physician she felt a part of the APPNA family. She further said it was an occasion on July 4th to also celebrate the Pakistani Cricket Team's 20/20 victory recently. She began by drawing attention of the threat to Pakistan. "We all do share a profound concern for Pakistan during these troubled times. It is at a critical point. The crisis within Pakistan today is, it is really for the definition of Pakistan.We do share a common enemy." Mentioning the Taliban and Al Qaeda's ideology she said that "these medieval notions do not belong in Mohammad Ali Jinnah's vision of a moderate, progressive, democratic Pakistan." She predicted that a new Pakistan is emerging. Its voice will not be the 60 million middle class but the 100 million that have been neglected. " Pakistan is either on the verge of something very horrible or a wonderful transformation and that the true nature of this transformation is not quite visible. The outlines are not there. Pakistan society is developing in a direction that is not in the image of the United States and let us hope not in the cruel vision of the extremists" She said it will be a new paradigm. "The challenge then to us is, to Pakistan's friends and Pakistani Americans, is to listen to that 100 million, to listen actively, to listen deeply , to listen with an active ear. What is it that the people believe? What is it they say they need? What troubles them and I believe that the answers they will provide us will be the antidote to this extremist narrative.
Referring to the mistrust between the USA and Pakistan she said, "We really don't trust each other. Pakistanis and Americans don't trust each other. This distrust is so entrenched, so historical that it even has a name. It is called the trust deficit." She believed that to break this mistrust "this group" (APPNA) can perhaps play a role "to come together with some understanding".
"This trust deficit can be a task for you. You all frankly have families and friends and are enormously well respected in your communities back in Pakistan. Tackling some of these conspiracy theories in your conversations with your family and your friends would be a good first step." She reported that a recent PIPA poll indicated that 90% of the people of Pakistan believed that the USA is in collusion with India and Israel to break up the State of Pakistan and seize its nuclear weapons. She said, "I can tell you it is not true. Let us try to close this trust deficit." Referring to the US financial assistance to Pakistan she said that the challenge to APPNA is to come up with ideas and government alone cannot do it.
In the opinion of this writer, APPNA's constitution specifies its activities as being educational, scientific, medical relief and charity. With regard to its affiliations it mentions in its constitution: " The Association shall be an independent, not for profit, professional and educational organization incorporated in the United States of America, and shall have no substantial political affiliations or activities." APPNA will not endanger its humanitarian projects and be perceived as an instrument of the foreign policy of Pakistan or USA.
New Technologies From Pakistan Unveiled
For years APPNA has introduced new technologies in the treatment of diseases in Pakistan through its continuing medical activities during its annual winter meetings in Pakistan. This year we saw a number of lectures where ordinary Pakistanis have been able to combine various technologies to come up with solutions which have not even been heard of in the West. One such technique is to use cell phones, text messaging, data-coded urine test strips to monitor multi drug-resistant tuberculosis cases in medication compliance. The patient is given the phone in which he has to text message the code revealed in the urine test strip reveling if he has taken yesterday's TB pills. This information is instantaneously fed into mainframe computers so that it is available worldwide in Islamabad, Geneva or Atlanta GA's Center for Disease Control. Another novel integration of technologies is to integrate data gathering with global position satellites (GPS) so that sexually transmitted disease cases such as AIDS can be given care even in areas where there are no addresses and the cases are hard to track down and treated.
In coming years APPNA annual functions are going to showcase Pakistani talent in the USA. The charities in Pakistan will increasingly see APPNA's role as a standard bearer, an appropriate organization to solicit funds from. Many charitable organizations such as Indus Hospital Karachi, Shaukat Khanum Hospital Lahore, LRBT clinics, Sind Institute of Urology and Transplantation, Burns Unit at Rawalpindi General Hospital, Police Hospital Abbotabad and others have already received APPNA members' donations.