Chicago Roundup
Summer Heralds Surge in Community Activities
By Dr. Mujahid Ghazi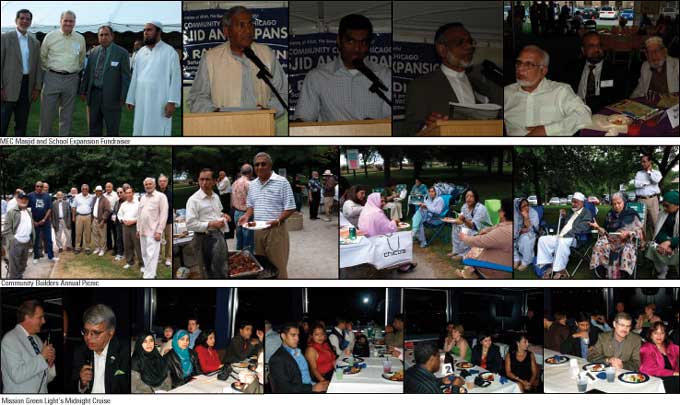 Chicago is unique in having four distinct seasons - winter, spring, summer and fall - during the year. Majority of the events are scheduled during the warm summer days. Weddings are planned months and years in advance to find a suitable venue for the occasion. Similarly, community events are also planned ahead of time. No weekend goes by without attending more than one wedding or event. The last couple of weeks were no different.
MEC Masjid and School Expansion Fundraiser
Muslim Educational Center is a full-time Islamic school from K-8 th grade. It is doing great under the leadership of a dynamic young Muslim educationist, its Principal Habib Qaudri. The large number of students seeking admission and lack of a mosque in the neiborhood prompted the leadership of the Muslim Community Center to build a mosque with some classrooms in the premises of the already existing MEC. Alhamdulillah, the mosque is almost complete and the Village of Morton Grove has given permission to offer prayers inside the newly built building. Although the prayer hall has been finished but still the institution needs another $ 700,000 to $ 800,000 to complete the project, including the expansion of MEC. A fundraiser for this purpose was held recently.
The unique thing about this event was that it was organized under a tent in the premises of the mosque and school. A good number of community members attended the event. Kamran Hussain emceed the program which started with the recitation of the Holy Qur'an by a 10-year-old Hafiz Adam Ahmed. Tariq Malhance, President of the MCC, welcomed the guests and gave a brief report on the progress of the construction and later raised funds along with Dr. Qaiseruddin.
The President of Morton Grove Dan Staackmann commended the community for the hard work they had put into the project. Professor Inamul Haq, the guest speaker of the event, enunciated his views on "The changing environment for Muslims in America". He talked about the importance of the mosque and school in the Muslim society. He said that these institutions play a major role in structuring a better Muslim persona. He said that a small percentage of Muslim parents send their children to the Islamic schools which is very alarming. He felt that as a community we have to work hard to educate people about the importance of moral development of our children and to convince them of the benefits of an Islamic school versus public schools.
Promising young Muslim scholar Azam Hashmi concluded the event with dua. People were also given a tour of the mosque. President of MCC Mr. Tariq Malhance told me that they collected almost $ 300,000 from this event, but he also added that this project still need another 500,000 to 700,000 to be completed.
Community Builders Annual Picnic
Community builders was founded by a group of conscientious Muslims with a mission of empowering people through education and networking. For last few years I have witnessed its expansion in every quarter of the local Muslim community. It has young Muslim professionals and activists with experienced senior community leaders. Dr. Azhar Quader, a cardiologist by profession but community activist by adaptation, has engineered this concept of networking and communication with the support of his friends like Dr. Ghafoor, Dr. Muneer Choudry, Professor Marcia Hermansen, Mr. Wahajuddin, Dr. Ayesha Sultana and many others. The network holds regular meetings and seminars at multiple locations in Greater Chicago. The topics range from community issues, health awareness, academic, social and political subjects. Through its Compassionate Care Network (CCN), it also organizes health screening camps in various mosques and community centers.

Last weekend CB organized its famous Annual Picnic to give its volunteers and supporter a chance to have a breath of fresh air on the shores of Lake Michigan in Evanston, Illinois. The picnic started at 12 noon and went on till 6 in the evening. There were games for the kids and grown-ups. People sat in groups and showed their concern for community problems by discussing quite a few current issues. A small group held a Mushaira preceded by a small talk about Islamic values. The food was delicious and abundant.
Mission Green Light's Midnight Cruise
Mission Green Light is a non-profit organization formed in 2002 by a long time physically compensated Pakistani American Mr. Rafi Munim. Instead of living idle in the depressing environment of a nursing home, he brought life and light not only to himself but to the mainstream community around him. His objective is sharply focused in assisting the uninsured women with cancer screening by providing information about free cancer screening programs and by organizing free workshops to promote cancer awareness.
Last Sunday MGL organized a two-hour midnight fundraising cruise on Lake Michigan. A good number of supporters and volunteers were present at this event. The cruise left the Navy Pier dock at 12:45 precisely. President of MGL Mr. Thomas Murphy welcomed the guests and briefly introduced the organization. The founder Rafi Munim also was brief in mentioning the achievements of MGL. Rest was entertainment and fun. The most appealing feature was his success in attracting people from mainstream communities and proving that the Muslim immigrants are doing a lot for the local communities also.
The Weddings
Though there are number of weddings every week during summer, especially before Ramadan, two were significant and worth reporting.
The pride of Pakistan, recipient of presidential award, famous Naat Khawan Mohtarma Syeda Umme Habiba and her husband Syed Khalil Rehman Kayani, had the wedding of their son Syed Nabeel Kayani with Leena Ahmed Mazhary, daughter of Mansoor and Iffat Mazhary last weekend. The wedding and valima was attended by the friends and family of both the families. Famous writer and poet Razia Faseeh Ahmed and well-known female entrepreneur Shahida Khan were from the bride's side while author and literary activist Dr. Muzzafar Farooqi, senior poetess Mohtarma Naseema Kulsoom, Parade Committee chairman Mr. Hameedullah Khan and organizer of literary events Amin Haider were invited by the bridegroom's family. Famous Television and theater producer Mohsin Rizvi came from Pakisan especially to attend the wedding. The valima dinner was followed by musical entertainment. Umme Habiba's brothers Fazal Karim and Badar Muneer sang ghazals which mesmerized the audience till late night. Poet and activist Itrat Hussein masterfully emceed the proceedings at this dinner in addition to the beautiful Sehra he wrote for this occasion.
Another wedding was of Hina, daughter of Ismail and Hawa Soda, with Faisal, son of Mohammed and Rahat Mohyuddin. The Grand Ball Room of Hayat Regency O'Hare was packed to capacity with prominent business and professional Pakistanis and Indians. The stage was beautifully decorated. Food was catered by Sabri Nehari. It was abundant and unique in variety. The desert and sweets were also mouth watering. Among many of my friends I met Shahid Yousuf, Afzal, Basheer Akuly, Mohsin Dada and Dr. Imtiaz Arain who are organizing a fundraiser for IDPees on Sunday, the 26 th of July, 2009 at Monty's Banquets in Elmhurst, Illinois. Shahid told me that they are arranging to send this money directly to the affected population without incurring any administrative cost.