A Role Model for the Pakistani-American Community
Prestigious '2009 Visionary of the Year Award' for Dr Meher Tabatabai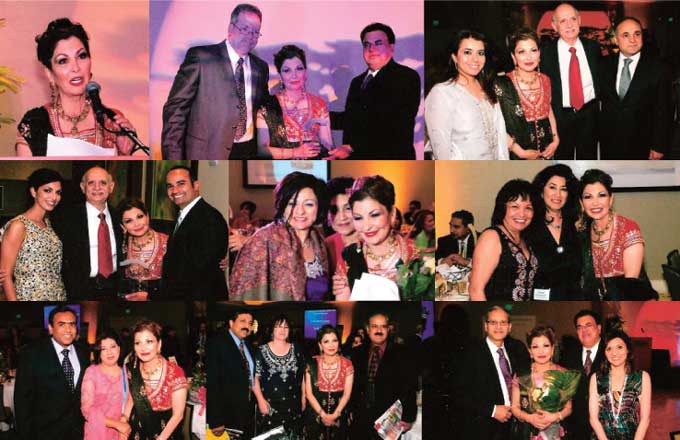 Dr Meher Tabatabai (top left) addresses the gathering. She is seen with Consul General Ibne Abbas and Mrs Abbas in picture on top right and with members of her family and other guests in pictures above
(Dr Meher Tabatabai, who has made her mark as an outstanding doctor of infectious diseases and is well-known as patron saint of literary forums and philanthropic organizations in the Pakistani-American community, has won the prestigious 2009 Visionary of the Year Award instituted by the Coastline Community College.
Founded in 1976, Coastline enjoys an international reputation as one of the most innovative institutions of the United States.
The award winners "are leaders in their field, philanthropic members of their communities, and noteworthy on every level," says Mariam Khosravani, Executive Director, Coastline Community College Foundation.
Below is a report on the award ceremony and Dr Meher Tabatabai's exclusive interview with Pakistan Link)
By Akhtar Mahmud Faruqui
A 'visionary,' according to the Oxford Dictionary, is one who 'shows the ability to think about or plan the future with great imagination or wisdom.' Not many qualify for this coveted distinction. A name that pops up spontaneously in mind is that of Dr. I H. Usmani, who as early as the 1960s, drew the blueprints of a peaceful atomic energy program for Pakistan. Thanks to his foresight, centers of excellence like the Pakistan Institute of Nuclear Science and Technology (PINSTECH) - described as 'best of both the worlds' by TIME – made their mark and Pakistan succeeded in drawing energy from the heart of the atom.
Another Pakistani visionary of international acclaim was Professor Abdus Salam. The outstanding theoretical physicist won the coveted Nobel Prize and, more importantly, set up the United Nations International Center of Theoretical Physics (ICTP) in Trieste, Italy. He acted as a one-man multinational corporation, busily transferring intellectual technology to the less developed countries of the world. "Salam's strength is that he believes that miracles are possible provided one goes out and helps them on their way," Nigel Calder said of Dr Salam in 1967. The inference is obvious: richness of vision impacts the social scene rather than the opulence of wealth. One may strike gold in entrepreneurial undertakings but may not generate wholesome results if not endowed with visionary insights. Hence the compelling urge to extend recognition to visionaries in the United States.
On May 30, 2009, the Coastline Community College, a distinguished mainstream institution, held its annual visionary gala to honor outstanding community members at the Westin Hotel at South Coast Plaza. The four individuals chosen as visionaries had proven themselves as outstanding leaders by demonstrating a commitment to improving the lives of the local community by contributing to educational and social causes.
"Coastline is in the business of improving our local community," said Mariam Khosravani, Executive Director of the Coastline Foundation. "These visionaries have shown a desire to improve the lives of this generation and those to come."
The 2009 visionaries included:
• Dr. Meher Tabatabai, Chief of Staff and Doctor of Infectious Diseases, Promise Hospital.
• Robert V. "Bobby" McDonald, President and Executive Director of the Orange County Black Chamber of Commerce.
• Dr. Wanda M. Austin, President and CEO of The Aerospace Corporation.
• Fereshteh Tavakoli, Co-Founder and Executive Chair of International Society for Children with Cancer.
More than 500 distinguished members of the community were in attendance at the event, which was one of Orange County's largest social gatherings. The festivities began with a reception and silent auction at 5:30 p.m. with the main dinner program starting at 7 p.m. This year's theme was a "Sundown Safari" and guests enjoyed an African-style event including live music and décor inspired by the sights and sounds of Africa.
Dr Meher Tabatabai needs no introduction: as a doctor of infectious diseases she has made her mark. As patron saint of literary forums and philanthropic organizations she is well known in the Pakistani-American community. Her father, the late Brigadier Tabatabai, and husband, Mr Qaisar Madad, are also highly respected. Meher and Qaisar are the proud parents of two daughters, Mahvish and Mahrukh, and son-in-law Faisal Rajput.
Besides maintaining a private practice in infectious disease, Dr Tabatabai currently serves as Chief of Staff of Promise Hospital of East Los Angeles. She has held leadership positions on numerous committees at local hospitals. A few of her current positions include: chair of the Medical Executive Committee at Promise Hospital, member of the Medical Executive Committee at Kindred Hospital in La Mirada, California, and chair of the Infection Control Committees at Promise Hospital, Kindred Hospital and St Francis Medical Center in Lynwood, California. Since 1987, she has been a clinical associate professor at the University of Southern California's School of Medicine. She particularly enjoys the service, leadership, and teaching aspects of her career.

Pictures above: Glimpses of the award ceremony
Dr Tabatabai is board certified by both the American Board of Internal Medicine and the American Board of Infectious Disease. Likewise, she is a fellow of the American College of Physicians and the American Society of Infectious Disease, among others. She has been an invited speaker at over 50 medical conferences, both nationally and internationally. Her lectures cover a broad range of topics such as bioterrorism, AIDS and infection control. Most recently, Dr Tabatabai was honored by APPNA for her community services. She has also been recognized as one of " America's Top Physicians" by the Consumer Research Council of America.
Dr Tabatai remains closely involved in the community through her participation in many non-profit organizations, including the American Cancer Society, Relief International, Development in Literacy International, Human Development Foundation, Islamic Center of Orange County, Sindh Institute of Urology and Transplantation, Behbood Foundation, Urdu Writers Society, etc. The family would institute a literary award under the auspices of Urdu Markaz International from this year onwards.
A few days after the award ceremony, Pakistan Link interviewed the gifted Pakistani-American. Talking with Dr Tabatai springs pleasant surprises. She is extremely modest about her acquisitions and talks with almost puritanical candor and humility. There is no show of affectations.
She has no time for TV or movies. Her attendance at an Obama reception recently hardly evoked any response on her part when she came face to face with leading celebrities. She has long working hours and often returns home in the early morning hours only to leave for the Promise Hospital a few hours later. "We must serve this country wholeheartedly. It has blessed us with so much," she explains her exemplary dedication.
The US is a land of rare, plentiful opportunities. "You can be anything you like in this country," she claims as she cites Barack Obama's shining example. The country elected him to the highest office strictly on merit. The electorate was unmindful of his linage or racial stock.
She is equally conscious of her obligations to Pakistan, the country of her birth. Imparting education to the less privileged, especially girls, enjoys primacy in all philanthropic undertakings of the Tabatabais in Pakistan. Education is indisputably the passport to survival and well-being of the people. "Change will come through education," she strongly feels. " Pakistan should be a modern, moderate nation" and this can best be achieved if education of boys and girls receives a speedy and simultaneous boost.
Dr Tabatabai also believes large scale education could usher a culture of equality – even opportunities - for all segments of the population. The change would pay precipitous dividends. "One should always stay hopeful. We should contribute whatever we can," she sanguinely believes.
She is also a firm believer in gender equality which explains her patronage of Sahara and Niswan – two organizations set up to rescue battered South Asian women. "Niswa ki tarah aur adarae banna chahiyen," she feels.
She is happy that the "strong Pakistan community" in the United States is becoming increasingly cognizant of its responsibility to the less privileged members. Various groups support one another and this trend seems to be gathering steam. "What we need is youth centers, support groups for counseling, rescue initiatives for battered women," Dr Tabatabai feels.
She supports goal-oriented education and advises the youth to remain focused in the pursuit of a career. "Jo shouq ho woh follow karaen. Obama ki bohat bari misaal hae, " she says. One of her daughters has studied law, the other intends to pursue medicine. The choice of career was entirely their own.
The Tabatabais are extremely fond of traveling. They had been to all parts of the world and would be traveling to Russia and entrancing Italy in August this year. Asked to name the most idyllic place visited by the family so far, her answer is simple: "Har jagah koi na koi cheez achi lagee."
Dr Tabatabai seems to combine the best of both the worlds: the East's cultural mores and the West's quintessential education. At the Urdu Writers Society's function in Los Angeles on May 16, 2009, she demonstrated a rare Eastern trait: profuse filial affection for the late Brigadier Syed Muhammad Ali Tabatabai Raaz Lakhnavi. Reading her 'Aek Khat --- Daddy Kae Naam', Dr Tabatabai almost broke down as she plaintively murmured, "Ham sab ko aap sae bae intiha muhabbat hae aur hum aap ki kami bohat shiddat sae mehsoos kartae haen. Khuda Taa'la aap ko jannat ul firdos (maen) aala muqaam ata farmae. Ameen." Quite a few sitting in the hall felt a lump in the throat.
The Pakistani-American community is fortunate to have a visionary like Dr Meher Ta batabai to share and support its many strivings.