Anjuman-e-Taraqqi-e-Urdu Organizes International Mushaira
A Pakistan Link Report
Pictures by Faiz Ahmed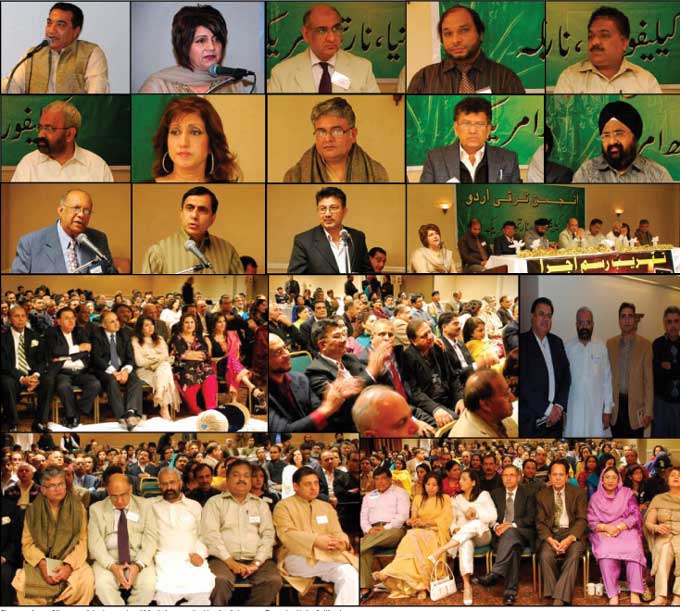 Pictures above: Glimpses of the International Mushaira organized by the Anjuman-e-Taraqqi-e-Urdu, California
Anaheim, CA: Mushairas of late have been more of social gatherings and award-presentation ceremonies where little time is allocatedfor presentation of kalam of participating shoara (poets). But the International Mushaira organized by the Anjuman-e-Taraqqi-e-Urdu, California, on Saturday, April 25, at the Anaheim Plaza Hotel was a major departure from this somewhat disconcerting trend. It turned out to be a traditional gathering of poets who came from all parts of the globe to present their poetical works. From Pakistan came Abbas Tabish and Khalid Masood, from India came Khushbeer Singh, from Australia came Athar Khan, from Norway came Jamshed Masroor, from Dubai came Dr Sabahat Asim Wasti and from Dallas came Noor Amrohvi.
The local poets were present in large number too and included the leading lights of Los Angeles: Wasiul Hasan Naqqash, Majeed Akhtar, Tabish Khanzada, Rehana Qamar, Razzaq Qaiser, Zia Khan, Zafar Abbas, et al. The gathering sat virtually spellbound. Most literati and members of the audience were riveted to their seats as the proceedings got underway at the appointed hour and continued well past midnight. Everyone in the spacious hall was visibly enthralled and little inclined to leave as the clock struck 1 am.
The emcee of the evening was poet Zafar Abbas whose suavity unfailingly impresses all and sundry. Asked to comment on the mushaira, Zafar unhesitatingly remarked: "Behad kamyab raha. Bohat umda kalam tha."
Zafar was happy that the four organizations responsible for fostering the cause of Urdu in this part of the world – Urdu Markaz International, Urdu Writers Society, Urdu Culture Society, and Anjuman-e-Taraqqi-e-Urdu - are sincere in their strivings and growing from strength to strength. "Charon fa'al haen aur batariqae aehsan Urdu ki khidmat maen pesh, pesh haen," he observed.
Zafar was highly appreciative of the scintillating kalam of the participating poets, especially that of Abbas Tabish, Khushbeer Singh, Majeed Akhtar, Dr Sabahat Asim Wasti and Khalid Masood. Khalid's poetic output had special merit: "Woh Punjabi, English aur Urdu ko milakar aek achoota asloob ikhtiyar karkae samaj, maashrae aur hamarae aehad kae almiyon ko mizah kae rang maen dal kar mehfil ko zaafran bana daetae haen."
-------------------------------------------------------------------------------------