Faran Tahir Opens New Star Trek Movie
By Ras H. Siddiqui

The new Star Trek crew (left), Faran Tahir (center) and Zachary Quinto as young Spock (right)
Fans of the 1960's television series from around the globe and especially in Pakistan will enjoy the new movie "Star Trek" which opened on May 8th to rave reviews in America.
Pakistani-Americans will be especially pleased to find that the movie's first image is one of their own as the striking expression of Faran Tahir (Captain Robau) fills the screen as he commands a Federation Starship in extremely unfavorable conditions with a subsequent Romulan assault.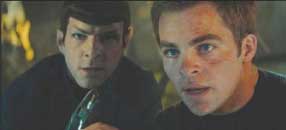 The new Spock and Kirk

San Diego resident and Pakistani-American actor Faran Tahir does justice to his short role with an intensity that immediately grips viewers in an otherwise loosely acted film with the notable exceptions of Leonard Nimoy (Old Spock) who once again steals the movie and youngsters Zachary Quinto (Young Spock) and Zoe Saldana playing the role of Uhura.
Not to be misled, the other main roles were adequate and extremely entertaining, especially with a story-line which is somewhat difficult to follow. Time travel is often confusing to relate to but when at least two different periods start to co-exist, the viewer is caught off guard during this film.
The movie delves into the background of its main characters as children for us to better understand their roles. But unfortunately this is not a movie for kids. It mainly targets viewing teens, young adults and us aging "Trekkies" from the 1960's fan base of the original television show. It does have its strange moments and relies a great deal on humor to pull off a winning final product. The impression that one gets is that this is the pilot-launch of another series of Star Trek movies and that many more are to come.
This is a very attractive and young cast that Director J.J. Abrams has used effectively. Chris Pine fits right in as the young Captain Kirk. John Cho is for a moment difficult to imagine as the young Sulu due to his last major exposure in second of the "Harold and Kumar" comedy series, but we eventually come to accept him. Anton Yelchin as Chekov is possibly the funniest member of the cast here as Simon Pegg as "Scotty" and Karl Urban as McCoy also have their own uniquely humorous roles to play. But some parts of the movie are just plain unbelievable, especially when the father of James T. Kirk does not know whether his wife is having a girl or boy centuries from now into the future.
All said and done, the story of this new Star Trek movie could have been a little less fragmented. The special effects were alright but nothing in the "wow" zone. But nostalgia carried us all the way here and incredibly it was enough to rate this movie three out of four stars.
-------------------------------------------------------------------------------------