DIL San Francisco Gala 2009 'Journey through Pakistan'
By Ras H. Siddiqui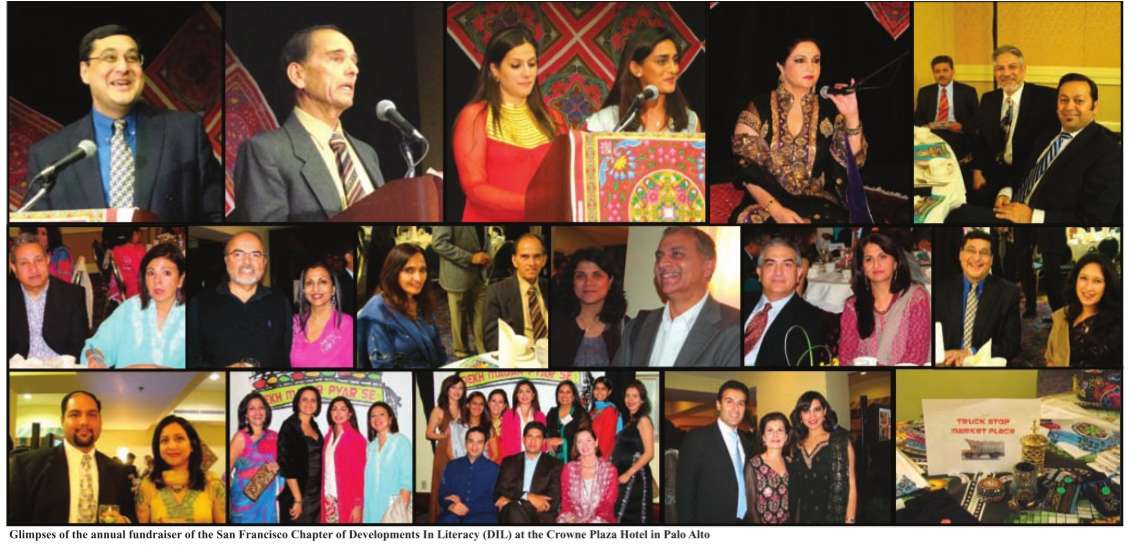 The San Francisco Chapter of Developments In Literacy (DIL) held its annual fundraiser and community outreach effort at the Crowne Plaza Hotel in Palo Alto on Saturday, November 7th 2009 with the theme of "Journey Through Pakistan" using a "Truck Art" perspective.
The Who's Who from within the Pakistani-American community of the area along with a substantial presence of non-Pakistanis (Indian-Americans and others) gathered at this sold out event which highlighted "Pakistaniat" through the unique perspective of Dr. Adil Najam and honored the work of America's best foot forward in Pakistan and Afghanistan, Co-Founder of the Central Asia Institute Mr. Greg Mortenson.
DIL is a US-based, non-profit organization launched in 1997 that has taken on the difficult challenge of female illiteracy in disadvantaged areas of Pakistan. With modest beginnings, this organization is currently running 150 schools and teaching close to 16,000 students in some remote areas of the country, and it hopes to reach the goal of helping 23,000 students by the year 2012. It has mustered a great deal of support from within the Pakistani community in the United States and its good work has been recognized by the mainstream media, including the New York Times. And all this attention is well deserved.
In the San Francisco Bay area the DIL Chapter has been quite active during the past decade and joined by the local Human Development Foundation (HDF) and The Citizen's Foundation (TCF), the focus is on schooling young Pakistanis who would otherwise have little hope of getting education except in religious madrassas (some of which have been used for spreading extremism). And since in the Pakistani national language the word DIL literally means "Heart", one can only add that this effort has its heart in the right place.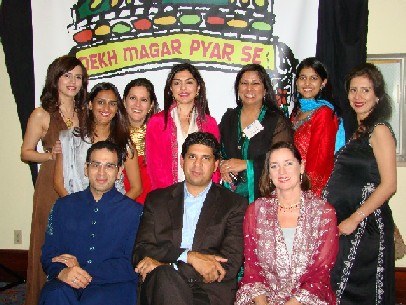 DIL San Francisco Board
After a social mixer, the formal event started off with words of welcome from DIL Gala Co-Chairs Paru Yusuf and Ambreen Jamal.
"Ask yourself... Does it matter what I do?" noted Paru. She also elaborated that promoting education is possibly the best investment that can be made in Pakistan today, especially towards the education of young girls. "We ask you to stand with us tonight." In a follow-up, Ambreen Jamal, while adding her own words of wisdom, also took the opportunity to introduce the evening keynote speaker, Dr. Adil Najam.
Dr. Najam is a Professor of Global Policy at Boston University, Director of the Pardee Center for the Study of Longer-Range Future, and Senior Fellow, International Institute of Sustainable Development, and wears many other hats.
He was also the lead author on the third and fourth assessments of the Intergovernmental Panel on Climate Change (IPCC) for which the team was awarded the 2007 Nobel Peace Prize. And my apologies for not adding many more of his credentials here because he is also a friendly, unassuming person with a good sense of humor and a very perceptive mind.
"I want to talk about us," said Dr. Najam, addressing the Pakistani-American community in particular. He said that we cannot do anything about Pakistan's past but we can do something about its future. He elaborated on three questions: 1) What can Pakistanis outside of Pakistan do for the country?
2) What does development really mean? And 3) What is the real impact of organizations and efforts like DIL? And in addressing these questions Dr. Najam shared that unique perception of his that was mentioned earlier. What is the basic problem faced by Pakistanis?
Pakistanis face the strange dilemma of possessing the dual talent of "Individual Excellence" and "Collective Failure." Self criticism is not an easy task, but Dr. Adil Najam presented a very accurate picture before us, but he also did it with great care and a proper dose of humor. One individual Pakistani may excel five individuals from another ethnic community but five Pakistanis cannot ... (the reader can connect the dots here). Dr. Najam went on further to suggest that Pakistanis should learn from the legacy and work of the late Mahbub-ulHaq), Dr. Akhtar Hamid Khan and that of Sattar Edhi and try to emulate it. He also presented statistics of and dismal Pakistan's standing on Human Development Index. He also explained that the real answer to the question on the development is what a common man would answer to Kiya Haal Hai in Pakistan . He said that education is the best opportunity in Pakistan since it is also the country's biggest export (manpower). He added that education adds empowerment and in celebrating empowerment in Pakistan, one cannot ignore the great women of that country (he included pictures of Mukhtar Mai and the late Benazir Bhutto in that slide). He also said that we need to recognize "the missing women of Pakistan" who do economic work from 10 to 12 hours a day while the men of the country work 2 to 4 hours less.
He also briefly highlighted the contributions of the 500,000 Pakistanis in the United States who donate a great deal of money and effort not only for their country of origin but to their community here.
Dr. Najam is a really tough act to follow but Greg Mortenson was next introduced, unfortunately in absentia and a last minute cancellation of his plans to be at the event due to a severe illness. "Everywhere he goes, he becomes one with the people," best describes Greg, who was represented by his long-time associate and Director at the Central Asia Institute (https://www.ikat.org/ ), Dr. Abdul Jabbar. From Gordon College in Rawalpindi to the City College of San Francisco over four decades, Dr. Jabbar's life would need a separate article. But on this occasion Dr. Jabbar was representing his friend Greg Mortenson, mountain climber, builder of schools and the author of "Three Cups of Tea" (a book that one can highly recommend to both Americans and Pakistanis).
"You must read the book, because it has the power to transform people," said Dr. Jabbar. While accepting a special award from DIL to Greg Mortenson for making a positive difference in our (troubled) world, Dr. Jabbar described his friend as a modest and unassuming person that one can easily relate to. He spoke of how Greg thought that illiteracy could be eradicated in the world for much less than the cost of wars. Dr. Jabbar also took the opportunity to share a poem by a US soldier based in Konduz in Afghanistan and his thoughts after reading "Three Cups of Tea." There was also mention of Greg's next book "Stones into Schools" before the presentation of a video on Greg Mortenson in action in northern Pakistan.
A fine dinner from Tandoori N Curry Restaurant in Milpitas offered a break to eat and socialize as the DIL fundraiser began soon after. A four-pronged approach was used as proceeds from a Pakistani Market Place (selling fine handicrafts and textiles), a silent auction, a sale of colorful hand painted table centerpieces, and direct donations made up the fundraising amount.
Here the work of Truck Art artist Haider Ali along with painter Faiza Shaikh and especially Ayesha Rashid Khan and Mariam Hussain needs to be appreciated. Thanks also to the DIL San Francisco Board with Paru Desai Yusuf (President), Ambreen Jamal (Vice President), Sara Abbasi, Nayela Keen, Shuja Keen, Amena Patel, Zakia Rahman, Bonnie Sheikh and last but not least Zia Yusuf .
And finally to the entertainment finale and a huge "thank you" to the legendary singer Tahira Syed for giving us old Pakistanis a continued sense of appreciation of our past. From Radio Pakistan, to Pakistan Television, to the cover of National Geographic Magazine and into our lives through her melodies, Tahira Syed remains an icon.
Starting off with a semi-classical number, the late Ahmed Faraz's "Yeh Aalam Shauq Ka Dekha Na Jai" best described this DIL event.
From the Urdu, Punjabi and Dogri languages we journeyed through her mother Malika Pukhraj's "Woh Baatain Teri" to a personal favorite "Yeh Mehfil Jo Aaj Saji Hai" to the Punjabi Mein Naacchan Saari Raat, the night was still young when we unfortunately had to leave.
In conclusion, DIL San Francisco once again demonstrated its proven track record of community success at its San Francisco Gala 2009.
Great job everybody! We especially enjoyed the theme for the evening of journeying through Pakistan via Truck Art. Those old trucks would not only be antiques here in the US but the words of wisdom often painted on them represent the heart (DIL) and soul of the people of Pakistan. And during this very troubled time for the country the hope that people like Dr. Adil Najam continue to express, even short lines of writing painted on trucks, combined with the work of organizations such as DIL and a prayer or two, should help to carry Pakistan forward.
-------------------------------------------------------------------------------------