CPACC Promotes Trade Not Aid for Pakistan at Historic Event on Capitol Hill
By Haya Farooqui
Irvine, California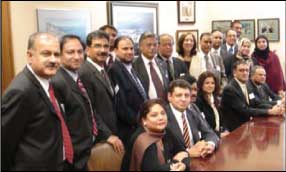 CPACC Directors and some of the participants in the first-ever Pakistani American
CEO's Convention on Capitol Hill with Senator Maria E. Cantwell (D-WA)
at her office in Washington, DC
Washington, DC: Right in the midst of the Kerry-Lugar bill controversy (before president Obama had signed it) when Pakistani politicians were actively participating in playing the blame game, Council of Pakistan American Chamber of Commerce decided to take matters in its own hands by organizing a convention in Washington DC to lobby for the much needed free trade policies that have been promised to Pakistan for quite sometime but have never been implemented.
Up till now all Pakistani organizations, including CPACC, have only taken up issues that were limited to FBI, airport security, racial profiling etc., but this was a unique concept that required immediate attention. Keeping in mind the dire need of alleviating the economic crises in Pakistan with the slogan of TRADE NOT AID the board of Directors of CPACC along with Safeer-e Pakistan of GEO TV, under the leadership of Mr. Waqar Khan and Mr. Jamal Khwaja created history by organizing the first ever CEO's Convention, A Day on the Hill on October 14, 2009 to bring together the extremely successful members of the Pakistani-American community from all over the nation to work towards the same goals:
Free trade for Pakistan
Increase trade with Pakistan
Create Reconstruction Opportunity Zones (ROZ's) in the FATA area
Lower tariff on Pakistani imports
Only free and increased trade is the solution to defeat extremism
The morning commenced with the attendance of several Congressional members and Pakistani American leaders voicing their concerns over trade issues and how to resolve them. President CPACC Mr. Jamal Khawaja, Chairman Waqar Ali Khan and Co-Chair Arif Mansuri also address the gathering. Dr. Afsar Malik stressed on the fact that we need more business leaders and CEO's to join the forum to have a stronger voice for free trade and ROZ's. Mr. Hasan Hashmi wanted the community leaders to be focused on trade with the United States on fair grounds because "we have done our part and now it's the United States turn to do its," exclaimed Mr. Hashmi. Mr. Iqbal Shiekh spoke a great deal on the core issues causing the poor economic development and concluded that "terrorism should be fought with trade.'
Congressman Kieth Ellison (D-MD) member of the House Committee on Foreign Affairs Sub-committee on the Middle East and South Asia, discussed the need for a grassroots effort to change the trade policy between the US and Pakistan and praised CPACC for organizing the convention. He encouraged CPACC members to contact and work directly with their elected officials.

Waqar Khan with Congresswoman Sheila Jackson CPACC Board of Directors with Congresswoman Judy Chu

CPACC Board of Directors with Senator Maria Cantwell
Congresswoman Sheila Jackson (D-TX) who is also Chair of the Pakistan Caucus and a member of the House Committee on Foreign Affairs Sub-committee on the Middle East and South Asia said she "is proud to encourage trade as a means to empowerment for the Pakistani people," and she encouraged CPACC members to make sure that they meet their elected officials to make their voices heard. "A squeaky wheel gets attention, therefore you need to keep on pressing on your issues till someone notices it," said Congresswoman Jackson. She also pleaded to the Pakistani-American community to go to their elected congressional leaders and ask them to join the Pakistan caucus.
Kan Cummings, Lead legislative assistant to Congressman Chris Van Hollen (D-MD) (member of the House Committee of Ways and Means Subcommittee on Trade and the House Committee on Oversight and Government Reform Subcommittee on National Security and Foreign Affairs) informed that although the Congressman Hollen couldn't attend the session due to floor votes he was happy to announce on his behalf that CPACC's support and voice are pushing forward his legislation to creating Reconstruction Opportunity Zones, ROZ's.


(Left): Leaders of the community at the CEO'S Convention, (Center): Fatima Khan, Congresswoman Judy Chu and Haya Farooqui , (Right): Arif Mansuri, Haya Farooqui, Rashid Mahmood, Congresswoman Sheila
Jackson, Fazal Farooqui, Jamal Khwaja, Fatima Khan and Asim Ashray
Christine De Angelis, Director of South Asia office of the US Trade Representatives, also part of the leading trade talks between the US and Pakistan, outlined the issues related to legislation moving the ROZ's forward and gave details on how the zones would work and where they would be located; he voiced optimism that increased and freer trade between the US and Pakistan was on the horizon.
Esperanza Gomez Jelalian, Executive Director, US–Pakistan Business Council at the US Chamber of Commerce also addressed the gathering. Ms. Jelalian and her organization have been vocal supporters of increased trade between the US and Pakistan, as well as the inclusion of the ROZ's.
Congresswomen Judy Chu, D-CA, who has recently been appointed to the Education and Labor Committee, expressed her support for increased trade between the US and Pakistan. Her willingness to join the Pakistan Caucus was much appreciated.
Senator Maria Cantwell (D-WA), Member of the Subcommittee on International Trade, Customs, and Global Competitiveness met with members of CPACC in her office in a private meeting and addressed their concerns about opposition to her legislation creating Reconstruction Opportunity Zones and told CPACC members that she will use her office to assist in moving the legislation by having Senate members sign a letter encouraging passage. She also said, "We are here to listen to your issues; if you don't tell us how would we know?"
Minister of Trade of Pakistan in Washington DC, Mr. Azmat Ali Ranjha, reassured the audience that the government of Pakistan has completed the ground work to facilitate the ROZ's by taking care of all the necessary steps for its implementation.

In a recent survey CPACC noted that France exports $35 billion worth of products while paying $200 million in tarrif but Pakistan exports $3.5 billion products and pays $500 million in tariffs: this is just tiny little example of the extreme bias and atrocity that is being practiced against a nation that has not just been an integral ally of the United States in the fight against terrorism but has also helped the US fight the war of three decades with the Soviets. The only solution to end terrorism is to empower the nation with jobs and improve the economic structure of the country.
The interesting aspect of this conference was that several of Congressional member who attended, when asked as to how the Pakistani American community can contribute in helping to pass the trade bill gave the same advice, "Talk to your representatives. Tell them your issues and follow up!" CPACC would like to urge the Pakistani-American community to take an active role in the mainstream politics and keep in touch with their elected officials and voice their concerns and opinions to them because they are easily accessible and very helpful.
The Council of Pakistan American Chamber was humbled by the overwhelming response and would like to thank their patrons and leaders of the community who attended this historic convention traveling from all over the country, especially Mr. Iqbal Shiekh, chairman Cybertech, Dr. Hassan Hashmi, Dr. Afsar Malik, ambassador at large, Mr. Nadeem Salim of United Wealth. CPACC board of directors, Mr. Jamal Khawaja, Mr. Arif Mansuri, Mr. Waqar Khan, Ms. Haya Farooqui, Ms. Fatima Khan, Mr. Fazal Farooqui, Ms. Fawzia Khawaja, Mr. Asim Ashray, Mr. Rashid Mahmood and Mr. Luiz M, would also like to thank all the elected officials and members of Congress who attended this convention with great fervor.
Apart from the tremendous success of this event, the seriousness of the issue was established in the eyes of policy makers and elected officials. It also substantiated that Pakistani Americans are politically charged and ready to take any problem head on. CPACC wants to move forward with the resolve to organize similar conventions and requests the Pakistani-American community to have an active participation in such events.
-------------------------------------------------------------------------------------