Pakistan Link Partners with Indus Television Network
A Pakistan Link Report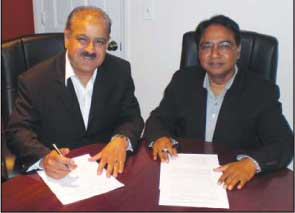 Mr Arif Zaffar Mansuri (left) and Mr Shafiq Saddiqui (right) sign the distribution
partnership agreement on behalf of their respective organizations in New York
Anaheim , CA: Pakistan Link, a well established nationwide Pakistani-American newspaper, and Indus Television Network, a market leader in electronic media, announced today a distribution partnership. As part of this agreement, Pakistan Link will act as an exclusive representative of the Indus Television Network on the west coast of the United States.
Whereas Pakistan Link is the most respected and widely subscribed English and Urdu newspaper of the Pakistani-American community in USA, Indus Television Network is known as the best Urdu entertainment channel on the satellite. Two of its channels, Indus Vision and Indus Music are a part of the 'Pak Mega Pack' on the Dish Network.
"We are thrilled to have established a great partnership with Indus Television Network," said Arif Zaffar Mansuri, President and CEO of Pakistan Link. "Working with a topnotch organization like Indus Television Network will allow us to provide our advertisers, a more efficient and effective method of reaching targeted demographic audiences. By offering a one-stop shop in electronic and print media to our advertisers we will eliminate the time-intensive and cost-prohibitive process of managing an advertising campaign across multiple media outlets."
"This partnership will extend the reach of both of our companies," said Shafiq Saddiqui, President and CEO of Indus Television Network North America. "This will offer advertisers an efficient avenue to engage a highly-desirable demographic of affluent, professional, well-educated South Asian consumers on very high quality, branded media outlets."
In addition to procuring advertisement for the Indus Television Network, Pakistan Link will also be responsible for coverage of the events and activities of the Pakistani-American community on the west coast. "We wish to offer community based programming on the Indus Vision," Said Arif Mansuri. "In addition to the coverage of community events and activities, we will soon launch a weekly program on Indus Vision which will truly represent the Pakistani-American community on the west coast."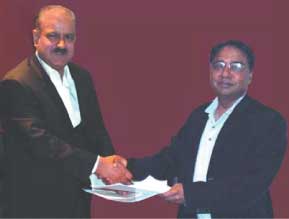 Mr Arif Zaffar Mansuri (left) and Mr Shafiq Saddiqui (right) shake hands after signing
the distribution partnership agreement
This distribution partnership is first of a kind in the Pakistani-American media outlets," said Shafiq Saddiqui. "It is expected that this partnership will better fulfill the needs of our community and the advertisers." About Indus Television Network: Indus TV prides itself with launching Pakistan's first independent satellite channel pioneering the new face of Pakistani electronic media.
INDUS TV entered the Pakistani market in 2000 with the launch of its flagship channel INDUS VISION - the first independent satellite channel and Pakistan's favorite entertainment channel. It captured the imagination of Pakistani viewers, primarily the youth of Pakistan. INDUS VISION has been credited with many firsts and produced some of the most memorable content in Pakistan's entertainment industry. INDUS VISION's morning transmission, children's programming, dramas, and tribute's have received wide acclaim. INDUS VISION also boasts a variety of popular live interactive shows of different genres.
The overwhelming response from its audience brought about INDUS MUSIC - Pakistan's premiere music channel. INDUS MUSIC or "IM", as it is popularly known, has an ever growing enthralled interactive audience domestically and internationally. INDUS MUSIC represents the music scene from Pakistan. In November 2006, MTV Networks International, owned by Viacom Inc. (NYSE: VIA, VIA.B), announced the launch of one of its most popular brands, MTV in Pakistan. MTV has been launched through a Licensing agreement with INDUS TV, one of the leading satellite channel groups in the country. MTV PAKISTAN replaced INDUS MUSIC to represent the music scene from Pakistan.
INDUS NEWS was its third launch as a 24 hour news and current affairs channel. The channel is the first of its kind on Pakistani airwaves as it offers a blend of periodic news updates, infotainment, and entertainment with each segment dedicated to targeting specific audiences. INDUS PLUS also the only channel to offer programming dedicated to the empowerment of women and has received tremendous response from women of all walks of life. Their participation and enthusiasm has been unprecedented.
G KABOOM was its fourth launch as a 24 hours regional music, lifestyle and infotainment channel dedicated to the urban youth throughout the region. The channel provides the latest in regional music, entertainment shows, red carpets, fashion shows, lifestyle, and infotainment programs.
The in-house production teams of Indus TV continue to take bold initiatives by identifying niches and developing programming for underserved broadcast market segments. INDUS FOODS and INDUS CHOTU (KIDS), daily programming segments of INDUS VISION, are such initiatives that have had a terrific response from viewers and advertisers.
Over the years Indus Television Network has expanded its reach to major markets in Asia, Africa, Australia, Europe, Middle East, and North America.