Consulate Holds Impressive Pakistan Day Celebrations in Los Angeles
Pictures by Faiz Ahmed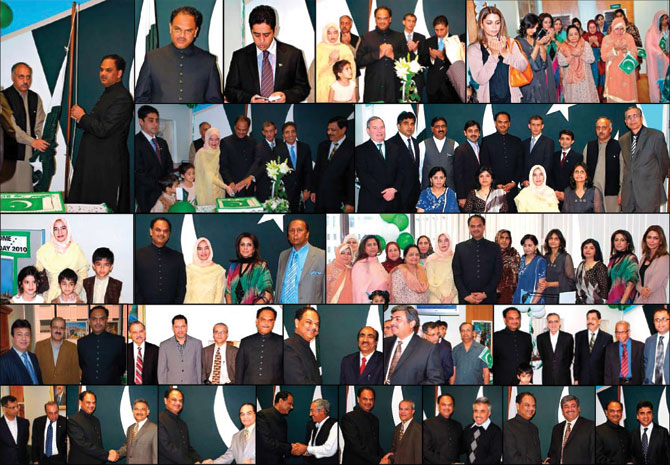 Members of the community celebrate the Pakistan Day at the Consulate in Los Angeles. Acting Consul General Dr Muhammad Khalid Ejaz and Consulate staff enlivened the proceedings with their hospitality and charm
An impressive flag-hoisting ceremony was held at the Consulate General of Pakistan, Los Angeles, on March 23, 2010 on the occasion of the Pakistan Day.
The program started with a recitation from the Holy Qur'an. Dr Muhammad Khalid Ejaz, Acting Consul General, hoisted the national flag. A representative group of the Pakistani community joined the Acting Consul General and staff of the Consulate in spiritedly singing the national anthem. The messages of the President and the Prime Minister were also read out by the Acting Consul General.
In his brief remarks, Dr Muhammad Khalid Ejaz felicitated the Pakistani-American community on the auspicious occasion of Pakistan Day. He urged the community to play its important role in building Pakistan and making it a truly modern, dynamic, and democratic Islamic welfare state.
The Consulate was tastefully decorated with balloons, posters, pictures, flags and colorful banners on the occasion. The guests were served with a specially prepared cake, traditional Pakistani samosas, jalebi, kabab paratha and tea.
The ceremony ended with prayers for the prosperity and welfare of Pakistan.
The movie of the ceremony is available at the following address:
http://www.youtube.com/watch?v=iy6ZjYU8Hd8