Chicago Roundup
MCC Full Time School Fundraiser at White Eagle Banquet
By Dr. Mujahid Ghazi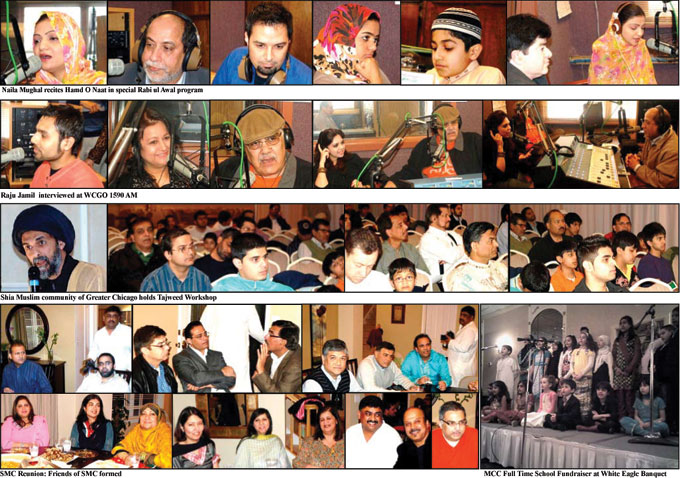 (This piece has been contributed by Eric Baseer)
Hundreds of parents, students, staff, volunteers and supporters of the Muslim Community Center's Full Time School attended the school's 20th anniversary fundraiser on Saturday, March 13.
The school's principal Habeeb Quadri held the attendees attention as a creative Master of Ceremony, interacting with students and parents during the program. "Do your best and Allah will do the rest," he said.
The program quality was nothing short of the best as various students took the spotlight with the Qur'anic recitation and Nasheed Club. High-quality food was sponsored by Barkatt Foods. Al-Habib Grill donated meat for large families who attended the dinner. All of the delicious food was served during the fundraising segment.
Speaking on behalf of the MCC President and the School Council Chairman, MCC Board Member Kamran Hussain said the school and staff takes care of their business. The school and its Council has become a model for Full-Time Islamic education. He said 20 years ago he and the current principal used to play basketball at MCC FTS, staying late and getting "kicked out." Now they're the ones making sure the young men get home on time. That kind of continuity is important to maintain, he said. MCC FTS is creating well-rounded students with unique activities from a tightly-knit basketball team to the Role-Playing Game Club.
The evening concluded around 9:30 and an additional $10,000 was raised for school expenses and a solar panel project.
Photo: Nasheed Club performs "Dream With Me"
Shia Muslim Community of Greater Chicago Holds Tajweed Workshop
Last Saturday families belonging to Shia Muslim community gathered in large numbers in the Monty's Banquet in Elmhurst Illinois to attend a workshop on Tajweed e Qur'an. It was a classroom arrangement with a curtain separating males and females while Hujjat ul-Islam Sayyid Abbas Ayleya from Seattle conducted the workshop.
There were people of all ages enthusiastically learning the right way of reading and pronouncing Qur'anic verses. The learned scholar was also giving the meaning of commonly used words in the Holy Scripture.
In the first session, he spoke of the importance of the Holy Book and its significance and attributes. He also explained why Qur'an is mentioned as a miracle. He then stressed the responsibilities of Muslims toward the Holy Qur'an. Teaching about the three major types of Qir'at and introducing seven famous recitors of the Qur'an he then taught in detail the Tajweed followed by a Question and Answer session.
Raju Jamil Interviewed at WCGO
Raju Jamil, eldest son of Jamiluddin Aali and a famous Pakistani TV and film artist, was in Chicago along with his daughter Fulbright Scholar Khaula Jamil. Both were guests at the famous Chicago Talk Show produced by Asian Broadcasting Network.
Raju Jamil talked extensively about his experiences on Pakistani TV and film. His knowledge about the Bolliwood and Lolliwood film industry was remarkable.
During his interview he received calls from his fans from all over the US and Canada. Nazish Ahmad, his long-time fan, called from Toronto and gave him a surprise. She was his fan and friend on face book for a long time but never had a chance to talk to him in person.
Khaula Jamil, who is a professional photographer, talked about photography in Pakistan. Responding to a question she said more and more women in Pakistan are coming into photography these days. Shaista Khan, Pakistan Projects Coordinator of Islamic Relief, also joined the show.
SMC Reunion: Friends of SMC Formed
A reunion of Sind Medical College graduates was held at Dr. Mansoor Alam and Ayesha Alam's residence recently. Alumni of SMC came from various towns of Midwest.
Mansoor Alam welcomed the guests and proposed the formation of Friends of SMC to support their alma mater in various academic projects. A fund was created and it was decided that soon a major fundraiser will be held to sponsor projects and scholarships for the medical school.
A delegation will soon be sent to Karachi to meet the principal and the faculty to assess the urgent needs. Delicious food was served at the end of the meeting.
Naila Mughal Recites Hamd O Naat in Special Rabi ul Awal Program
Famous Pakistani singer Naila Mughal mesmerized the radio audience recently by reciting Hamd o Naat in her melodious voice. It was a surprise for the people who had only heard her singing songs and ghazals in fundraisers since the beginning of last year.
Responding to a question she said that she actually started to perform by reciting Hamd o Naat at her primary school. Professional singing came later.
USA going through tough times: Santosh Kumar
Contributed by N. Begum
The Executive Director of Metropolitan Asian Family Services (MAFS) Santosh Kumar has said that America is going through very challenging times and facing dramatic change in demography resulting in a huge burden on the fiscal budget. She was addressing a press meeting on March 17 at MAFS.
Speaking on Mini Fundraiser and 2010 Census, she said tough economy, rising health care cost, unemployment, unprecedented home foreclosures were all common stories. Working immigrant families, with ailing senior and linguistic and cultural barriers, were facing many economic and emotional hardships due to massive lay offs.
She clarified various issues arising from the dual challenges of expansion and mobilization of resources to meet the ever growing needs of the disadvantaged elderly population. "The most urgent need is to make the MAFS self-sufficient financially. Everybody is expected to donate for it generously considering it to be their moral duty. Not the feeling of obliging but the feeling of being obliged should arise for this organization that on behalf of us looks after the seniors of our family," she added.
Dr. Firdaus Jafri, President MAFS, gave the example of the Jew community who has taken exemplary measures. She remarked, "They've made such a provision that a share of 2 % from the property of the deceased is deducted directly for community welfare services. This is the reason they are never faced with shortage of funds. Moreover, this reduces the paperwork to the minimum. If such an example is followed by the Asian community, a dedicated organization like the MAFS can totally concentrate upon its goal."
There was an elaborate discussion on the 2010 Census. Santosh Kumar urged the community to get counted and clarified various issues and doubt concerning the 2010 census. Nalini Goyal, Board Member, asked everyone to take a pledge to end the undercounted history of the South Asian community. She said that filling out and mailing back the 2010 census form is one of the most important things we can do as a community. "The questions on the form are basic and responses are strictly confidential," she added.
Kumar said their goal was to keep seniors safe, secure, healthy and happy. "Without your financial support MAFS has no other choice but to reduce some program. With your help we can have a win-win situation." She also made an announcement of a mini fundraiser, scheduled to be held at MAFS, 1032 E Ogden Avenue, Naperville, 6:00 to 11Pm on Saturday, May 22nd 2010.
IQRA Foundation Celebrates Seerat-un-Nabi (SAW)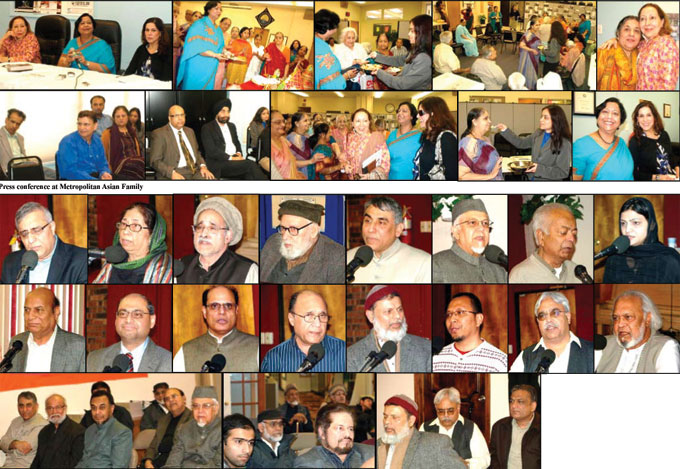 Seerah conference at IQRA
Prophet Muhammad (SAW) holds a unique position in the lives of Muslims all over the globe. Allama Iqbal has summed up what millions and millions of pious Muslims have felt over the centuries and still feel about the prophet: "Love of the Prophet runs like blood in the veins of his community."
IQRA International Foundation, Chicago, Illinois, celebrated Seerat-un-Nabi (SAW) by holding a Majlis-e Seerat-un-Nabi (SAW) and a Naateyah Mushiarah (poetry slam) on March 14, at its International Headquarters in Skokie Illinois. IQRA Foundation arranged this program with the cooperation of the Urdu Cultural Society, Chicago, Gahwa-rah-e-Adab, Karachi University Alumni Association, Arbab-e-Urdu, Urdu Times, and Urdu Circle of North America, Ittehad, Urdu Link, Pakistan Times, and ABN Chicago. Dr. Asad Husain was the chief guest.
The first session presented a Majlis-e Seerat-un-Nabi (SAW). Dr. Muzaffer-ud-din Farooqui presided over the session. Prominent academicians and speakers praised and discussed the various traits of the life of the Prophet Muhammad (SAW). The session began with a recitation from the Holy Qur'an by Hafiz Ikhlaas Ansari. Hashmat Sohail and Dr. Mujahid Ghazi conducted the session.
Dr. Abidullah Ghazi welcomed the guests and said that God has revealed the most beautiful message in the form of the Qur'an. He said that the holy book and the life of the Prophet (SAW), Seerat-un-Nabi, are the guiding lights for achieving success in this world and hereafter.
Ahsan Rafique talked about the institution of the prophethood and sayings of Prophet (SAW). Dr. Ahmed Shahzad Khan expounded on the importance of seeking and applying knowledge in the light of the Qur'an and Ahadith (sayings of the Prophet SAW). Using a multimedia presentation he compared the size of cosmos and human knowledge in the 21st century with the magnitude of divine knowledge. He also discussed various models of seeking knowledge in the 21st century viz-a-viz Ilm with Iman.
Dr. Shahid Siddiqui continued the discussion by reflecting on the relevance of the Qur'an and Ahadith in modern times. He also explored the glorious achievements of the Muslim scientists.
Mrs. Mazher Ahmed talked about the moral greatness of the Prophet (SAW). Professor Masroor Qureshi talked about the importance of women rights in the contemporary era. Najamul Hasan, Dr. Mujahid Ghazi, Niala Tabassum Mughal, Ejaz Hashmi, Haseeb Baig, Nida Ejaz, Mohammad Nadeem, Shahid Hussain, and Dr. Javaid Bhatti recited exquisite Naats between the speeches. Dr. Muzaffar-ud-din Farooqui presented an overview of pre-Islamic and post-Islamic era in Arabia, and discussed various dialogues that took place between Muslims and non-Muslims about the character and moral excellence of Prophet Muhammad (SAW). Dr. Asad Hussain said that Islam is a complete way of life. He talked about the importance of rights of fellow human beings. Dr. Asad said that Muslims of today should pay special attention to teaching social manners and etiquettes to the young generation so that they can work for the collective welfare of society.
The second session comprising of a Naateyah Mushiarah (poetry slam) started after the dinner break. Niaz Gulbergavai presided over the Naateyah Mushiarah (poetry slam). Amin Haider conducted the Mushiarah. Mr. Sajid Chaudhry was the chief guest. Hashmat Soahil presented the highlights of the Naateyah Mujallah (collection of Naats) published by Urdu Cultural Society, Chicago.
Prominent poets from Chicago and suburbs, Hamid Amrohavi, Niaz Gulburgavi, Hashmat Sohail, Naeemuddin Shah, Professor Naqi Akhter, Rasheed Shaikh, Wajid Nadeem, Shahid Alig, Dr. Javaid Bhatti, Nazar Naqvi, Saifuddin, Saif Lateef, Wasif Molljee, Dr. Khursheed Khizer, Mahboob Ali Khan, Sajid Chaudhry and Dr. Abidullah Ghazi read their passionate Naats expressing their love for the Prophet (SAW).
Towards the end of the program, Dr. Abidullah Ghazi thanked the audience for attending the program and said that next year IQRA International Foundation plans to hold a comprehensive program to celebrate Seerat-un-Nabi (SAW). Mr. Aslam Kabir thanked Dr. Abidullah Ghazi and Dr. Taseema Ghazi for organizing and hosting the wonderful event. Sheerat-un-Nabi (SAW) program was concluded by offering a dua (prayer) by Wajeehuddin Hamid.