TCF Joins Hands with PSA to Organize Basant 2010
By Huma Amir
Pictures by Faiz Ahmed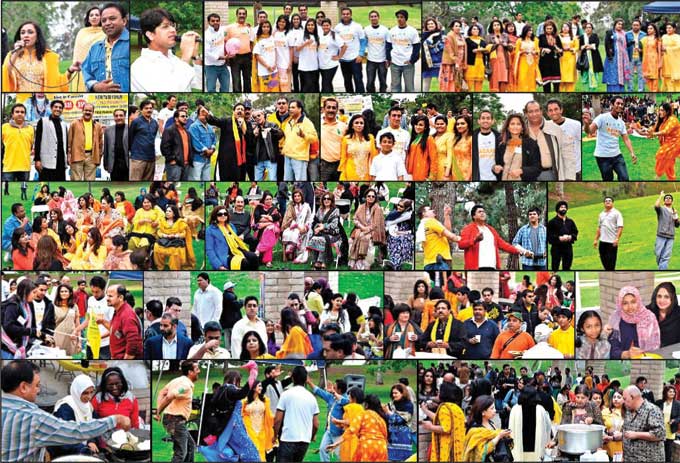 The joyous mood is all too evident as members of the community celebrate TCF Basant at the Craig Regional Park, Fullerton, on Aril 11
I vividly remember that when I was young I used to watch my brother fly kites in Pakistan. Basant was a colorful event at that time and joyously celebrated at the advent of spring. It was also called Pala Urrant which meant that winter had departed and it was time to welcome spring. I still recall that entrancing period of my childhood and of the thrill we had of colorful kites dotting the gleaming blue sky.
I moved to the USA nine years back and often missed my beautiful country Pakistan, especially its rich culture, love and colors. Unfortunately, these days the bombs blight the national scene but we are determined to bring back those colors by joining hands, forging unity, and engaging our youth in challenging undertakings.
So when I moved here I used to miss Pakistan a great deal. My husband and I happen to be volunteers of TCF - The Citizen Foundation - an organization which builds schools for the under-privileged children of Pakistan. Around five years back my husband came up with the idea of organizing a picnic and celebrating Basant. We wasted no time and invited eight families to a local park. Flying kites in yellow and orange clothes reminded us of the celebrations in Pakistan. It was in February and pretty cold. But it was still great fun. The following year, we celebrated Basant with 20 families and the celebration turned out to be great fun again. Then we decided to celebrate the day on a much large scale and for a cause: we introduced TCF Basant with around 350 people joining hands in the noble undertaking. The turnout was great and every one loved it. I thought it was a propitious occasion to give a little speech to thank the gathering and we spiritedly sang the national anthem.
I was standing on a chair with a mike in my hand and I looked around and was amazed how every one sang the national anthem: the look in the people's eyes was extraordinary and the shine in the youth's eyes was even more inspiring. The people readily shared their food with one other.
This year when we drew up plans for organizing the annual function we got a call from the President of Cal Poly: the Pakistani students wanted to join hands with us in supporting the TCF Basant! So we did it together this time on April 11 th in the Craig Regional Park, Fullerton. It took us almost two months to plan the event. The turnout surpassed all our expectations .There were around 500 people. I have never seen such a big event involving potluck and halwa puri. People brought so much food. It was a colorful event with the community attired in yellow orange clothes, their faces aglow with expectation and regard for one another, and the kites all over up in the air. People enjoyed the live music.
This year the most exciting thing was that our youth was actively involved in the celebrations and participated in the Basant festivities with manifest enthusiasm. I personally go to a lot of social events but hardly see any youth there. This was a rare event with a marked youth presence. We do need such events where all members of the family can be together and enjoy every moment of the proceedings. Blissfully, we succeeded in raising funds for a good cause - TCF - too.