Sacramento Celebrates Pakistan Independence Day
By Zaki Syed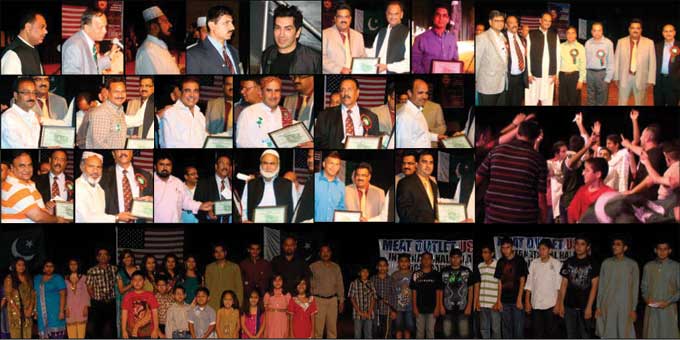 Pictures above: Glimpses of the Pakistan Independence Day celebrations in Sacramento
It was that time of the year again. Each and every summer in the month of August, a national celebration known as Pakistan Independence Day would take over and reenergize the Pakistani community in Sacramento. Where first generation and second-generation youths, children and adults would come to dance, listen to their favorite Pakistani artists, show off their traditional dress, and just celebrate being a Pakistani-American.
This year was no different from the rest, except for one major problem: a conflict of interest. The holy month of Ramadan starts on August 11, meaning that August 14 (Pakistan Independence Day) celebration would be occurring during the month of Ramadan. With all the time and religious commitments that must be honored during Ramadan, the probability of an Independence Day celebration occurring during the summer in Sacramento seemed very unlikely. That is until a group of community leaders in Sacramento came up with the brilliant idea of holding the Pakistan Day celebration a few days earlier. In order to encourage people to attend and not put a monetary value on the celebration admission was free. The event took place on July 31 st, 2010 on Saturday at Luther Burbank high school at 7:00 pm.
Sponsor Malik Awan said that he was determined to hold an Independence Day celebration this year: "We are overseas but we are always thinking of back home (Pakistan) and we need to celebrate our independence day, we have to teach our kids and teach our community about our culture," said Awan. "Also it was a very good idea to keep the admission free we didn't want to force people to buy tickets."
Awan's vision of teaching kids about the Pakistani culture became a reality that night as youngster Rafia Islam started the night with a recitation from the Holy Qur'an. Samira Walid who recited a beautiful naath followed her. Afterwards, Fiza Baloch charged up the audience with a welcome speech to the Pakistani community that ended with lusty cheers of Pakistan Zindabad!!
It was after Baloch's speech that the children of the Pakistani community in Sacramento really dazzled the audience. A group of over 50 Pakistani kids gathered on stage and sang both the Pakistan and the US national anthems to show their love for both countries. They remained on the stage to perform the national song called "Jeevay, Jeevay, Jeeevay Pakistan", the audience got so involved that they started to clap along with the children and chanted " Jeevay, Jeevay, Jeeevay, Pakistan."
Mohammed Tariq, one of the coordinators for the children's group was extremely impressed, I loved the patriotic songs, it showed our children have love for Pakistan. For the roots of Pakistan," said Tariq. I wanted them to recite the anthem to learn about our way of life."
Host Zeeshan Iqbal agreed, "It was patriotic songs with a little bit of American flavor, the crowd even started clapping," said Iqbal. " Going up and down, up and down screaming Pakistan, Pakistan, Pakistan!"
A comedy skit performed by Umar Afzal and Saqib Baazr depicting Punjabi life in Pakistan followed the children's performance. The skit was in Punjabi and was acted out excellently drawing numerous laughs from the crowd.
.
Then the children of the Pakistani community once again dazzled the crowd with a spectacular fashion show. Numerous children walked up and down the stage in a variety of colors and designs donning kurtas, suits, shalwar kameez, dupattas, and various sorts of traditional dress and clothing typically worn in Pakistan.
Iyasha Iqbal, who helped organize the fashion show was very proud of the children: " It was very clear to see that all the kids cooperated and showed off their hard work to the audience."
The children's precise depiction of Pakistani clothing and creativity amazed members of the audience so much so that most appeared inclined to describe it as the best part of the show.
The main organizer and coordinator Sohail Shahzad, strongly agreed with this view. "That was the best part of our show. I loved our kids, their hard work and dedication, and all the dresses they were wearing."
Host Reda Salam also appeared a fan of the fashion show: "Everything went well, we really liked the fashion show cause the crowd was more into it and it was a lot of fun."
The kid's fashion show was followed by a rap from youth Zaki Syed. Syed rapped about the injustices and tragedies plaguing Pakistan and called on the audience to go out and help Pakistanis overseas. Syed then displayed his talent of impromptu freestyle raps by asking members of the audience to give him random topics.
Syed's rap was followed by a speech by the Consulate General of Pakistan Dr.Muhammad Khalid Ejaz who encouraged the Pakistani Americans of Sacramento to be patriotic to motherland Pakistan, while continuing to help and stay loyal to their current homeland, the US.
"The Sacramento community is the most ancient Pakistani community. You people are here, but your heart is still in Pakistan," said Ejaz. "Its good to have your heart in Pakistan, but you should also learn the discipline and fight for the human rights of this country also." Ejaz ended his speech by calling on all Pakistanis to make themselves vibrant, peaceful, and humane.
It was now time for the concert to begin. The parking lot and auditorium was starting to get packed with crowds of youth waving Pakistani flags, wearing the colors green and white to represent Pakistan, all in the anticipation to hear their favorite Pakistani singer Fakhir.
The first singer to perform and get the crowd riled up was Ishmeela Narula, followed by Atif Butt who pumped up the crowd with his fast paced songs and energy. After both singers had performed, it was time for the main event: Fakhir. Fakhir opened up with the hit national patriotic song, "Ae Watan." The song enlivened the crowd as groups of youthful boys gathered behind Fakhir on stage waving the Pakistani flag and dancing behind the singer. In the meantime a group of girls gathered near the front of the stage encouraging Fakhir while he sang. After each song Fakhir sang the crowd chanted, "Pakistan Zindabad, Pakistan Zindabad!". In between Fakhir's performance, Camran Mustafa jumped on the stage and performed a rap in his traditional language of Patwuri. Several charged groups continued to dance behind Fakhir throughout his entire performance, waving Pakistani flags to demonstrate their love and patriotism for the country.
While many members of the audience were eager to see Fakhir, they said the real reason they came to Independence Day celebration was to celebrate their culture.
"To be honest we didn't come here just to see Fakhir. We came here to celebrate our culture, to represent our country," said youth Talha Sheikh, "To help out Pakistan.Pakistan Zindabad!"
Sheik, the youth, sponsors, and the children had the right attitude. The Pakistani Americans living in the US have two countries and two cultures, one is Pakistani and one is American. While, assimilating into the American culture is great, we cannot forget the values and traditions of our homeland because that also defines who we are as a people. That's why the sponsors worked so hard to put this event together: they didn't want Pakistanis living in the US, especially the second generation, to forget their national customs and traditions. Pakistan Independence Day is a reminder to remember our heritage and go out and help our motherland, Pakistan, which is currently suffering from ravaging natural disasters as floods. So let's go out and help Pakistan through letters, money, donation, or whatever help we can offer. Never forget our traditions, and when we say Pakistan Zindibad we should say so whole-heartedly. Pakistan Zindibad, Pakistan Zindibad!!
The event was organized by Shahid Hussain, Malik Younas Awan, Sohail Shahzad, and Haq Nawaz.