Now Is the Time to Help Pakistan
By Abdus Sattar Ghazali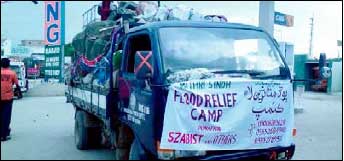 Pakistanis devotedly come forward to define their identity in the face of any national
catastrophe. Providing a relentless chain of support for their flood affected countrymen,
volunteers work round the clock to collect donations. The spirit of volunteerism
surpasses the noblest strivings, making the conscientious Pakistan society the biggest
saving grace for the country. Courtesy Dawn
Los Angeles , CA: Pakistani community organizations in America and Canada have intensified efforts to raise funds for the flood victims in their native country.
These groups have joined efforts of the American and Canadian mainstream institutions which are busy in collecting funds and material for the flood victims. Various mosques and Islamic centers are also raising funds. For example, the Islamic Society of East Bay, California raised $16,000 this week which will be sent to Pakistan through the Hidaya Foundation. In Augusta, Georgia, the Pakistan American Cultural Association is raising money to help flood victims. The PACA president, Dr. Ahsan Qadeer, recently visited Pakistan to help in the relief work.
In Canada, two of Fort McMurray's community groups are joining forces in a fundraising effort to help the victims of the Pakistan floods. Markaz Ul Islam and the Pakistan Canada Association of Fort McMurray, are raising and collecting funds. Sulaiman, president of the PCA Fort McMurray, says they hope to raise $100,000 in the next two months.
Many Pakistanis, who are watching with great interest the flood relief programs highlighted by a number of Pakistani TV channels, may prefer to donate through these channels.
Here is the list of institutions and organizations receiving donations for the relief work in the flood affected areas:
Islamic Relief USA
http://www.islamicreliefusa.org/pakistan-floods?gclid=CPmarOrO0aMCFQhbagodBk75uw
Edhi Foundation USA
http://www.edhifoundation.com/contact.asp
Association of Physicians of Pakistani-descent of North America (APPNAhttps://www.instantreg.com/appnadonations/
ARY TV network
Title of Account: Khawaja Gharib Nawaz Welfare Trust
Account No. 010 4843 0
Bank: United Bank Limited Site Branch Karachi Pakistan,
Branch Code 0071,
Swift Code: UNILPKKAA)
AAJ TV
Title of Account: Syed Talat Hussain/ Kashif Abbasi
Account No: 0516616341000689
Bank: Muslim Commercial Bank
Branch: Stock Exchange Branch, Blue Area, Islamabad
Branch Code: 1390
Swift Code: MUCBPKKAA
Hidaya Foundation USA
Imran Khan Flood Relief Fund
Title of Account: Imran Khan Flood Relief Fund
Account No: 0602-79007997-03
Bank: Habib Bank Limited (HBL)
Swift Code: MUCBPKKAA
Islamic Medical Association of North America (IMANA)
http://www.imana.org/
Islamic Society of North America (ISNA)
http://www.isna.net/articles/Press-Releases/ISNA-Urges-Community-to-Support-Flood-Victims-in-Pakistan.aspx
Pakistan American Congress
The Zakat Foundation of America
http://zakat.org/where_we_work/campaign/pakistan/zakat_foundation_pledges_100000_to_pakistani_flood_victims/
Here are some mainstream institutions raising funds in the US:
American Red Cross
http://www.redcross.org
800-RED-CROSS (800-733-2767)
CARE
http://www.care.org
800-422-7385
Catholic Relief Services
http://www.crs.org
800-736-3467
Doctors Without Borders
(Médecins Sans Frontières)
http://www.doctorswithoutborders.org
888-392-0392
Mercy Corps
http://www.mercycorps.org
888-256-1900
Oxfam America
http://www.oxfamamerica.org
800-77-OXFAM (800-776-9326). Outside the United States: 617-482-1211
Save the Children
http://www.savethechildren.org
800-728-3843
UNICEF United States Fund
http://www.unicefusa.org
800-FOR-KIDS (800-367-5437)
U.N. World Food Program
http://www.wfp.org
Situation Facts: