This Is Our War, Qureshi Tells San Francisco Pakistani-American Community
A Pakistan Link Report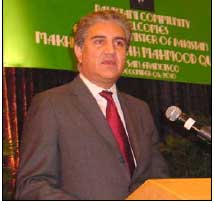 FM Qureshi addresses the community in San Francisco
Fremont, CA: The Foreign Minister of Pakistan, Makhdoom Shah Mahmood Qureshi reiterated that Pakistan's fight against extremism is one that is being fought for its own interests and that the actions taken by the security forces of the country are backed by national consensus.
Addressing a gathering of over 200 prominent Pakistani-Americans from local and regional organizations at the Marriott Hotel in Fremont, California, Mr. Qureshi said that the decision to confront terrorism by Pakistan has not only been fully approved by the country's democratically elected parliament, but it also has the support of the masses. The Foreign Minister had just concluded his visit to San Francisco where he participated in a series of meetings of the Transatlantic Legislators' Dialogue (TLD). He also held meetings with local members of the Pakistan Peoples Party (PPP) during his stay.
During his approximately half-an-hour speech delivered in Urdu to local Pakistanis, FM Qureshi covered a broad spectrum of issues confronting the home country. The topics discussed included the situation both within and outside Pakistan. To highlight just a few, he said that there was now widespread agreement within Pakistan that the path to change needs to come through a democratic process. The Foreign Minister also mentioned the important role that the media in Pakistan is currently playing since it is free - openly critical - and facilitates a mature and meaningful dialogue in which the entire country participates.
Qureshi also focused on the country's positives, including the many good people from Pakistan who have made a name for themselves overseas. He said that children of Pakistani-Americans are able to attend the finest colleges in the United States and their parents are productive members of this society as doctors, engineers, businessmen and members of the working class. He said that Pakistanis were a very dynamic people and their overseas communities are helping the country of origin by sending to it 9 to 10 billion dollars annually, thus making a hefty contribution to Pakistan's finances.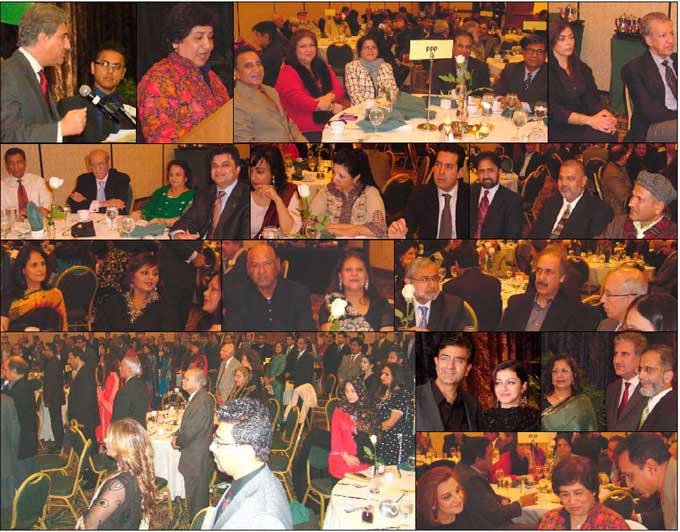 Foreign Minister Shah Mehmood Qureshi addresses the community at the Marriot Hotel in Fremont, California

The Foreign Minister also highlighted the expanding role of the independent judiciary in Pakistan and how the process of selection of judges had been changed by the current government. He said that the past "Doctrine of Necessity" that had once guided decisions of the Pakistani courts will not be repeated because today's judiciary enjoys the freedom to say "No".
On the War on Terror (WOT) Qureshi said that Pakistan is at the forefront of this war and that both American and Pakistani soldiers are fighting and laying down their lives in this conflict. He said that Pakistani Army has taken more casualties in this war than all of NATO forces put together. He added that Pakistan was fighting for its founding vision provided by Quaid-i-Azam M.A. Jinnah, that of a democratic Islamic state and not the extremist Islam that the Taliban want to enforce. He added that after Pakistani forces succeed in this war, a new and stronger Pakistan will emerge.
On internal Pakistani issues, the Foreign Minister said that his government had taken steps to strengthen the Federation and provincial alienation as in the case of Baluchistan was being economically addressed to bring backward areas into the national mainstream. He said that dissent is allowed in politics and that tolerance should be practiced. He added that his government was trying to expand Baluch participation in many areas, including the armed forces, and a special economic dispensation for people of that province was being implemented. He said that his government has also kept open all lines of communication with the Baluch.
In the area of foreign policy Qureshi said that the emphasis was on peace with all neighborly countries especially via promotion of trade with them. He said that relations with Afghanistan had improved a great deal during the present government and that today President Karzai was no longer critical of Pakistan in international forums. He added that transit trade was being expanded under agreement with Afghanistan and that an expansion of several billion dollars of trade in that area was possible in a few years. He added that the trilateral America-Afghanistan-Pakistan relationship is now expanding in all areas whose benefits will be seen soon. On relations with Iran, he said that the gas pipeline project is about to become a reality even without India's participation and that it would help meet Pakistan's growing energy needs in the coming years.
On relations with China, Qureshi said that close friendship between the two countries was time-tested and that China had always helped Pakistan whenever it needed it. But he added that in the past the economic aspect of this relationship had not been tapped to its full potential. "The economic relationship needs to be focused on and expanded," he said. Today he said that there were several thousand Chinese engineers working on various projects in Pakistan. And with the coming visit of the Chinese leadership to Pakistan, he hoped for a further expansion in trade and agreements leading to joint mega projects. He also added that there is now political agreement in Pakistan on the need for additional dams and the Bhasha Dam mega project was now a part of near-term water management strategy.
Moving on to India, Qureshi said that Pakistan is trying to improve its relationship with the country. He said that Pakistan wants a peaceful relationship with India with expanded trade and increasing cooperation in many areas but "without compromising on our principled position on Kashmir ." He added that after several years, he himself had raised the Kashmir issue at the United Nations. He added that the Kashmiris had made many sacrifices in lives and that fact cannot be ignored. Even India itself today is acknowledging the Kashmir problem as indigenous, and several western observers are now highlighting the fact that the local peaceful resistance, which now includes women and children protesting Indian occupation, is the genuine voice and aspiration of the people of Kashmir. The Foreign Minister added that for Pakistan to concentrate its full energy on the western front and the War on Terror along the Afghan-Pakistan border, it needs to have a peaceful eastern front with India. And for that a Kashmir settlement has to address Pakistan's concerns. He said that Pakistan's position on Kashmir is legitimate and it resolutely stands by it.
Concluding his speech, Makhdoom Shah Mahmood Qureshi commended the Pakistani-American community for its success in this land of opportunity. He added that putting together an event like this one on such short notice was a sign of community strength. He thanked everyone for being given a chance to address them. And he appealed to Pakistanis in America to be critical of him, his party (PPP) and his government if they so wish, but to stand united and be strong supporters of Pakistan as a country and leave rivalries aside when their country needs wholehearted support and not be unwarrantedly critical of it.
Kudos to Pakistan's new Consul General in Los Angeles Riffat Masood for getting the community involved with this event and to Moazzam Chaudry for so ably conducting the proceedings.
Members of various Pakistani organizations who were instrumental in putting this event together are just too numerous to mention here, especially when there is good news for all Pakistanis in America to announce. According to Foreign Minister Qureshi, Pakistani mangoes are about to appear in the US markets as early as next summer. Pakistanis in this country have been waiting to hear that for a long time.