Urdu Academy Inaugurates Parvin Shere's Book 'Nihal-e-Dil Par Sahab Jaise'
By Abdus Sattar Ghazali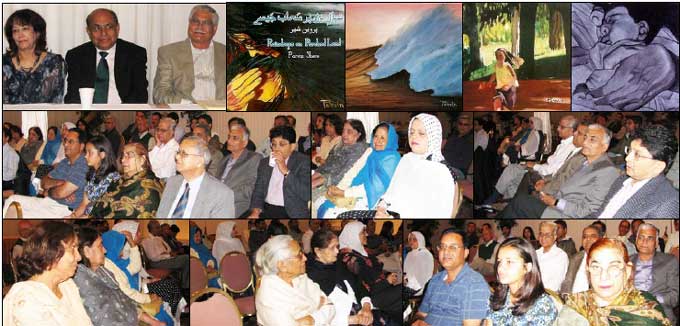 Glimpses of the inauguration of Parvin Shere's book Nihaal-e-Dil Par Sahaab Jesey at the Chandni Restaurant in Newark/Fremont. On top left is the author Parvin Shere
Well-known artist, musician and poetess Parvin Shere's book ' Nihaal-e-Dil Par Sahaab Jesey' (Raindrops on Parched Land) was launched recently by the Urdu Academy of North America.
The inauguration event was held at the Silicon Valley's popular ornate Chandni Restaurant in Newark/Fremont. Parvin Shere flew with her husband, Prof. Waris Shere, from Canada to attend the inaugural ceremony.
President of Urdu Academy North America, Tahie Zaheer, and prominent poet, Naseer Humayun, presented critical analysis of Parvin Shere's book Raindrops on a Parched Land: Nihal-i-Dil per Sahab Jaise, which is her second book. Her first one was Fragments: Kirchian (Fragments).
Naseer Humayun pointed out that her work has the recognition of such great contemporary Urdu writers as Sattiya Paul Anand who penned one of the prefaces of the book under the title: Parvin Shere, a Painter-Poet. "The subjects included in this collection are high-keyed, powerful and unique. Parvin Shere's paintings represent the trials and tribulations of inner life."
Parvin Shere is a multitalented person – musician, painter and poetess. Like "Fragments," her second poetry book is also a panorama of scenes and senses. Each poem is illustrated with a meaningful painting. It is the paintings that buttress and bolster her message. Once you take a look at the images of her paintings it's hard not to go through her poetry. She wields her pen and brush with masterful strokes.
Tashie Zaheer believes that with her mesmerizing poetry and abstract/fantasy/landscape paintings, she highlights the problems of ordinary people in a unique way which is no less than a crusade. This entire book has been written on the subject of mother. She has idealized and idolized the concept of mother.
According to eminent American historian Washington Irving, a mother is the truest friend we have, when trials heavy and sudden, fall upon us; when adversity takes the place of prosperity; when friends who rejoice with us in our sunshine desert us; when trouble thickens around us, still will she cling to us, and endeavor by her kind precepts and counsels to dissipate the clouds of darkness, and cause peace to return to our hearts.
Chinese writer Lin Yutang believes that of all the rights of women, the greatest is to be a mother.
And as a Jewish proverb goes, God could not be everywhere, so he created mothers.
Who knows the affection and value of a mother better than Parvin Shere who lost her father when she was only five years old. Her mother raised her like a father. She cared and caressed her daughter. She selflessly brought her up and became the symbol of sacrifice.
When she died, Parvin got shattered and scattered. This collection comprises fifty poems with their paintings on a single theme of mother that shows the sharp and exceptional acumen of the poet's poetic creative talent.
For Parvin, "a mother is that wind on whose waves blessings float on eternally. She is a branch that squeezes all of its blood to nourish its flowers until the last drop of its own life is gone."
Her poem Canopy (Saa'ebaan) best reflects her feelings and deep attachment to her mother. She is deeply agonized on the death of her mother as she has lost the canopy:
On the night of our parting,
My heart fluttered, lips trembled,
Eyes were glazed.
You planted on my forehead
The precious parting gift.
I've saved that parting love
In the lap of my moist eyes.
I hold the refreshing love
As my inheritance,
Like treasure of priceless pearls.
It is said that "No gift to your mother can ever equal her gift to you – life." O Mother, the first poem in her collection, best expresses this:
Mother, you are the earth,
Which nourishes even worthless seeds in her womb.
A seed grown from the earth
Becomes a tall shady tree,
To go beyond the earth to touch the sky.
O Mother,
I was a worthless seed,
You grew it into a tall tree
With the sustenance of your love.
You have made my head reach for skies.
In a similar fidelity Parvin Shere says in her poem Mom:
A deep sea of love you are,
Delightful, energizing
A shade tree in the midst of desert
Soft warmth of life's sunshine,
Like the cloud providing shade
This poem could perhaps be encapsulated in the popular Punjabi saying:
MaaN WaaN ThandiyaN ChhaawaaN (Mothers are cold and soothing tree shades.)
Three-in-one
Nihaal-e-Dil Par Sahaab Jesey (Raindrops on Parched Land) is actually a three-in-one book which is rare in Urdu poetry anthologies.
Along with her original Urdu composition there is an excellent English translation by such eminent writers and poets as Baidar Bakht, Hameed Khan, Karamatullah Khan Ghori and Syed Izhar Rizvi. They all proved to be the most prolific, and the most gifted, translators of Urdu poetry into English.
It is said that poetry is not translatable. If it is translated it is not poetry. However, contrary to the critics' argument that poetry "loses" in translation or poetry is "untranslatable", there are others with the opposite standpoint that it can be preserved, illustrated and illuminated if a good job is done, because poetry is in large part found again and re-painted by the translator.
Of course, many of the original poetical touches of color cannot be transposed and they must be arranged; yet these new arrangements may be even more luminous than the original.
The talented translators of Parvin Shere's poetry have done an excellent job in conveying the meaning and message of the poet.
Illustrated poetry
Nihaal-e-Dil Par Sahaab Jesey (Raindrops on Parched Land) is perhaps the only Urdu poetry book of its kind that has been illustrated by the poetess herself. It's a fine mix of words, lines and colors.
The analogy of poetry to painting is at least as old as Greek poet Simonides who thought that painting is silent poetry, and poetry is painting with the gift of speech. Fortunately, she is gifted with both. Leonardo da Vinci says: "Painting is poetry that is seen rather than felt, and poetry is painting that is felt rather than seen." This is true to the poetry and paintings of Parvin Shere.
Parvin is as good with words as she is with colors and handles the demands of both the fields competently. "This is a rare and enviable combination," says Prof Gopi Chand Narang, an eminent critic and scholar. As Himayat Ali Shair pointed out: "Colors in her paintings have words and the words in her poems have colors."
The pieces Silent City , The Sun and the Moon and Search For You depict imageries of graves and lengthened shadows. To borrow Peerzada Salman, the not-so-loud colors that she employs to propagate her ideas do the job well for her. But the one piece that justifies the theme of motherhood with delicate force is her pencil work entitled Again. It clearly shows her fondness for lines that delineate the human body, an infant, an adult, a mother.
It may be pointed out that Parvin Shere formally developed her talent of paintings at the University of Manitoba , Canada , Fine Arts Program. Her oil painting titled "Journey" was selected by the Manitoba Society of Artists, Canada in its 78th juried provincial competition. The exhibition was held from May 29- June 27, 2010. Parvin's art work titled "another day" in ... oil was previously selected jointly by Calgary and Manitoba society of artists.
Besides Canada , Parvin's visual art has been exhibited in the United States of America , England , France , Germany , China and India . She has received several awards for her paintings and was one of five nominees honored during the prestigious "WOMAN OF DISTINCTION AWARDS" for her contribution to ART, CULTURE and HERITAGE in Winnipeg , Canada . She migrated to Canada in 1966.
Patna-born, Winnipeg-based Parvin Shere received the prestigious award Ahmad Adaya Urdu International Award for "Best Book" with a cash prize of $5,000 after 'Raindrops on Parched Land ' (Nihal-e-Dil Par Sahab Jaise) was declared the best book in 2010. The award was given by Urdu Markaz International, Los Angeles , at a special ceremony held on October 31 in Los Angeles , California .
Perhaps Ahmad Faraz's tribute to Parvin Shere best reflects her multi-talented personality: "Parvin Shere's verses have expression and blossoms of creativity. She possesses the heart of a poetess, the eyes of a painter, and the hands of an instrumentalist. She can be a goddess of the Greek mythology.