Chicago Roundup
Governor Pat Quinn Wins Election by 8,090 Votes
CCN Holds 2 nd Annual Banquet and Fundraiser
Health Screening at Masjid Al-Huda
By Dr. Mujahid Ghazi
Governor Pat Quinn Wins Election by 8,090 Votes. Dan Hynes Concedes. Hats off to Samreen Khan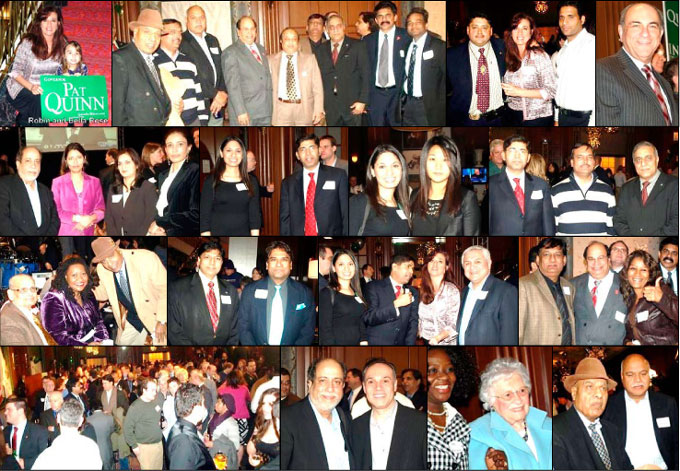 Governor Pat Quinn wins election by 8,090 votes and everyone rejoices on his victory
Chicago February 5 th, 2010 : Dan Hynes conceded to Pat Quinn after two days of the Primary election. It was a tense victory party at The Allegro in downtown Chicago. Supporters from all over Illinois gathered to join Pat Quinn, his campaign team and family to celebrate the victory but until 11:30 when Governor Pat Quinn came along with all his close allies and announced his victory, 2 % votes were still not counted and Dan Hynes was not conceding.
It was a very close race. From the beginning Pat Quinn was leading only by a few thousand votes. The final percentage result was 50% on both sides. The victory party was attended by prominent South Asian leadership, including Iftikhar Shareef, Dr. Mujahid Ghazi, Dr. and Mrs. Ehsan Javed, Ram Gajjela, Sher Rajput, Mujeeb Osman, Syed Tahir Hussain, Vijay Prabhakar, Salman Aftab, Mohammed Nadeem, Ayaz Qureshi, Sid Siddiqi, Sohan Joshi, Mirjat Mubarak, Ashref Hashim, Ms. Amber Khan, Mr. Nand Kapoor and Ajithy Eapin.
Pat Quinn's liaison for South Asian and Muslim community Samreen Khan was commended earlier last Sunday by Gov. Pat Quinn in a radio interview at Asian Broadcasting Network's talk show for the tremendous work she did to get the community mobilized. Was it the support given to Pat Quinn by Muslim and South Asian community which made the 8,090 winning votes? The answer may not be a definite yes but the possibility could not be ruled out completely. Hats off to Samreen Khan.
CCN Holds 2 nd Annual Banquet & Fundraiser

CCN holds 2nd Annual Banquet and Fundraiser
Over 200 supporters of Compassionate Care Network (CCN) attended the Network's 2 nd Annual Banquet and Fundraiser at the Holiday Inn Northshore in Skokie, IL. Sana Gafoor, a medical student and CCN volunteer, was the MC.
Dr. Ayesha Sultana, President of CCN, welcomed the guests and furnished a brief history of CCN. She informed that at present CCN has enrolled over 2,000 members into the Network, providing them access to affordable health care in the ambulatory setting. There are over 120 providers, which include labs and imaging centers who have also agreed to discount their fees, for CCN members. Primary care visits she explained, are $25 and Specialist consultations are $35. The $4 prescription drug program for generics at Walmart, Kmart and Target pharmacies are promoted, she added.
Dr.Azher Quader, Executive Director, gave the annual report of CCN with a brief description of the data collected during 2009. A total of 700 persons were screened. 77% were uninsured. 95% did not smoke. 30% were overweight and 20% were obese. Also 35% were found to be hypertensive and an additional 41% were pre-hypertensive. 30% were found to have elevated blood sugars in the diabetic range and 67% had lipid abnormalities suggesting possibly higher heart risks. Finally over 35% were documented to have poor dental health mainly from periodontal disease. He remarked that the health statistics are of significant concern and require all to pay attention to their health and to institutional lifestyle changes wherever necessary. He informed this was being pursued thru the health education programs that CCN provides throughout the year.
Dr. Zaher Sahloui, chairman of CIOGC (Council of Islamic Organizations of Greater Chicago) delivered the keynote address commending CCN for its initiative on thinking creatively and for providing a solution for the health care needs of the uninsured. He said that although CCN is not an Islamic organization but it exemplifies the principles of Islam through its promotion of compassion, caring and service to the needy. He pointed out that throughout history, Muslims have established hospitals and other institutions for the welfare of the public through both public and private contributions called waqf or endowments. He exhorted the attendees to serve the needs of their neighbors and quoted Martin Luther King as having said, "An individual has not started living until he can rise above the narrow confines of his individualistic concerns to the broader concerns of all humanity." He added the Qur'an also encourages charitable giving in multiple verses where it mentions that those who can avoid stinginess and miserliness in their hearts can achieve real success. He concluded by saying it is better to light a candle than complain about the darkness.
During the evening, the Ibn Sina Award for Humanitarian Service was given to the IMAN Health Clinic in south Chicago for their outstanding service to the underserved in their neighborhood. Dr. Adiba Khan, Clinic Administrator, received the award. Clinic physicians Drs. Ahsan Arozullah, Nafisa Arozullah, Jihad Shoshara and Sofia Shakir were also honored with individual commendations for their volunteering services at the clinic. Other physicians of the clinic who were not present included Drs.Sherene Fakhran, Naveed Mallick, Altaf Kaiseruddin and Omar Hussain.
Dr. Abidullah Ghazi, Executive Director of Iqra International Educational Foundation, did a successful fundraising. Quoting the Qur'anic verses and Ahadith he stressed on the audience the importance of charity in Islam.
Among the special guests attending the banquet was Dr. James Galloway, Assistant US Surgeon General for the Chicago area. Several politicians also attended the fundraiser and thanked CCN for its community work. Among them were Mike Bolan, (for Lt. Governor), David Hoffman (for US Senate), and Maryana Spyropoulos (Commissioner, Water Reclamation) and Paul Froelich (State Rep).
After a delicious dinner the guests enjoyed music and entertainment by popular Pakistani singer, Naila Mughal.
As part of the celebration CCN released its Handbook for 2010 at the banquet. The Handbook is a rich resource for community health workers and those interested in setting up a proto type of CCN in their own communities. A directory of current providers and the schedule of free health screenings for the whole year is included in the book which can be accessed through this link:
https://download.yousendit.com/MVNkd0VEMGMwVWtLSkE9PQ
Health Screening at Masjid Al-Huda, a Successful Event Organized by Compassionate Care Network


Health screening at Masjid Al-Huda
Schaumburg , January 31st, 2009: Compassionate Care Network, in partnership with Masjid Al Huda and Al Huda Academy, organized successful health screening at Al Huda Academy, that was free and open to all. A large number of community members showed up with their families. They were screened for hypertension, diabetes, cholesterol and obesity. A good number of people enrolled for CCN's medical services program which helps individuals with low income or no insurance to get professional health care assistance for a nominal membership cost.
There was a buzz of activity and excitement. Several people come forward and enrolled as volunteers for the next CCN health screening which is scheduled on Sunday, February 21 st, 2010, between 10:00 am to 1:00 pm at the Institute of Islamic Education, 1280 Bluff City Blvd, Elgin, IL 60123.
A good number of community activists helped CCN in organizing this health screening. Fatima Mirza and Syed H. Zafer were event coordinators while Ms. Ahmed, Aamera Zafar , Rubina Patel, Husna Hajira, Zainab, Naveed Mirza, Nasir Jahangir, Imran Khan, Urooj, Sajid Ali, Mateen Zafer, Adnan Patel and Abdul Rehman volunteered for the event. Medical services were voluntarily provided by Dr. Zainul Abudin, Dr. Rakhshanda Ahmed, Dr. Basheer Ahmed and Dr. Syed Imam. Dental consult was volunteered by Dr. Farah and Dr. Tariq Ahmed offered his services as Chiropractitioner.
There were also booths for various services. Sharmeen, Aamna and Sarah were educating people about the projects of CIOGC. Khadeeja was promoting Halal Nutrilite vitamins and health stats were being recorded by Vicky. Naveed Mirza volunteered as official photographer.
Tea, donuts and snacks were provided by Aveseena Home Healthcare. A sumptuous lunch was catered by Lazzat Restaurant.
-------------------------------------------------------------------------------------