Muslim Community Debates "National Security and our Responsibilities" . Weekend School at Muslim Educational Center Holds Qur'an Recitation Competition . Pakistani Community Remembers Late Ajmal Khatak .Urdu Cultural Society Chicago Celebrates Aman Ki Asha . Muslim Singles Network to Hold another Networking Event
By Dr. Mujahid Ghazi
Muslim Community Debates "National Security and our Responsibilities"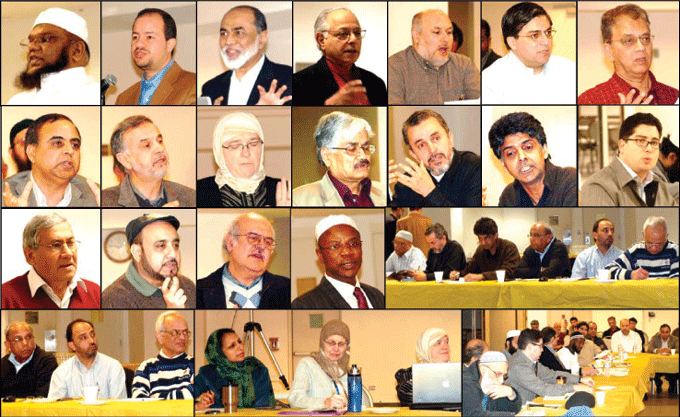 Muslim community members debate 'National security and our responsibilities'
The Council of Islamic Organizations in Chicago (CIOGC) held a community awareness meeting at the Islamic Foundation Villa Park. A large number of representatives of member organizations and other community leaders attended the meeting. Addressing the gathering Sheikh Abdur Rehman said that it is the duty of the Imams, scholars and Muslim media to bring the lives of great Muslim leaders starting from Prophet (SAW) and Sahaba to the young generation to make them understand customs and traditions and help them differentiate between deen and culture.
He said it is important that we interact with our children and guide them regularly. He said we have to include the youth in our activities. He said our perception about living in the USA has to be established. He said as opposed to Darul Hurb he would call this country Darul Dawa and Darul Ijaba. He said Muslims should be honest, kind and generous and should bring back the life of Prophet (SAW) and see how he had changed the world as one human being that this 10 million Muslims in America can indeed be a source of guidance for 290 million Americans.
Dr. Zaher Sehloul, Chairman CIOGC, said he was invited by the Department of Homeland Security and the purpose of the meeting was to address violent extremism within the Muslim community and how to protect Muslim youth from falling into the trap of extremism. He said the purpose of this meeting is to educate ourselves about violent extremism among Muslim Americans and the impact of government policies on our civil liberty. To discuss the issue from the community perspective and focus on addressing preventive measures and long-term strategy to fight violent extremism. Finally, to adopt a plan of action or position statement that we can follow to move forward.
With the help of power point and statistics Dr. Sehloul shed light on the causes of violent extremism. Quoting an article from ISPU he said that the motivation of young adults to adopt violent extremism is in four stages. First stage is the moral outrage to see the suffering of Muslims in Afghanistan, Iraq, Palestine and Kashmir. He said some will move on to the second stage where they will interpret it as a wider war between Muslims and the West or America. In the third stage a minority out of this group will develop resentment and anger which gets fueled by bad personal experience such as discrimination, profiling and inequality and failure to get a successful life despite good qualification. The last and fourth stage where a minority out of this group will join a cult or group or close family members who would be close to the outside world and they would feed into these resentments and anger and will shut out the critical thinking which might challenge the radical views. He said these people will read similar materials and look into online resources and in some cases they will justify killing innocent people.
He said these characteristics are not limited to Muslims only but can be seen in people of other faiths. He said in the recent meeting with Civil Rights and Civil Liberties and Homeland Security, the focus was on how to develop short-term and long-term strategy to fight religious extremism and come up with collaborative thinking, problem solving of violent extremism involving the community leaders and this meeting is towards achieving this goal.
He said the government statistics show that 2009 was a busy year for cases of terrorism within the Muslim community. He briefed the audience about a meeting with Homeland Security Advisory Council. He said that the community has to develop a strategy in order to address the issue of violent extremism afflicting our youth and that's why CIOGC commits lot of its resources to address the issue of youth development and youth leadership in the mosques, colleges and universities. He said funding should be increased for CIOGC youth program. He proposed that 25% of zakat fund should be spent on youth programs. He also proposed the formation of Islamic Scholars Council of Illinois to address the issue from a religious perspective. He said that CIOGC should be linked to national organizations like ISNA and MPAC and lastly we should form a national model of grassroots organizations similar to the council.
Addressing the audience, Imam Abdul Malik Mujahid quoted Professor Robert Pace's thesis said that suicide bombing and all the violent extremism is directly connected to the absence of freedom and war. He said Patriot Act's clauses were passed for the second time. He said the behavior of people in America is changing after experiencing acts of violence by people like Hassan of Fort Hood. Even liberals are now favoring profiling. He said that one cannot talk about terrorism and civil rights in isolation. He said we are all part of Muslim Ummah whose duty is to help establish peace and justice. If that is absent in the youth discourse and scholarly discourse and the Khutbas then people who are not in the mainstream will be able to take advantage and exploit the situation.
After these presentations the Q and A session took a little longer than scheduled and the consensus could not be established for the resolutions to be approved by HR and the community. A committee comprising of Mazen Asbahi, Osama Jamal, Imam Abdul Malik Mujahid and Sister Seema Imam was set up to rewrite and rephrase the resolutions for approval in the next meeting.
People who contributed in the discussion later included Dr. Arshad Mirza, Imam Kifah Mostapha, Sarwar Nasir, Rizwan Kadir, Talal Sumbuli, Sister Seema Imam, Misbahu, Sister Ayesha Mustapha, Shamshad Hussain, Dr. Wasiullah Khan and other representatives.
Weekend School at Muslim Educational Center Holds Qur'an Recitation Competition


Weekend MEC Sunday School holds Qir'at Competition
The weekend school at MEC Morton Grove held a Qur'an Recitation Competition. A large number of parents and community members attended the event. The students were divided into three age groups and were tested for their recitation by different judges for each group.
Sister Aziz Ali who has been organizing Tajweed and Nazira classes for adults for the last many years was instrumental in holding this competition along with Affan Tariq. The judges were selected from the teachers and experts in Tajweed and Qirat. They included Mr. Javed Bhatty, Farzana Bhatty, Khawaja Khalil Ahmed, Tayyaba Ahmed, Sister Muslehuddin, Sister Sylvat Sheikh, Sister Sarah Buksh and Sister Tasneem Qureshi. Among the top winners were Mohsin Ishaque, Huma Nizamuddin, Arham Sheikh and Aisha Yousuf.
Abdullah Bhatty who is mentally and physically compensated also made effort to recite. The audience applauded him for his courage and effort. It was a well attended event and brought parents, teachers and students closer to each other.
Pakistani Community Remembers Late Ajmal Khatak


Chicago community pays tributes to the late Ajmal Khattak
A condolence meeting was held in Chicago last Sunday to remember well-known Pakhtoon leader Mr. Ajmal Khatak. Prominent community members attended the meeting and expressed their grief and shared their memories with the late Ajmal Khatak.
Mr. Said Umer Khan, a very active member of the Pakhtoon community in Chicago and a founder member of the Pakistan Federation of America, conducted the meeting.
Almost all the speakers commended the dedication and simplicity of Ajmal Khatak. President of the PPP in Illinois Mr. Naimatullah Chowdhry paid tributes to the deceased leader and said that he was the real Awami leader of the Pakhtoons.
Dr. Ashraf Toor said that during his school and college life he had heard of Ajmal Khatak as a separatist and a Pakhtoon nationalist but when he met him he changed his views: he now thinks that he was a very thoughtful and great leader of the Muslim Ummah. He said that he had love for Pakistan's Federation.
Dr. Wasiullah Khan, Chancellor of East West University, recalled his meeting with the deceased leader. Urdu Times columnist Anjum Gohar said that the late Ajmal Khattak was not only a politician but a writer and poet and he had 45 books to his credit. Muslim League-Nawaz leader Mr. Yaseen Chohan said he salutes Ajmal Khatak who had dedicated his life for the welfare of the people. PML_N coordinator Raja Yaqub expressed grief and said the late Mr Ajmal Khattak had struggled against British imperialism under the leadership of Ghaffar Khan. He added that we have to be grateful to these people for the independence we enjoy today. President of Asian Broadcasting Network Dr. Mujahid Ghazi said that one may not agree with the ideological or political views of late Ajmal Khatak but one can also not deny the dedication and steadfastness of people like Ajmal Khattak to their own ideologies and principles. He said that people like him are more trustworthy than people who change their positions and path with the change of tide.
Chancellor of East West University said that he met late Ajmal Khattak at Meerbat Khan's residence and recalled his statement in which he defended his change of political stand. This was a time when he had joined Nawaz Shareef's government as a minister. According to him Nawaz Shareef summoned him and asked him and Waseem Sajjad to go to other countries to get loan on easier terms which they did. Said Umer Khan said that Ajmal Khatak decided to join the Nawaz government because he promised that he would change the name of the NWFP to Pakhtoonkhawah but later he left as this promise was not fulfilled. The Bolingbrook-based Pakistani-American community leader shared his memories of spending a day with him in Chicago during an Independence Day parade event.
Urdu Cultural Society, Chicago, Celebrates Aman Ki Asha
Contributed by Dr. Ahmed Shehzad Shehzad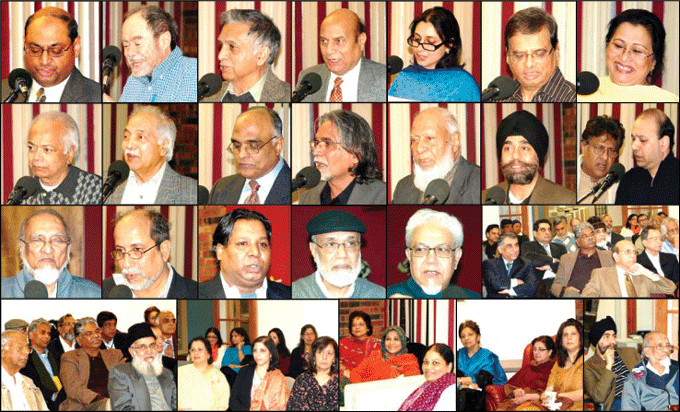 Urdu Cultural Society, Chicago celebrates Aman Ki Asha
Urdu Cultural Society, Chicago, dedicated its monthly meeting for promoting peace in South Asia. UCS applauded the peace initiative " Aman ki Asha: Destination peace" launched by the Jang Group and Times of India, to promote peace in South Asia by bringing the people of Pakistan and India closer through cultural, business and diplomatic initiatives.
A large number of prominent Urdu and Hindi scholars, speakers and poets participated in this literary "Peace Pow-Wow."
The first session was devoted to a mazakra (discussion) in which prominent academicians and speakers discussed the modes and methodologies of promoting peace in South Asia. A mushaira was held during the second session in which a large number of Urdu and Hindi poets residing in Chicago and its suburbs participated and presented their poetry by promoting Jigar Muradabadi's message of love:
Mayra pay'Ghaam Mohabat Hai, Jahaan tak poohN'chay
The English session was concluded by closing remarks by the chief guest of the ceremony ,Dr. Abidullah Ghazi, who said that peace is not a choice anymore; it is a necessity of times.
The second Urdu/Hindi session was conducted by Dr. Mujahid Ghazi, who masterly moderated the session with his timely comments for the promotion of peace and harmony not only between people of India and Pakistan but also between the communities living in greater Chicago. Mrs. Farheen Aslam Kabir read peace poetry. Mrs. Yasmeen Hashmat Sohail read her article on visiting India. Mr. Najamul Hasan read peace poem. Mr. Mazher Alam read his article on promoting peace in South Asia. Mr. Hashmat Sohail read his article "An Evening Celebrating Peace." Mr. Jatinder Singh Bedi spoke about the mode and methodologies of promoting peace in South Asia. Mr. Sher Mohammed Rajput, Mr. Munir Siddiqui, Professor Zafar Bukhari, Khaja Kamaluddin and Mr. Anjum Gohar also shared their views on promoting peace in South Asia. The Urdu/Hind discussion session was concluded by closing remarks by Dr. Abidullah Ghazi who mesmerized the crowd by his mastery of Urdu prose and poetry. The second session was followed by a cake cutting ceremony "Aman Ki Asha" in which people from India and Pakistan offered each other "Aman Ki Asha" cake pieces and exchanged goodwill.
Between the 2 nd and 3 rd session Vikas and Dr. Ejaz Alvi sang the famous anthem of this movement 'Nazar mey rehtey ho, Nazar nahin aatey' written by Gulzar
The third and the final session showcased a Mushiarah conducted by Mr. Hasmat Sohail. Dr. Burqi, a prominent poet from New Delhi wrote a special poem for the occasion. Prominent poets from Chicago and suburbs including Hamid Amrohavi, Niaz Gulburgvai, Naeemuddin Shah, Munir Siddiqui, Abdur Rahim Talib, Rasheed Shaikh, Hasmat Sohail, Wajid Nadeem, and Shahid Alig presented their passionate poetry on promoting peace in South Asia. The Mushiarah concluded with a poetry recital by Dr. Abidullah Ghazi. The "Aman ki Asha: Peace Pow-wow" ceremony concluded with a vote of thanks to speakers and participants by Mr. Mazhar Alam on behalf of Urdu Cultural Society, Chicago.
Muslim Singles Network to Hold Another Networking Event
After the success of the previous events, MSNE is planning another successful event on March 6, 2010.
Muslims from all spheres of life not only have a very difficult time in finding a suitable spouse, but also realize how hard it is to find a good, Islamic environment to actually meet and get to know other people. This is especially challenging for Muslims in the US, where such opportunities are rare. In order to address this challenge, a diverse group of Muslims from the Northern suburbs of Chicago developed a different and exciting approach for networking. A team that started with just a few individuals in late 2007 now exceeds 20 in number: they arranged a very successful event in June 2008. The group of organizers and volunteers is a wonderful mix of single, married and divorced individuals who come from different ethnic backgrounds but have a common goal, which is to be engaged in this community and to help others become more engaged in their lives.
The upcoming event is on the 6 th of March, 2010 from 11:30 am to 4:30 pm at Ramada Inn, 780 North Avenue in Glendale Heights, IL 60139.
To attend this event a prior registration is required which can be done by logging on http://www.muslimsinglesnetworkevent.org/
To register one must be 25 years or older and registration fee is $ 25.