Community Enjoys Karachi Club's Haleem and Gives a Fine Demonstration of Unity
By Wasim Zaidi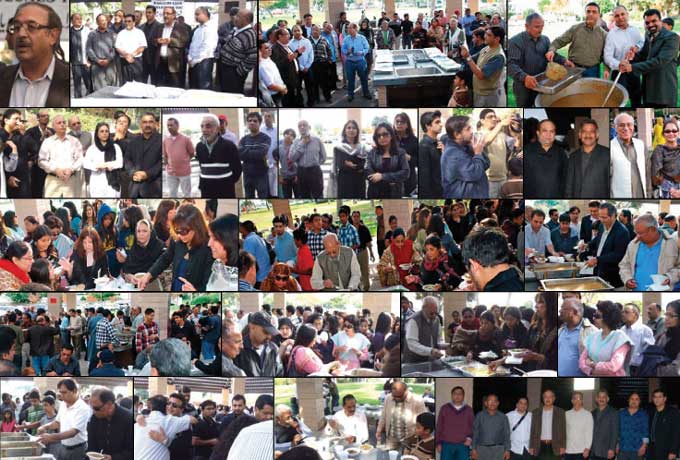 Karachi Club plays host to the community
In keeping with their tradition of the past 12 years, members of the Karachi Club hosted the annual Haleem cook out at the Garden Grove Park on Sunday, December 20, to pay homage to the martyrdom of Shaheed e Karbala Hazrat Imam Hussein and his family.
A crowd of about 1,500 Angelinos showed up to enjoy the Club's hospitality: the event has become a shining hallmark of the social activities of the Karachi Club Los Angeles.
Karachi Club's in-charge Samin Faruqi and Wasim Zaidi greeted the guests along with their committed and energetic team comprising Masood Khan, Mrs. Rubina Faruqi, Asif Farooqui, Abdullah Jamil, Ishtiaq Hasan, Syed Ahsan and Abdul Lateef.
Addressing the guests, Samin Faruqi announced the transformation of the Karachi Club into the Pakistan Club USA, Los Angeles. Outlining the vision of the organization, he invited every Pakistani to join hands with the Club in serving the community. He urged the gathering to come forward with their suggestions to enhance the goals of the Pakistan Club USA, Los Angeles and to add to its community outreach.
The Day of Atonement brought together people from different walks of life. Several prominent community members graced the occasion, including Mr. Kamal Zafar, Central Organizer MQMUSA; Mr Hamid Malik, former President of COPAA; and Syed Ashraf Ali, President of the Pakistan American Arts Council.
The haleem cookout in the month of Muharram is the most popular event in Los Angeles that is eagerly awaited by the community. The delicious dish is served in the best Pakistani traditions to the delight of the community members.
Pakistan Club USA, Los Angeles has thanked members of the community for their support and spirited participation in the event.


-------------------------------------------------------------------------------------