Vibrant St. Louis Community Raises Funds for Al-Shifa Foundation of North America
By Dr Mujahid Ghjazi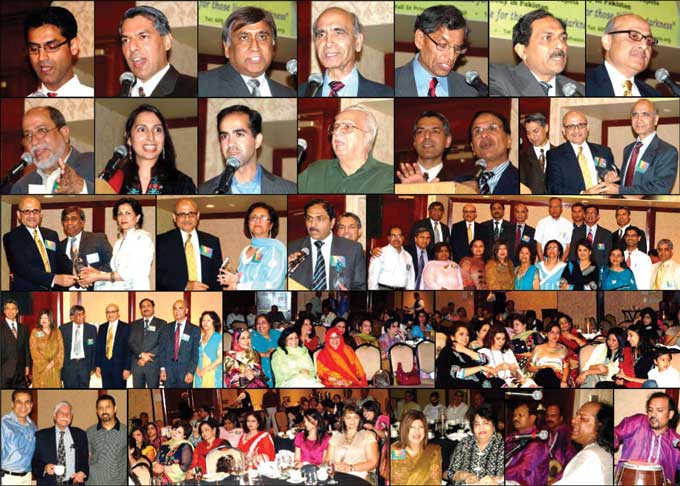 Glimpses of the fundraiser arranged by the St. Louis community for the Al-Shifa Foundation of North America
St. Louis : A houseful crowd at the Double Tree Hotel last Friday showed overwhelming support for the Al-Shifa Foundation of North America in its efforts to help Al-Shifa Eye Hospitals' ongoing projects in Pakistan by raising $ 75,000.
"Helping people who need help is spiritually a great prescription for our own health and St. Louis community has proven time and again with their generosity and graciousness," said Dr. Abid Nisar, chairman, AFNA St. Louis. He recognized Dr. Ishaq Chishti, Dr. Wadood Ur Rehman and Ghazala Hayat for starting the chapter of AFNA in St. Louis. Dr. Wajid Ali Khan, Chief Ophthalmologist and Dean of Al-Shifa, explained in detail the projects undertaken at the Al-Shifa Hospitals in Pakistan. He claimed that 70 % of the patients treated at the hospitals are not charged anything. 20 % are subsidized and 3 to 4 % are private patients. He informed that Al-Shifa introduced the concept of sub-specialties. He also said that Al-Shifa is a pioneer in starting refractive surgery in Pakistan. He further claimed that the Amniotic Membrane Bank was the first one to be established in Pakistan at Al-Shifa. Recently Cross Linking has been introduced at Al-Shifa that is still awaiting FDA approval in the US. He also talked about the interaction of Al-Shifa with the University of Illinois in Chicago, National Institute of Ophthalmology in Paris, L V Prasad Eye Institute in India, and Singapore National Eye Center in Singapore. He said the second focus of the organization is Community Ophthalmology through which Al-Shifa reaches out to the poor and needy in the far off rural areas. Through eye camps it provides treatment on the site and sometimes brings patients to the hospital for further treatment. He informed the camps also screen children in schools. He said 1.7 million children have been screened in the schools so far. He said out of 1100 ophthalmic paramedics in Pakistan Al-Shifa has trained 550. Besides Al-Shifa offers post-graduate courses for physicians. He said 150 ophthalmologists who have already been trained are serving in different parts of Pakistan. He said, "We are training physicians from Afghanistan, Sudan, Somalia and Bangladesh in post-fellowship programs.
Tahir Zafar, president of Al-Shifa Foundation of North America acknowledged the efforts of the host committee in organizing the successful fundraiser. He said people who are supporting Al-Shifa get their inspiration from its founder General Jehandad Khan who lives a very simple life and spends every moment of it for the cause of Al-Shifa. He conveyed the warmest regards of General Jehandad to the audience. He said that any organization's success is measured by the satisfaction of its customers and the satisfied patients who are treated at Al-Shifa are a testimony to this fact. He spoke about the Light house project which was introduced with the help of the New Jersey chapter. Thanks to this project, patients are rehabilitated and provided with visual aids to make their life useful. He informed that there are six chapters of Al-Shifa in the US and he is looking forward to open new chapters in the coming year. He said, "We, the expatriate Pakistanis, have an obligation to help the downtrodden population of Pakistan.
Past chairman of Al-Shifa Chicago chapter Dr. Mujahid Ghazi speaking eloquently about the importance of helping the visually impaired and blind of Pakistan raised funds with the support of President-elect of APPNA Dr. Manzoor Tariq. Dr. Ishaq Chishti, Dr. Maqbool Ahmad, Dr. Naveen Tikvani, Dr. Farheen Qazi and the architect of Al-Shifa Hospitals and father of Dr. Ghazala Hayat Malik Akbar also spoke on this occasion. Awards were also given to Professor Wajid Ali Khan, Dr. Ishaq Chishti, Dr. Ghazala Hayat and Dr. Nuzhat Nisar for their services and contribution to the Al-Shifa Foundation. Jim McLeod and Mike Clark were also given recognition plaques for their help in organizing the fundraiser. All the speakers and the audience commended the work of Abdul Wadood who was the event organizer and made untiring efforts to make it successful. Later in the evening Tabrez Mian Qawal, son of the legend late Aziz Mian Qawal, entertained the audience into the early morning hours with some famous numbers from his late father's collection.
The event was masterly emceed by Dr. Mujtaba Qazi.
To donate, checks/money orders can be sent to AFNA, 475 Wall Street, Princeton NJ 08540 or donate on line at www.afnausa.org.