Chicago Roundup
Poor Attendance at 47 th Annual Convention of ISNA

By Dr. Mujahid Ghazi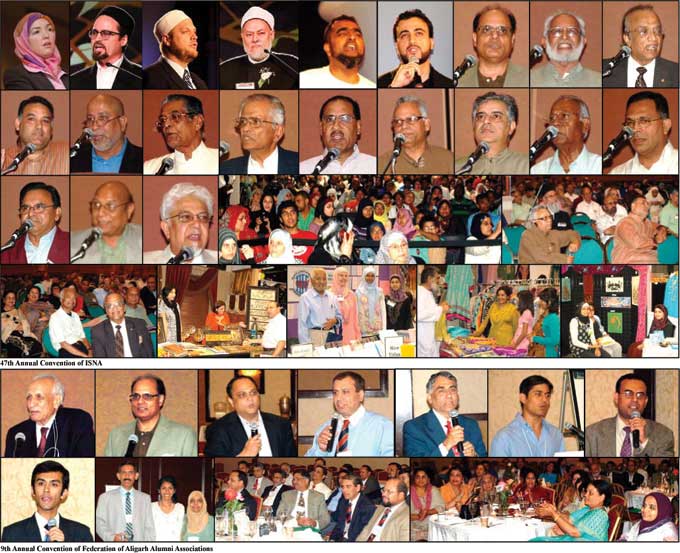 Chicago : The 47 th Annual Convention of ISNA failed to attract a record number of Muslims. Critics are blaming the low attendance to poor timing, poor management and reluctance on the part of the new leadership to heed the advice of the senior leadership. This year the theme for the Islamic Society of North America's convention was 'Nurturing Compassionate Communities: Connecting Faith and Service.'
Secretary General of ISNA - Chicago's very own, Safa Zarzour - thanked everyone who had put in efforts to organize the convention. "We are so thankful to all who attended this convention, all the volunteers, the wonderful Chicago community, and the Council of Islamic Organizations of Greater Chicago.
"One of the most pressing issues we are facing now is our ability to connect with our affiliates and grassroots organizations. ISNA promises to create programs that connect Muslims with one another across the Unites States. Your help today is going to be used wisely to help get ISNA where it needs to be in our communities," he said.
Thousands of Muslims from across North America and the globe attended the convention.
Speaking at the press conference early Friday afternoon, ISNA's president Dr. Ingrid Mattson explained to the mainstream media what the theme of this year's convention signifies.
"The Muslim community is often reactive to negative press or events, but this year's convention, nurturing compassionate communities, is a proactive measure to assist local communities to develop the networks and framework necessary to positively engage community members and avoid negative marginalization of Muslim community members," she said.
The speakers from different academic and social backgrounds talked about green energy, media literacy, the Prophet Muhammad, Qur'anic studies, family and education to nurturing a halal way of life in more than 100 sessions and events throughout the convention.
About ten thousand attendees were seen in Hall A to attend the main event on Saturday to listen to their favorite speakers on the convention theme.
The much sought after speaker Professor Tariq Ramadan, whose ban from the US was lifted earlier this year, called on Muslims to be proactive and engage with wider civil society while holding on to their faith. "I prefer never to be allowed here than to be quiet about the Palestinian issue."
"Working for unity does not mean working for conformity," Tariq Ramadan told the large audience.
"Remember that compassion towards one's self is also important. If you come with sincerity, Allah will come with love." He said.
Shaikh Hamza Yusuf emphasized the importance of proper understanding in religion while urging the promotion of accurate and accredited scholarship.
"Religion is more powerful than any temporal government," he said. "Religion is powerful, but it is also dangerous. Our religion is a beautiful religion and it is being made ugly by acts of fools."
America 's Special Envoy to the Organization for Islamic Conference (OIC) Rashad Hussain read a letter from President Obama highlighting the positive engagement of the Muslim community and ISNA in his United We Serve Campaign.
Responding to those who cast aspersions on Obama's sincerity he listed a host of initiatives which have been benefiting the Muslims. He especially highlighted the polio eradication efforts which significantly affect the Muslim communities. 'How is polio eradication efforts, saving lives, not a positive change?' he asked.
Imam Suhaib Webb spoke on the importance of compassion as highlighted in Islam.
The session closed with remarks from the Grand Mufti of Egypt, Shaikh Ali Gomaa.
ISNA's 11th Annual Community Service Recognition Luncheon was held on Saturday afternoon. This year, ISNA honored Imam Siraj Wahhaj with the 2010 Community Service Recognition Award.
"I am honored. As a result of this token you have given me, I am even more committed to serve," said Imam Siraj Wahhaj.
Ahmed ElHattab, Executive Director of the ISNA Development Foundation, said, "Imam Siraj has a long history of dedicated service to his community. He has worked tirelessly to rid the streets of Brooklyn from crime, drug abuse, and violence, with awards and recognition from the Brooklyn Police Department, among others."
Over 400,000 dollars in donations were pledged to support ISNA programs and services to Muslim communities nationwide.
A Mushaira was also organized on Saturday. It was presided over by Dr. Abidullah Ghazi and conducted by Amin Haider. Professor Sadiq Naqvi, Hamid Amrohi, Nazar Naqvi, Hashmat Sohail, Dr. Khursheed Khizir, Saif Lateef, Faizan Haq, Rahim Talib, Sajid Choudhry and this scribe presented their poetical work. The topic was humanity. Anwar Khan and Faizan Haq were the organizers of the mushaira.
The main attraction for most of the female attendees and the local community of Chicago was the Bazaar. Besides IQRA's beautiful booth there were hundreds of booths of vendors selling Islamic and traditional clothing, books, Hijabs, Jilbabs, scarves, jewelry, bangles, art, health products, and cosmetics. There were also booths of social and humanitarian organizations. One of the booths deserves special commendation. It belonged to a family owned business Sawaab Publications which was selling a beautiful table calendar 'Ayaat-A-Day.' This perpetual calendar is a lifetime Qur'anic Calendar which never expires. It is edited and compiled by 20-year-old, US-born and raised, Hafiz Zaid Jamal. It has been designed by Peter Yaseen Gould and Sufia Jamal. Every dated page of the calendar has a picture of Islamic architecture and English translation of an Ayah. The verses are selected by the father Arif Jamal and mother Sufia Jamal while the IT help is provided by brother Nazim Jamal. The company is also working on a pop up digital Qur'an which could be easily downloaded on the PC or laptop. They have an iphone application also for only $ 1.99 for the same Ayat-A-Day. Visit www.sawaabpublishing.com for more info.
9 th Annual Convention of Federation of Aligarh Alumni Associations
Chicago : The 9th Annual Convention of Federation of Aligarh Alumni Association (FAAA) was held at North Shore Holiday Inn Chicago, Skokie from July 2-4, 2010. The inaugural session was attended by Mr. Vayalar Ravi, Union Minister for Overseas Indian Affairs, Government of India, and the Indian Consul General Mr. Ashok Kumar Attri, from the ICG of Chicago, Illinois.
Dr. Shahid Siddiqui, President of the FAAA,welcomed the distinguished guests and representatives of various Aligarh Alumni Associations in North America and from several social organizations, and presented the 'Humanitarian Award'to Mr. Ravi.
Dr. Saif Sheikh, President of the Aligarh Muslim University Alumni Association of Greater Chicago, welcomed the convention guests and described the activities of the AMUAA-GC in the framework of the FAAA charter.
Mr. Vaylar Ravipraised the activities of the FAAA in promoting academic excellence, cultural exchange and understanding between the alma mater of the Aligarh Muslim University and the FAAA communities in the USA. Mr. Vaylar Ravi touched upon the contribution of Sir Syed Ahmad Khanin establishing the Mohammadan Anglo Oriental College in 1875 that was given the status of a Central University in 1920, as Aligarh Muslim University. The AMU has provided higher education to hundreds of thousands of students not only from India but from all over the world.
Another recipient of the FAAA 'Community Service Award'was Mrs. Santosh Kumarfrom Chicago. Dr. Shahid Siddiqui called her the local Mother Teresa. Santosh Kumar is a distinguished product of AMU, where she obtained her degrees of Bachelor of Law in 1972 and Master of Law in 1974. She is a remarkable lady who is an attorney, counselor, professor and business-woman who has founded the Metropolitan Asian Family Services [MAFS], and is the current Executive Director. This non-profit agency works for the welfare of the most disfranchised members of the community, old, sick, poorly educated and with immigration issues. The FAAA also conferred 'Pioneering Award' to Professor Asadur-Rehmanfrom New York who was among the early members of the AMU alumni in initiating the AMU Alumni Association in New York area with the help of his wife late Mrs. Shaista Rehman that became the fore-runner of the present FAAA as it was founded officially in Washington DC, in 2002 through the efforts of Dr. A. Abdullah. The award was presented to Professor Rehman by Mr. Muzaffar Habib, Chairman of the Board of Trustees, FAAA.
Mr. Ashok K. Attri, Consul General of India in Chicago, praised the FAAA for holding diverse activities in educational, social and cultural fields and in coordinating the Aligarh Alumni Associations.
The evening Banquet Dinner was followed by a Musical Concert by Mr. Zeeshan Bagewadi, who sang ghazals and performed on piano an Italian Opera Ballad, German and Irish compositions and received thunderous applause. After the Maghrib prayers, a Mushaira was held with Professor Munib-ur-Rehman of Ann Arbor Michigan presiding. Noted Urdu poets from the FAAA community, including Dr. Abdullah Abdullah, from Washington DC, Mr. Syed Perwaiz Jafri from Houston, and Dr. Abidullah Ghazi from Chicago were among those who presented their kalam. Other distinguished poets were Mr. Hashmat Suhail, Mr. Latif Saif, Mr. Sajid Chaudhry, and Dr. Sadiq Naqvi. A special poem by famous poet Itrat Husain Itrat dedicated to the FAAA community was recited by Dr. Shahid Siddiqui as Mr. Itrat could not attend the Mushaira due to his travel commitments. The nizamat was admirably done by Mr. Amin Haider and the session lasted until 1 AM.
During the three-day convention multiple sessions were held to discuss the role of various alumni chapters in the US and Canada and the projects they monitor at the Aligarh Muslim University. There was also a lecture by Mr. Syed Shahabuddin, IFS, Ex MP on the role of Muslims in Indian Democracy.
The FAAA Recognition Award Dinner was held on Saturday followed by an entertainment session. Famous Pakistani singer Naila Mughal was at the top of her performance and with her melodies forced the audience to stand up and dance.
Community Builder's Monthly Meeting. Photo Journalist Sadaf Syed's photo documentary book iCOVER Discussed

Photo journalist Sadaf Syed was the guest speaker at the monthly meeting of Community Builders last Friday. She spoke about her journey from becoming a Muhajibba in 2001 to a 4-year cross country traveling spree culminating in the compilation and publishing of her coffee table photo documentary 'iCOVER'. She talked in detail of the hurdles and motivations in bringing out this one of a kind book. The book features courageous Muslim women who are contributing in challenging and leadership role in the mainstream America with their head coverings or 'Hijab'. These include army specialist Autumn Hardy, President Obama's advisor and a Gallup scientist Dalia Mogahed, Judge Zakia Mohasa, Dr. Nadia Arain Dentist, Michelle Yim, a network engineer, Sarah Bakhsh, Nuclear Reactor Engineer, Shaila Razzaq, Car Salesperson, Karen English, Children's Author, Slma Shelbaya, Broadcast Journalist, Asma Azim, 16 wheeler Truck Driver, Mariem Brakache, Boxer, Sama Wareh and Aurelia Khatib, Surfers, Lena Khan, Film Maker, USRA Ghazi, Interfaith Activist and many others. 'iCOVER' is a day in the life of a Muslim American covered girl. Naila Usmani introduced the author and Dr. Azher Quader commended the work of Sadaf Syed and asked the community to support her in her unique project by propagating a word about her book. For more information on her book please visit her website www.sadfsyed.com.
Council of Islamic Organizations House of Representatives Meets to Discuss Future Strategy

The House of Representatives of CIOGC met at the Al-Huda mosque in Schaumburg to discuss current affairs of the Muslim organizations in Chicago and to develop a future strategy. The new executive director Mohammad Nasir welcomed the representatives and briefly explained the future projects. He explained about the "Free Senior Benefits Program' which the council is introducing with the help of the National Council On Aging.
This program will help the seniors in the community in healthcare, utility bills, garbage pickup, food and rent. People can call in at 312-545-6825 and talk to Adnan for more details. Tasneem Osmani, deputy chairperson of CIOGC, talked about the role of CIOGC at the recent ISNA Convention. She said CIOGC played a very important role during the ISNA Convention and made its presence felt by the delegates. She also told the representatives that CIOGC also interacted with the councils from other major cities of the US and soon an umbrella council at a national level will be formed which will facilitate the work being done by the council by sharing ideas and strategies. She also gave an update on Annual Community Dinner. Youth Coordinator Ms. Amal Ali spoke about the projects undertaken by CIOGC to empower the youth of the community. She spoke about the leadership training retreats and promoting networking among various youth groups in the Muslim community of Greater Chicago. The executive director Mohammad Nasir furnished details of the Ramadan Fundraising Plan. Mr. Quader Hussain Khan presented a report of the Zakat Committee. Dr. Shakir Moiduddin reported about the interfaith efforts of his committee. The treasurer Mr. Saleem Sheikh provided the budget and expenditure details for the past year. Imam Abdul Malik Mujahid stressed the importance of participating in the national antiwar and peace campaigns. He urged the audience to participate in the Massive National Peace Rally in Albany New York on the 24 th and 25 th of July this year.
Sarod Maestro Ustad Amjad Ali Khan Performs in Chicago

Sarod Maestro Ustad Amjad Ali Khan performed in front of a packed audience at the Skokie Theater for the Performing Arts in Skokie last Saturday. He was accompanied by his sons Ayaan Ali Khan and Amaan Ali Khan. The 2 ½ hours continuous performance by the trio kept the audience spellbound. They were supported by Vineet Vyas and Ambrata Chatterjee on tabla.
Wedding Reception of Zain Mota and Hina

Chicago : Members of the Memon community were invited to celebrate the wedding reception of Zain Mota, son of Mr. and Mrs. Rafiq Mota, at Lazzat Restaurant banquet hall in Schaumburg. Prominent business leaders from the Memon community attended the reception. Vice Chairman of Tabani Group of Companies Pakistan Mr. Abdul Rauf Tabani was also present on this occasion.