Sufi Music Mesmerizes New York Audience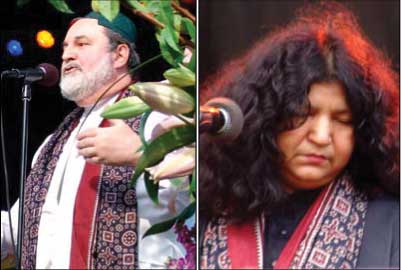 Ambassador Abdullah Hussain Haroon and Abida Perveen
New York : Living legend Abida Perveen and other exponents of Sufi Music mesmerized the New York audience and brought them to their feet through their Sufi songs. Thousands of people flooded the streets surrounding the famous Union Square , New York to attend the Sufi Festival organized by the Pakistan Peace Builders spearheaded by Ambassador Abdullah Hussain Haroon on July 22 to spread the message of peace, brotherhood and love across America and to present before the people the true face of Pakistan .
The whole area was jampacked and thousands of people present were seen clapping, dancing and swinging with the beat of music. The event provided a unique opportunity to the people of New York to listen to Sufi music and its message of peace, brotherhood and love.
Apart from large majority of Americans, music lovers from Bangladesh , India, Africa and Arab countries were among the gathering
After the successful conclusion of the event, Ambassador Abdullah Hussain Haroon, Permanent Representative of Pakistan to the UN, said, "It's a gift from the people of Pakistan to New Yorkers, and what better than music." He further said, "Individual acts of violence espoused by any minority cannot be allowed to define us all. There was the great need to give voice to the true Pakistan by showing our peaceful human face and culture to demonstrate the tolerant moderate Islam practiced by the overwhelming majority". He further said, "We were all assembled here today to celebrate the event in the peaceful and healing spirit of our Sufi tradition as expressed through the arts."
The performers were Pakistan's living legend Abida Parveen , Balochistan's Akhtar Chanal Zehri, Mekaal Hasan Band , Nadir Abbas, Rafaqat Ali Khan , Soung Faqirs from Sindh 's shrine of the revered Sufi saint Sachal Sarmast , Zeb and Haniya. Virtuoso instrumentalists include flutist Ghous Bux Brohi; Haji Sultan Chaney on rabab; Sachoo Khan on Sarangi/Surindo; Riaz Hussain on damboori; dhol/percussionists Abdul Rasheed and Abid Hussain ; matka/clay pot percussionist Muhammad Ahmed; and tabla/percussionist Tari Khan.