The Most Successful Concert in the History of Los Angeles
By Akhtar M. Faruqui
Pictures by Anwar Khawaja and Faiz Ahmed

Glimpses of the Amjad Sabri Qawwali Concert at the Heritage Forum
Theater in Anaheim on June 12
The alluring evening of June 12, 2010 at The Heritage Forum Theater, Anaheim, California filled with the sonorous enchantment of the spiritual musical concert, Qawwali, conducted by the great young maestro, Amjad Sabri Qawwal and played out by his exceptionally gifted troupe, exalted the audience to the zenith of ecstasy immersing them in the traditional musical encores and the delightfully popular contemporary numbers.
An overflowing and emotionally charged audience that memorable night clapped with rare spontaneity, raising the heartbeat and the decibels in the hall to a new high, as it joined young Amjad Sabri Qawwal and his talented troupe in paying homage to the Holy Prophet (PBUH).
Qaul, according to Wikipedia, means an "utterance of the Prophet" and a Qawwāl is someone who often repeats or sings a Qaul. Qawwāli is what a Qawwāl sings.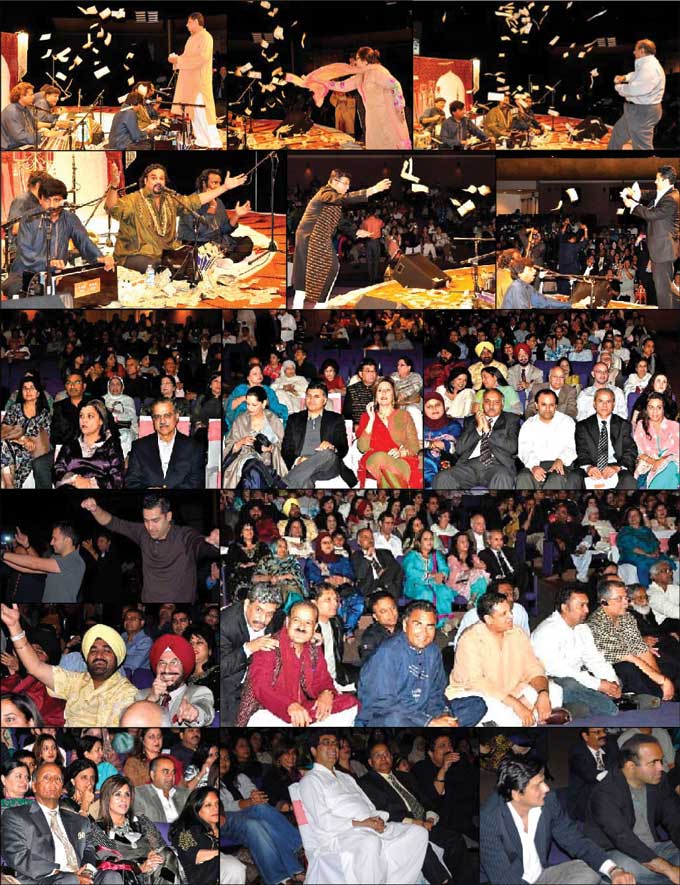 Glimpses of the Amjad Sabri Qawwali Concert at the Heritage Forum Theater in Anaheim on June 12
Today, Qawwali has come to be known as a form of Sufi devotional music that enjoys immense popularity in South Asia, "particularly in areas with a historically strong Muslim presence, such as Pakistan, especially Punjab and Sindh, and parts of North India."
But the audience enjoying the spiritual feast on June 12 was a multi-faith crowd with many turbans signifying the presence of Sikhs in the gathering. Prophet Mohammad's message was universal. The mixed gathering of Muslims, Christians, Hindus and Sikhs enjoying the spiritual feast testified to this incontrovertible reality.
As the evening wore on, misty eyes appeared tearful as the burly Amjad - looking very much a personification of Sir Walter Scott's Lord Lochinvar - sat cross-legged on the stage with his side singers, harmonium players, chorus and percussionists, and raised his voice to relay the feelings of many a troubled heart in the spacious hall:
Hum haen ranj o gham ke mare huae
Sakht mushkil maen haen gham sae harae huae
Ya Nabi kuch Khudara hamaen bheek do
Dar pe aae haen jholi pisarae huae ….
Haale dil Mustafa ko sunaoon
Thaam kar unke rozay ki jali…
Bhar do jholi meri ya Mohammad
Laut kar hath jaoon na khali …
Amjad and his group sang many popular numbers, including Koi had hae un ke urooj ki, Balaghal ula bae Kamalehi…, Khwaja ki deewani, Mera koi nahin hae terae siwa, Aaye hain tere dar pae, and Tajdar-e-Haram.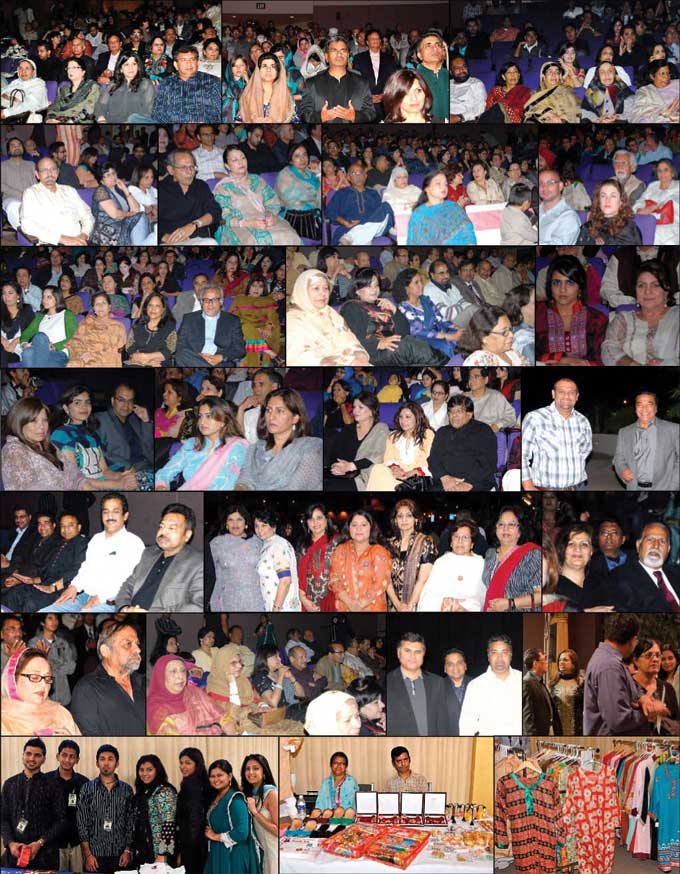 Glimpses of the Amjad Sabri Qawwali Concert at the Heritage Forum Theater in Anaheim on June 12
Jaz Entertainment, a subsidiary of PL Publications, publishers of Pakistan and Urdu Link, had organized the Amjad Sabri Concert. Arif Mansuri, owner of PL Publications and Metals & More, deserves the best accolades for organizing such a successful program. He was ably assisted in this undertaking by several of his lieutenants and friends including Nisha Shah, Nasir Rao, Asma Shakeel, Anwar Khawaja, Syed Nabeel, Sameen Faruqui, Iqbal Kolsy, Irfan Murtuza, Shan Mallik, Hashir Mallik, Sumanjeet Singh, Haya Farooqui, Sofia Altaf, Rehana Qamar, Nasreen Afshan, Parveen Imdad Ahmad, Abida Ahmad, Yasmin Sajan, Shan Qadeer, Yousuf YKKB, Tasneem Farooq Rehmani, Huma Amir Latif, Amin Usman, ESP Lighting Team and a group of Pakistani Students Association including Soaliha Lakhani, Pakiza Hira Chatha, Muzzamil Ayaz, Yusuf Anwar, Ainain Ahmad, Zahra Sizar, Ali Hussain, Azram Hussain, Aqueedat Hussain, and Farah Shaikh. Haya Farooqui appeared outstanding in her role as the emcee of the program and ably conducted the proceedings.
One need hardly emphasize that a successful concert on such a grand scale could not have been possible without the active support of sponsors like Dr Meher Tabatabai and Mr Qaisar Madad, Ledtronis (Mr Pervaiz Lodhie), Netsol Technologies (Mr Najeeb Ghori), JFK Realty (Mr Jamal Khawaja), CN Travel (Mr Minesh Patel), Islamic Relief, Dada Tours and Travel (Mr Yakoob Dada), Shahnawaz Restaurant (Dara Shah Khan), iColor Printing (Mr Adil Khan), Dil Se Decorations and Meher Boutique (Mrs Tasneem Mirajuddin), KFC- Pizza Hut (Mr Muntazir Zaz), Leader Travel (Mr Sultan Ahmed), Habib American Bank (Artesia), Shah Distributors (Mr Anas Shah), Gourmet India Food Co. (Mr Saleem A. Hai), Mrs Zohra and Shoaib Patel, Mehfil Restaurant (Dr Hasan Sizar), India Sweet and Spices, Artesia (Mr Kumar Jawa), Shan Restaurant/ Shan Grocery (Mr Faiz Ahmed), MMND Designs (Mrs Mahwish Niazi), and media partners including Indus TV (Mr Shafiq Saddiqui), Urdu Times (Mr Zafar Abbas), Pakistan News (Mr Naushad Sarvar).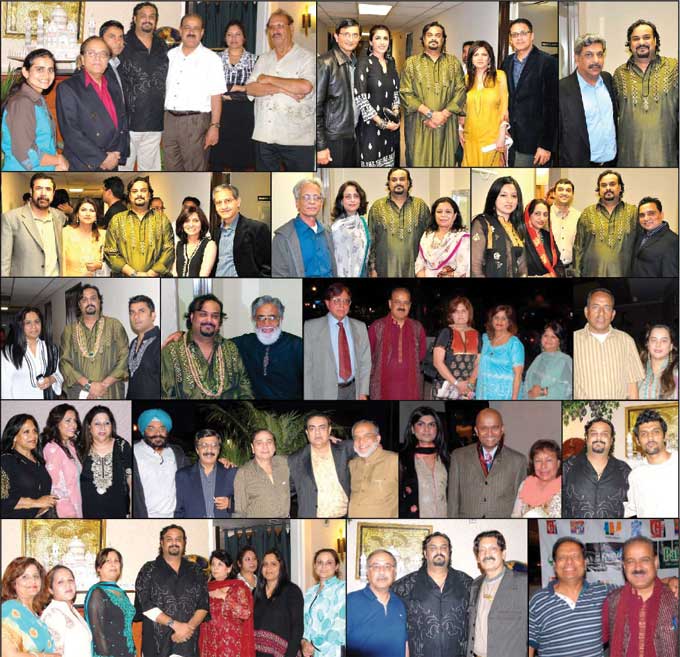 Glimpses of the Amjad Sabri Qawwali Concert at the Heritage Forum Theater in Anaheim on June 12
As for audience appreciation of the program, here is a small sampling. Dr Salman Ahmad, President, Sadequain Foundation, San Diego, commented in an email to Editor Pakistan Link thus : "Riffi and I are thankful to you for a wonderful evening of mystical bliss. I grew up listening to sufiana qawwali of Pakistan's most exalted qawwals even before Sabri brothers elevated this genre to stardom. Sabri brothers were the first ever superstar qawwals, especially after their successful Indian tour almost three decades ago. We were honored in 1980 when the original Sabri brothers stayed at our house in Denver, Colorado, while touring the USA sponsored by Sibte Kazmi."
Dr Salman's appreciation was well deserved. The hall was overflowing and quite a few qawwali enthusiasts returned home dejected as the tickets had run out. Each and every member of the audience who was lucky to get a seat appeared elated, nay, enthralled, almost entranced by the edifying experience. Many ungrudgingly conceded that no program had been as successful as the Sabri Qawali Concert in the history of Los Angeles. Amjad Sabri himself acknowledged his troupe had not attracted a bigger crowd in the past nor were the arrangements so meticulously perfect as on June 12.
The guest appearance of popular TV star Humayun Saeed added to the gaiety of the occasion.
The program remains the talk of the town. Surely, its memories will linger for a long, long time.