Safeer e Pakistan's 6 th Award and Gala Night a Truly Memorable One
By Fatima Khan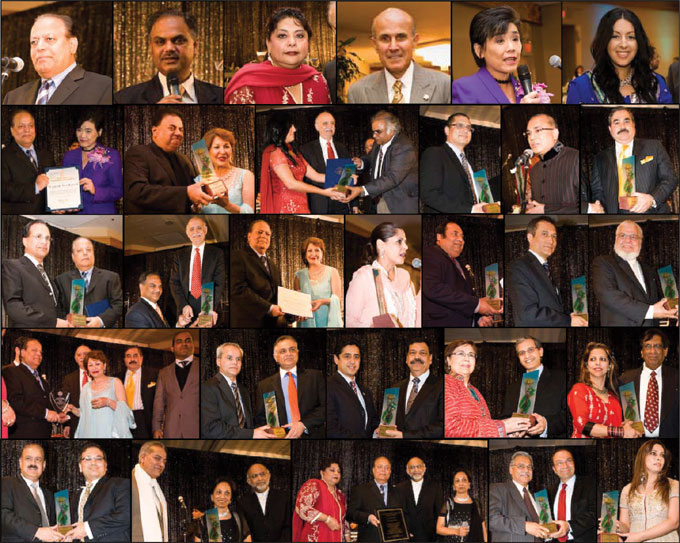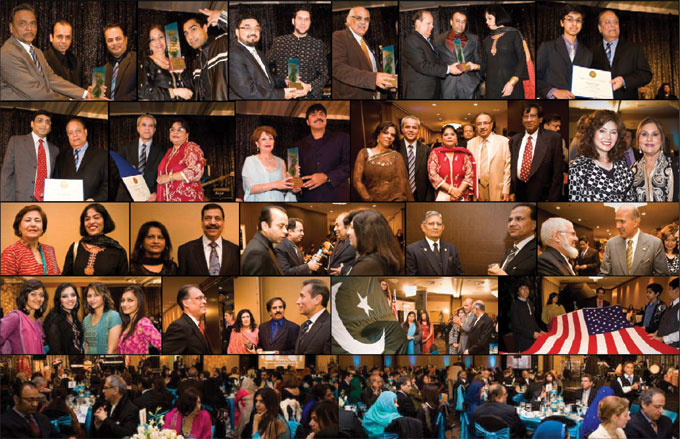 Pictures above: Glimpses of Safeer e Pakistan's 6th Award Night in Anaheim, California.
Anaheim , CA: Geo Television Network's leading program Safeer e Pakistan's 6 th Award and Gala Dinner was an event that will be remembered by all for years to come. The award gala evening at Sheraton Park Hotel in Anaheim, CA on March 6 th was hosted by none other than the senior executive producer of Safeer e Pakistan, Mr. Waqar Ali Khan, and program director Mrs. Fatima Khan and their team. I
t truly was an evening to remember with a gorgeous ambiance, delectable cuisine, lively entertainment and, above all, participation by community members from all over the United States, Canada, Europe and Pakistan.
Months of preparation paid off with participants traveling from across the globe to receive their awards with friends and family members. It was the 6 th award night hosted by Safeer e Pakistan and its team to recognize those who have played vital roles in their fields and their contributions and achievements have won wide recognition and are making a difference in their communities. Safeer e Pakistan is committed to bringing the community together and feels it is important to recognize people for their quality efforts. The award night is also one way for Safeer e Pakistan and its management to thank all the patrons, supporters, sponsors, well wishers and friends for being side by side, many of them over a decade or so for being loyal to Safeer e Pakistan. The reason this year's award night was exclusive of all the award ceremonies so far held by Safeer e Pakistan, there were several individuals from all over the globe who were recognized for their achievements and contributions.
A sold-out event, the function was attended by several top-notch community members and business personalities who postponed their business trips to attend the event. Many individuals from the physician community attended the functions from other areas of the US despite their busy schedules. Local dignitaries among the attendees included a great friend of the Pakistani community, Head of the Sheriff Department of Los Angeles, Mr. Leroy Baca and his lovely wife; Congresswoman Dr. Judy Chu of 32 nd District, CA; Mayor of the city of Irvine; Mr. Sukhee Kang, and the Acting Consul General Dr. M. Khalid Ejaz.
The program was conducted by young Mahrukh Madad as the co-emcee and Fatima Khan as the emcee of the evening. Music lovers were entertained by Karvaan band, rising artist of Saragama fame, Jeffrey Iqbal, Dr. Kamran Khan, a Pakistani rapper, Haseeb Patail, also a young rapper from Los Angeles, acclaimed Pakistani singer, Tehseen Javed and a preview of songs by Adeel Burkee, a rising star visiting from Pakistan.
The evening started with recitation of Holy Qur'an and Naath followed by a flag parade by Pakistani students of California State University Fullerton and Pomona with national anthems of Pakistan and United States. Sheriff Baca, a great friend of the community, was the first speaker who praised the efforts of Safeer e Pakistan and commended Waqar Ali Khan's efforts and gave special remarks to him by stating that he should be nominated for a Nobel Prize for being a voice of the Pakistani community. Mr. Baca praised Mr. Khan saying he runs an entity, which promotes communication and understanding between peoples, which are essential ingredients for a harmonious world. Congresswoman Judy Chu, who recently joined the Pakistani Congressional Caucus, also applauded the efforts of Safeer e Pakistan and presented a recognition service proclamation to Waqar Ali Khan. She added in her remarks that she is aware of the importance of having had the ethnic media as her ally. Acting Consul General Dr. Khalid Ejaz from the Pakistani Consulate also commended Safeer e Pakistan and its team for representing Pakistani community across the globe and stated that it is an important tool to educate people to understand each other and teach them the importance of respecting and accepting each others' value systems.
Among the awardees who were recognized for their achievements, successes, contributions and dedication to their profession, community and mankind were Meher Fatima Tabatabai MD, a renowned infectious disease specialist, as the Woman of the Year from Southern California; Dr. Safwan Shah PhD, as the Man of the Year from N. California; Mr. Shoaib Kothawala, founder, President & CEO of ITA Inc., as Businessman of the Year from S. California . Syed Qaisar Madad, a renowned businessman, community leader and a philanthropist was given Lifetime Achievement Award; Muhammad Ali Hasan, as Youth of the Year from Colorado: Mr. Najeeb Ghauri and Netsol Technologies inc., of California, the first Pakistani company listed on Nasdaq, as the Company of the Year; Dr. Hasan Farid Hashmi, Physician of the Year, from Dallas, Texas: Mr. Saleem Iqbal of Habib American Bank, as Banker of the Year, from St. Louis, Missouri; Dr. Manzoor Ahmed Tariq, President-elect 2010 of APPNA for Leadership of the Year, also from St Louis Missouri; Dr. Azfar Malik, as Entrepreneur in Healthcare; Dr. Khaliq R.Baig of Las Vegas Nevada for Islamic Causes, from Los Angeles, CA; Dr. Ismail Keekeebhai PharmD, as a rising community leader, from Dallas, Texas; Dr. Talat Bukhari, for her only Pakistani cook book, as the Book of the Year; Dr. Hasan Bukhari, for Service Recognition and Dr. Jalil Khan, for Community Service, Human Development Foundation represented by Dr. Atiya Khan, Chairperson, and Dr. Khalid Riaz who received the Recognition Award for HDF as the NGO of the Year; Dr. Yasmin Feroz Qasim, for Community Service, from S. California; Mr. Iqbal Shaikh of Austin, Texas for establishing the first Pakistan chair at UT Austin; Mrs.Saman Hasnain, as Woman Achiever, from N. California; Funasia of Dallas, Texas for Media of the Year; 4 th year medical student who is also an acclaimed rapper, Dr.Kamran (aka Lazarus) Rasheed Khan, as Rising Youth from Michigan; Zee TV's Saregama's first runner up in 2009, Jeffrey Iqbal, rising star, Pakistan leading television, actor, producer and director, Mr. Humayoon Saeed, as Actor of the Year; renowned poet, Noor Jahan Noori, as Poet of the Year from London, UK and a special tribute was given to Mr. Jameel Uddin Alee, from Pakistan. In addition to these individuals, Safeer e Pakistan gave special recognition awards to several others for their services to the community and to their professions including Dr. Shoaib Patail of Alta Loma, CA; Dr. Asif Mahmood from Bradbury, CA; Mr. Naushad Sarwar for media service in California, and Danyaal Syed a 13-year-old first year freshman at University of California, Los Angeles for his remarkable achievement.
In addition, Waqar Ali Khan was honored for Lifetime Achievement for his services to the community, media and Pakistan by a local organization, United for Pakistan Independence Day that holds a mega Pakistan Day event every year. He also received a special service recognition award from HDF for his service in promoting Pakistani media. A special thanks and credit is a must to all the sponsors and supporters for making it possible to hold this event, notably Syed Qaisar Madad and Dr. Meher Tabatabai as the grand sponsor of the event, Dr. Khalid and Dr. Parveen Ahmed, Dr. Hasan Sizar and family, Mehfil Halal Tandoori Restaurant, Habib American Bank, Netsol Technology, Amtrend Corporation, Dr. Sohail Masood, QDX Pathalogy Service of New Jersey, Centerpointe Hospital, Rex International, Aim Radiology, and Dr. Naseem Malik, ITA international, and Dr. Azam Khan, Dr. Shahid Tahir, Mr. M. Zahid of Michigan, for supporting the award night. The sumptuous cuisine was catered by Mehfil Halal Tandoori Restaurant and delectable assortment of fresh fruits by Sweet Fruits by Fariha and beautiful ambiance of the evening was decorated by Rukhsana Ibhrahim of RI flowers. Special thanks go to Digital Impression Studios, Faiz Ahmed, Nawshad Sarwar and Zafar Abbas for capturing the glimpses of the event and all the volunteers including students from Pakistani Student Association of Cal Poly Pomona and Cal State Fullerton, Shaheen Awan, Seema Faiz, Abida Ahmed and Bilkis Manjra.
Safeer e Pakistan is a leading community-based television program started in 1997 on a national television network and currently aired on GEO Television. It is a bridge between the Pakistani-American community around the nation, Canada, Middle East and many areas of the world where it is reachable. It is the first and only television show on Geo Television Network to introduce community programs and events. The program highlights the roles and achievements of Pakistani Americans in the United States in all sectors including economic, social, religious, political and many other areas of interest. Many individuals living in various parts of the USA, several in extreme remote areas, have been discovered and introduced on Safeer e Pakistan for their extraordinary contributions in their fields, to their communities, to Islamic and charitable causes, to local, national and political arenas and many other ways through their resources. Safeer e Pakistan is keen to promote the successes and achievements of Pakistani Americans and introduce those role models who have made Pakistan proud in America.