Sense and Sensibility: A Maturing Pakistan
By Karim Raza
Pictures by Anwar Khawaja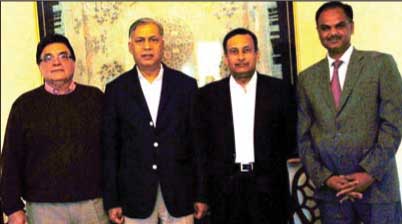 L to R: Dr Suhail Siddiqi, former PM Shaukat Aziz, Ambassador Haqqani & Dr Ejaz
Whittier , CA : It was an unusual session in more ways than one. It was unique in that the former Prime Minister of Pakistan, Mr. Shaukat Aziz and the current Ambassador of Pakistan, Mr. Husain Haqqani each symbolizing two very different political realities, shared the spotlight at a luncheon hosted by Dr. Suhail Siddiqi and Dr. Majjida Ahmed at their sprawling Whittier home on that sunny Sunday afternoon of April 25.
The coming together of a former Prime Minister and the current Ambassador projecting their thoughts and ideas with grace and amity reflected the maturity the nation of Pakistan is finally gaining.
Both of them took the highly unusual stance of projecting the present and the past of Pakistan in the most favorable light. There were no allegations of causing ruination to the country in the past and there were no charges of pushing the country to the brink of the doom in the present. No hot tempers. No flaying fingers. No raising the pitch. No rolling up of sleeves. Instead, cool and calm demeanors, level pitched voices and rational non- invasive, non-provocative phrasing of their points of view. What a treat it was!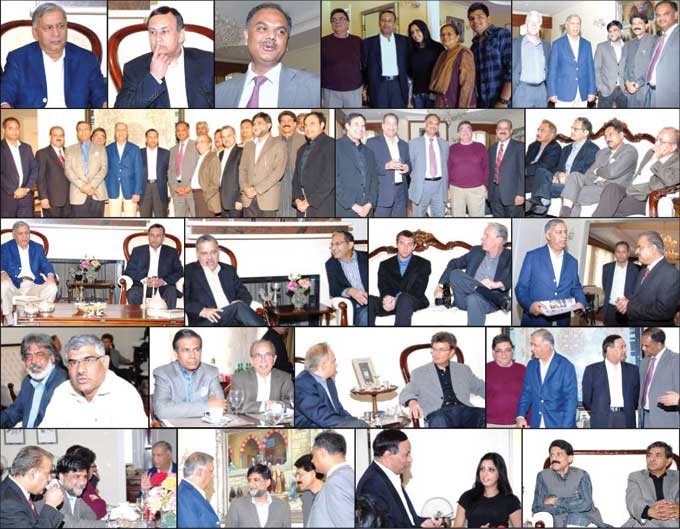 Former Prime Minister Shaukat Aziz and Ambassador Husain Haqqani with guests at the residence of Drs Suhail Siddiqi and Majjida Ahmed
Some very tough issues were laid out by Dr. Suhail Siddiqi in his opening remark. Two of them highly crucial: the denial of many rights to the women in Pakistan and the treatment of the minorities by some of the provisions of the Constitution of Pakistan. These were the questions which many would duck and many would get defensive about. Instead, the take of both Mr. Aziz and Mr. Haqqani was objective, non-defensive, analytical, reflective and persuasive. There was a confluence and convergence of views which one rarely sees in discussions like these.
Jointly the two evaluated the historical perspective, the present trends and the future scenarios in those two areas with professorial dispassion and pragmatic considerations putting the struggle the Pakistani polity is currently going through in the backdrop of the stages of the denials of those rights to those two groups for a very long haul even in the United States of America. (The author is a former senior civil servant of Pakistan and taught at the Karachi University)