Patails Host Fund-Raising Dinner for Mayor of Rancho Cucamonga
By Haseeb S. Patail
Pictures by Anwar Khawaja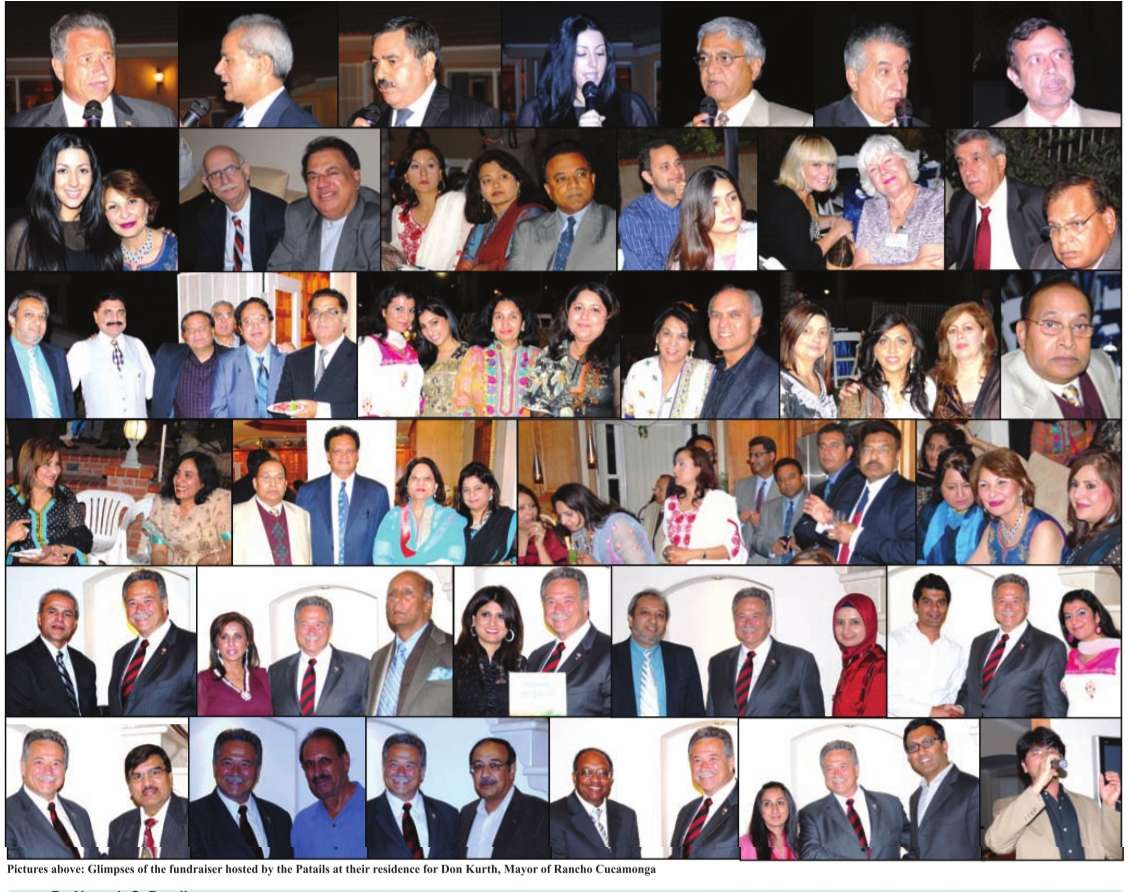 Alta Loma, CA: The Pakistan-American Community of Inland Empire organized a fundraising event for Don Kurth, MD, Mayor of Rancho Cucamonga, who is contesting for the 63 rd. District of the California State Assembly. The fundraiser was held at the residence of Dr. Shoaib and Zohra in Alta Loma, California with the generous support of the Host Committee comprising Dr. Meher Tabatabai and Mr. Qaisar Madad, Dr. Mateen Ahmed and Mrs. Rifat Mateen, Mr. Hamid and Mrs. Javeeda Malik, Mr. Adnan and Mrs. Tina Khan, Mr. Omar and Dunya Ahmed, and Mr. Mustafa Milbis.
The program began with the recitation of the Holy Qur'an by Shirjeel Muhammad, a civil engineer by profession. Mahrukh Madad, a young, beautiful and energetic youth leader was the emcee of the event. She and the Patail family welcomed the Mayor, thanked the Host Committee and the community for their support and participation.
Mr. Adnan Khan, President of COPAA, took the stage and highlighted the current issues confronting the Pakistani and Muslim communities. He emphasized that in these trying times it was absolutely essential for the community to extend cooperation to law enforcement agencies like FBI and Homeland Security and this is precisely what COPAA has been doing. He also stressed the importance of our engagement with fellow Americans.
The keynote speaker was the Mayor of Rancho Cucamonga, Dr. Don Kurth. In his speech the Mayor mentioned that he was proud of the City of Rancho Cucamonga and its diversified community. He reiterated that Pakistani and Muslim Americans are an important part of the fabric of America. He emphasized the importance of Pakistani and Muslim community to be involved in mainstream politics.
The Mayor greatly appreciated the hospitality of the host couple and thanked Dr. Patail and Mrs. Zohra Patail for organizing the well-attended, lively event, and serving a sumptuous dinner. He confessed his great affinity for Pakistani delicatessen. The Mayor also thanked the Host Committee and the community for their continuous and tireless support for Pakistan and America. He acknowledged with gratitude the generous donations made by the community.
After dinner, the participants were entertained by vocalist Tahir Iftikhar and Ms. Bilkis Haider.