Globus Relief, Deseret Int Donate $14 Million Worth of Medicines to Saba Trust for Flood Victims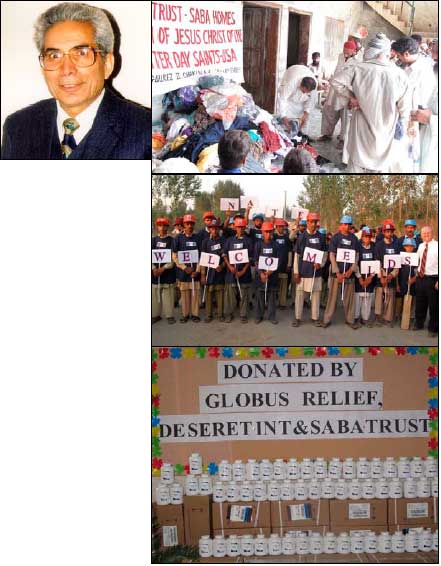 Under the stewardship of its President Saghir Aslam (top left), Saba Trust continues
to provide relief to flood victims in Pakistan and render multifarious other services
As a long-time friend and partner in eye operations, Dr. William Jackson, Chairman of the Board, Deseret Int. Foundation USA, made special collaborative arrangements with Mr. Semnani of Globus Relief to deliver much needed multi-purpose antibiotics for the flood affected people of Pakistan.
Established in 1989, Deseret Int. Foundation is dedicated to supporting permanent and sustainable health care in underdeveloped countries. Globus Relief, a global humanitarian medical resource organization, whose Head office is in Salt Lake City, Utah USA, is dispatching two forty-foot containers fully packed with medicine to Saba Trust Pakistan for distribution among the flood victims.
This huge amount of medicine worth fourteen million US dollars will be distributed in the four provinces of Pakistan. Efforts are being made to ensure that the medicines reach medical organizations such as:
Saba Trust's medical and relief camps in flood areas of Khaiber Pakhtoonkhwah and Punjab, National Commission on Human Development (NCHD), Khubaib Foundation, Railway Hospital, Shifa International Hospital, Margalla Dental College, Hashim Hospital – Gulre, APPNA, Begum Akhtar Rukhsana Memorial Trust Hospital, Edhi Foundation, Red Crescent, Church of LDS International Federation of Red Cross and Red Crescent Societies, Al Khidmat Foundation, Agha Khan Foundation Pakistan, CARE Pakistan, European Organization of Pakistani Minorities, Friends of Pakistan, Action Aid, American Friends Service Committee, Human Relief Organization, Canadian Co-operative Association, Hope International, J Salik Save Pakistan Foundation, Rotary Club Rawalpindi, Lions Club, Save the Children Pakistan, The Asia Foundation and other reputable organizations
Says a message from Mr Saghir Aslam, President, Saba Trust, "We have planned a meeting inviting representatives from every single province to formulate the distribution strategy to credible organizations; this Committee will in turn monitor them regularly.
*During earthquake 2005, we served 75 remotest villages where no one had gone before. We worked day and night and monitored the distribution of blankets, gas cylinders, dry ration and other items.
* During the recent floods we adopted the same strategy and selected the remotest villages for distribution of dry rations, clothes, blankets, hygiene kits and other necessities. We provided sehri and aftar during Ramadan to hundreds of people, young and old, every day, distributed sweets and Eid gifts on Eid ul Fitr.
Saba Trust has been working in the flood-affected areas since day one and has also periodically set up medical camps. Saba Trust does have its presence and necessary contacts in many places around the country; where we do not have contacts we plan to donate the medicines to the local hospitals and clinics caring for flood patients and also to the international medical organizations and other humanitarian groups such a Rotary International, Lions Club, etc.
I, Saghir Aslam as a businessman, looking for Allah ST's mercy day and night, feel that this is one of the greatest blessings I have received and that it is a tremendous responsibility put on my shoulders for which I will be answerable to God the Almighty on the Day of Judgement. These medicines are to be distributed among credible organizations and, most importantly, must reach the needy people in all the four provinces, equally, fairly and honestly on first-come-first-serve basis with no favours shown to any organization or individuals.
In order to fulfil this responsibility, our staff has contacted concerned people in all the four provinces.
Samples of the medicines were sent to Pakistan in September and were shown to doctors and surgeons who reported that the antibiotics are not only of excellent quality but also have multiple applications for a variety of diseases as they have broad spectrum coverage. The antibiotics are coming at a dire time in Pakistan. They were due to reach the port of Karachi by end-October and InshAllah will reach Islamabad for distribution by early November.
A meeting will be held at the Saba Trust Head Office in which representatives from all 4 provinces will chalk out comprehensive plans to decide:
A. Criteria to select organizations that would get the medicines for distribution.
B. Identify organizations that we should donate the medicines to.
C. Issue them small amount of medicines, monitor their performance according to rules and regulations set by the committee.
D. After evaluating each organization's performance, additional medicines will be distributed.
Once again the committee will continue to monitor the proper distribution of medicines.
We will save small amount of medicine for emergencies in Saba Trust warehouse.
Our goal is that we should try to distribute all medicines to the needy and deserving people by March 30 th, 2011. On June 30 th the 2 nd and final distribution will take place. Past-March 31 st 2011, medicines that are left with certain organizations will be redistributed among organizations that have given a good account of themselves during the first distribution.