DIL LA Gets Record Support of Community at Annual Gala
By Adam Fakhri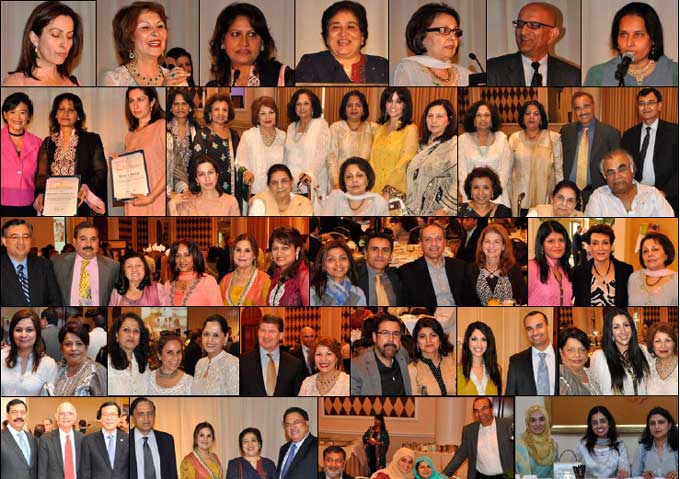 The community's large turnout and handsome donations for DIL's noble strivings were all too evident at the impressive event
Developments in Literacy (DIL) held its annual gala on October 17, 2010 at the St Regis Monarch Beach Resort in Dana Point, California. Grand sponsors of the event, Dr. Meher Tabatabai and Syed Qaisar Madad, hosted a beautiful Sunday brunch beginning with an ocean-front reception with live music, an elaborately presented gourmet Sunday brunch, followed by awards and entertainment for the over 500 attendees. Although the recovery from the historic floods which ravaged Pakistan earlier this year continues, DIL was still able to raise over $600,000 to support their schools and programs for the under-privileged throughout Pakistan. Amid the beautiful locale, DIL's founding chapter brought together long time supporters of DIL who continue to believe in the importance of the fight against illiteracy in Pakistan.
After an impressive recitation of the Holy Qur'an by Mrs. Zeba Vanek, the guests were treated to an elegant afternoon emcee'd by Mahrukh Madad and Naeem Arastu, President of the youth segment of DIL, YOURDIL. Guests were briefed on how DIL's mission of "educating children, empowering communities" was being implemented through their teacher and vocational training, curriculum development and new technology initiatives. They were also given an overview of the operations, activities and mission of YOUR DIL which is critical to improve awareness of DIL among the next generation of youth. In addition, they were shown a powerful video presentation, which mirrored the effect of DIL schools on rural communities.
President of DIL Los Angeles, Mrs. Perveen Ali, inspirationally addressed the crowd highlighting how DIL is changing the "face of education in Pakistan" by its new innovative programs. She described several of the new programs, including teacher training, curriculum development, technology programs including partnerships with Intel and Rosetta Stone, one laptop per child initiative and the I-Earn Pakistan program, and finally, library and vocational training. She stressed that even with the terrible flooding in 2010 and extreme threat of Taliban attacks, DIL is at the forefront of education in Pakistan with 149 schools operating and educating over 17,000 children each year. Thanking the hard working and zestful members of DIL she attributed the success and growth of the organization to all its donors and supporters who continue to give each year.
The highlight of the afternoon was the address of the keynote speaker Ashraf Habibullah, CEO and founder of Computers and Structures, Inc. Ashraf had the audience in good spirits with his description of his own journey from Pakistan to a business leader in his field. He attributed his own success to the drive and determination which teachers in Pakistan had instilled in him. He praised the work of DIL pointing out how hard it is to give a child education in the United States, let alone in a developing country like Pakistan. In keeping with the spirit of the occasion, he announced that he would match any proceeds donated to DIL during the afternoon. In addition, a lively auction hosted by Dr. Mansoor Shah of paintings by Pakistani artists Natasha Shoro and Rashid Ali raised additional funds to help support DIL.
DIL presented two awards during the program to individuals who have contributed generously to the DIL cause. DIL Founder and CEO Fiza Shah, introduced the first recipient Jameela Fakhri for her dedication, commitment and belief in DIL since its founding in 1997. Jameela Fakhri spoke of how DIL had been able to rapidly grow since its inception and stressed the importance of the DIL schools and new programs such as secondary education, teachers training, curriculum development and vocational training. She sees DIL as a way to give back to her homeland of Pakistan as it provides long term improvement and growth not only to a single child but to an entire nation. She appealed to the audience to continue to support DIL's programs so that this progress can continue.
The hosts of the afternoon Dr. Meher Tabatabai and Syed Qaisar Madad presented the next award to Mrs. Amina Adaya for her long standing support to DIL. Mrs. Adaya accepted the award among a standing ovation from the guests. Mrs. Adaya and her late husband Ahmad Adaya have been ardent supporters of DIL since its inception and have always had a strong belief in education, especially in their homeland, Pakistan. They are leaders in the Los Angeles community and hope to bring peace and harmony to the world through their philanthropy which supports education, knowledge and religious tolerance through various organizations like DIL.
Finally, Dr. Meher Tabatabai asked the audience to continue to give to organizations like DIL and praised the work that they are doing. Her family is honored to help DIL continue the fight to help end the cycle of poverty in Pakistan. The Consul General of Pakistan, Riffat Masood, addressed the audience and stressed how she will always be supportive of such programs like DIL and is excited about being part of the Los Angeles Pakistani community.
The reaction and generosity of the attendees highlighted their belief in the importance of education in Pakistan and how DIL's programs are making inroads to help the fight against illiteracy. To learn about or donate to the DIL programs please visit www.dil.org.