DIL San Francisco Gala 2010 a Rhythmic Success
By Ras H. Siddiqui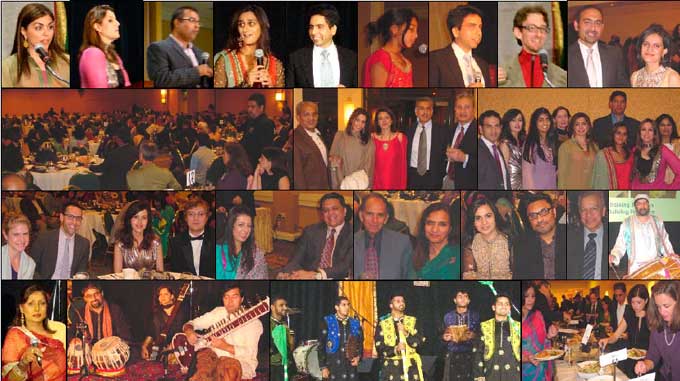 Over 300 people gathered at the Crowne Plaza Cabana Hotel in Palo Alto to show support for the San Francisco Chapter of Developments in Literacy
Developments in Literacy or DIL ( http://www.dil.org/) is a US-based, non-profit organization which has in its 13 years of existence strived to bring education to some very poor children in Pakistan. And from amongst the chapters here in America, the San Francisco DIL Waalay (People with generous hearts) remain amongst the most active, as the local Silicon Valley mainstream community inclusive of all South Asians continue to be supportive of this worthy cause.
DIL's annual Gala is usually well attended, meticulously planned and perfectly executed. And this year was no different as over 300 people gathered at the Crowne Plaza Cabana Hotel in Palo Alto to show their support, this time under the musical theme of "Rhythms of the Indus" which the décor perfectly matched.
The announcement to enter the main hall was made via a dholak (drum) call. And as the colorful guests entered and filled the venue, Master of Ceremony Umair Khan wished everyone a hearty welcome. He said that he did not want to make this a "Zaalim VC" elevator pitch, but with up to 86% female illiteracy in parts of rural Pakistan and with the third highest number of school-age kids out of school, DIL's quest to educate kids there did not need further elaboration since the need was so pressing and pronounced. "The DIL solution is all of us," said Umair. He also mentioned that DIL's efforts at building and running schools in Pakistan with the lowest overhead costs (compared to other education related NGO's) has already resulted in thousands of satisfied customers (kids).
The first keynote speaker was from the " One Laptop Per Child" (OLPC) effort of the XO computer fame, represented by one of its Directors, Samuel Klein. Sam said that OLPC ( http://laptop.org/en/) was already in 31 countries which included a pilot project in Pakistan. A school in Paraguay was also highlighted. He said that two million children around the world, especially in Latin America , are already benefiting form this effort. Peru is almost as rural as Pakistan and Afghanistan, he said, while Uruguay is more technologically advanced. He said that after implementing the OLPC plan "the first thing you notice is that attendance shoots way up." He added that the aim was to get children in remote areas access the Internet, to get them to take part in this revolution. He spoke of a rural town, which did not even have enough books to go around, now getting Internet access, where children are now dragging their parents into the network.
He said that they focus on bridging the urban-rural divide. Sam also highlighted the progress some kids have made in these covered areas. "In each school the most important thing is the teachers and their enthusiasm," said Sam Klein. "What we share is the joy and passion for learning."
Next in the program was a video presentation on the Khan Academy, a not for profit educational organization ( http://www.khanacademy.org/) with a humble aim, to educate the world. Salman Khan, the Academy founder, is not a Bollywood actor but an American born and New Orleans raised educator of Bangladeshi origin, one who has made hundreds of teaching videos (1900 and counting) on numerous subjects for online teaching. "Sal," as he is known, has developed quite a following in this effort. "I see Sal as a pioneer," said one of his fans, Microsoft Founder Bill Gates. So when DIL picked the one person to honor for the year 2010, Salman Khan was an easy choice. Paru Desai Yusuf presented Sal with this year's DIL award, and the legend was present to receive it.
After accepting the award, Sal Khan, said a few words by giving us a sneak preview of what is coming up from the Khan Academy. "We are building a virtual school," he said. Going into details of the preparation of the Khan Academy teaching videos, he spoke of the benefits of this teaching methodology. "You don't have to be embarrassed," he said, because one can learn at his or her own way by stopping and rewinding the videos. "You don't have to stress." He mentioned the many emails that his organization gets every day from kids all over the world. "Every student in class can work at his own pace." At the Khan Academy, teachers don't grade homework but one can zero in on some students and their particular problem areas even before the teacher is involved. He said that in some countries (like Pakistan) even if resources are available, it is hard to get good teachers. And at times even if there are good teachers, they may not show up for work or the students may not show up due to some other pressing problems. The Khan Academy concept changes all that. Timing is not an issue with these videos. Nor is the level of affluence. Sal said that for the first time in history, we can empower the poorest parts of the world with the same kind of education as the richest.
After the dinner break the gathering was entertained to a scintillating Bhangra performance by the Ishaara Group, followed by a young lady performing a Kathak dance. DIL Chairwoman Sara Abbasi next came to the stage. Sara focused on the challenges faced in Pakistan and DIL's ever expanding role there. She thanked everyone for making a remarkable difference in the lives of so many by their support of DIL. She spoke of the progress that some of the students from DIL's first school, a class of 35 girls in Pakistan thirteen years ago, had made with some currently on the road to becoming doctors or teachers. Today DIL operates 150 schools and imparts education to around 17,000 students, said Mrs. Abbasi. "In a country with six million children without access to schools, this may seem like a drop in the bucket," she added. But one cannot give up hope as the short video on DIL schools demonstrated with young faces with manifest zest for learning appearing on the screen.
DIL San Francisco Vice President Ambreen Jamal next came to the stage. "I am really inspired tonight," she said. She added that the cause of DIL was both very noble and necessary. Young Saira Yusuf was invited to the stage next to make an appeal on behalf of children. Saira set the stage for starting the fundraising which both Ambreen and Umair Khan very ably conducted with the help of a number of young volunteers.
One could not overlook the Rhythms of the Indus theme as the event concluded with a fine musical performance by Kamal Hyder and Company and a closing by vocalist Riffat Sultana and party.
To conclude, DIL San Francisco has once again successfully demonstrated that our community here in America can put together a great evening for the cause of the less fortunate people in Pakistan. And after listening to Salman Khan, one left inspired and assured that some very gifted individuals are continuing to make this world a better place.