Walk for Pakistani Flood Victims in San Ramon
A Pakistan Link Report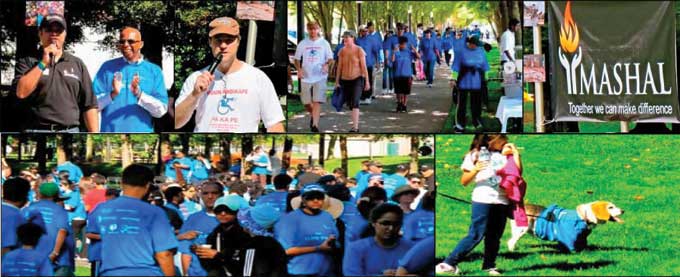 Pictures above: Glimpses of the Walk for Pakistani flood victims in San Ramon
The Mashal organization ( http://www.mymashal.org/) is a relatively new debutant on the block amongst Pakistani-American non-profit groups in the San Francisco Bay Area. It has been involved in promoting the cultural, social and artistic face of Pakistan in this region since 2008 and is working hard at leaving an imprint of the Pakistani identity on our next generation to preserve and share with their friends from the local American mainstream.
When devastating floods hit Pakistan recently, it came as no surprise that Mashal (torch-flame) would bring to light the impact of this tragedy in its own unique way. This time the vehicle used was a Flood Awareness Walk held at the Central Park-Amphitheatre in San Ramon , California on Saturday, October 2 nd, where close to 400 people gathered, donating $100 per family, to highlight the plight of millions back home, especially the children who have been severely impacted due to this calamity.
It was a beautiful Northern California day in San Ramon; the weather was as kind as it could be as hundreds gathered decked in their bright blue Mashal Flood Walk T-Shirts and wrist bands. Men, women children, Pakistanis, Gringos, Latinos, African Americans and Asians, Muslims, Christians, Jews, Buddhists and Hindus - with an agnostic or two thrown in - all in one place proceeding to walk approximately 2.5 miles to spread the word that there are children more than half way around the world that need urgent help. The local Rotary Club and the San Ramon School District were prominent in providing assistance.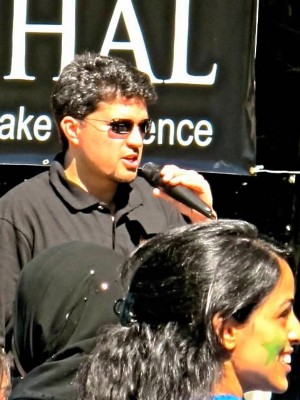 Post-walk emcee Omar Khan introduced San Ramon Mayor Abram Wilson and noted the unflinching support that the city of San Ramon has given to Mashal and the Pakistani-American community, both during the planning of this walk and in recent years. Mayor Wilson took the opportunity to express his sentiments on how he has seen Mashal grow in a short period and offered his continued support to our community.
Mashal President Faraz Sattar spoke next and commented on the dire need to help the flood victims in Pakistan and to create awareness in the mainstream community about their plight. Mashal was also given a certificate of appreciation by the office of Congressmen Jerry McNerney on the occasion.
Introduced next was author and humanitarian Ethan Casey who flew in from Seattle to join the walk. Ethan was recently recognized for his efforts and given an award by Greg Mortenson at a Central Asia Institute event. It was also his birthday, so the crowd sang happy birthday to him. In his brief remarks Ethan emphasized the need for mainstream Americans to get involved and decried the relative lack of interest shown in the case of Pakistan as comp ared to tragic events elsewhere in the world. Ethan has already written two books on Pakistan and is in the process of writing/publishing a new one on Haiti.
Food vendors (Pakistani food is always a big hit), Shop for a cause and Toy/Book drive organizers were present at the event and contributed to the fundraising. A DJ played upbeat Pakistani music to rally the participants and a quiz competition was held on the flood facts and figures plus other trivia related to Pakistan. Via a lottery three winners were awarded an iPod shuffle each for correctly completing the quiz. Eight grader Ahmer Jaffer and college student Shehryar Siddiqui also spoke about the flood and what youngsters can do to support this cause.
Mashal and the organizing committee deserve to be lauded for conducting such a meaningful and professionally managed event. Approximately $40,000 was raised along the way in support of the flood victims, a productive yet fun day in the sun enjoyed by all.