"Pakistan's Shattered Economy Needs Sincere Assistance from USA"
By Akhtar Jabbar & Fatima Khan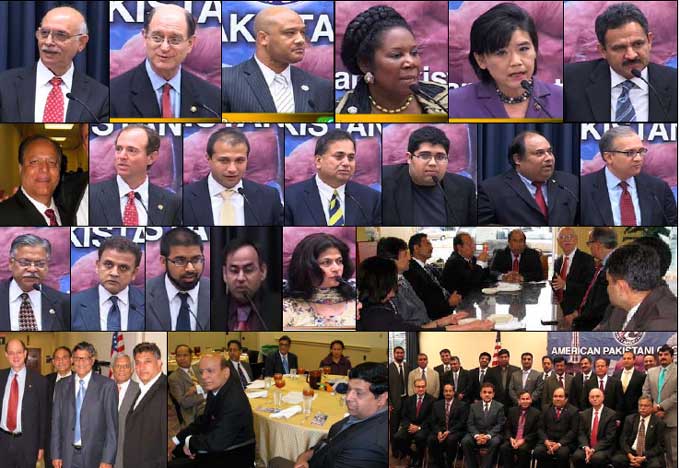 Glimpses of the 2nd Day on The Hill meeting hosted by American Pakistani CEO Forum on September 29, 2010 at Capitol Hill
"Pakistan's shattered economy needs sincere assistance from the United States of America". This was the focus of the 2nd Day on The Hill meeting held on September 29th, 2010 on Capitol Hill hosted by American Pakistani CEO Forum. APCF decided to take initiatives on the importance of PAK-US trade relations, upon concern of American Pakistani business community and leadership to support Pakistan's economy, which is badly damaged due to war against terrorism, and they asked for a fair share.
American Pakistani CEO Forum, a national organization, has taken up this initiative since 2009 to seek assistance of US lawmakers, members of the US Congress, Senate and legislatures to take these issues that Pakistan is facing in terms of economic development, improvement of more trade, bilateral agreement, foreign investment and the overall situation of Pakistan. The second Day on the Hill, held on Wednesday, September 29th 2010 at Rayburn House Building in Washington DC, was overwhelmingly successful due to sincere efforts of the President APCF Mr. Waqar Ali Khan, Chair National body Dr. Hasan Hashmi, and Chief Patron Mr. Qaisar Madad, Dr. Asif Mehmood, Dr. Maqsood Chaudhry and Mr. Siddique Sheikh. The convention was duly graced by members of US Congress who squeezed their time out of their strictly busy schedule due to the November Elections approaching in just less than a month.
Though there are a number of Pakistani organizations working on the Capitol Hill, yet not many groups have either contributed toward, or tried to understand the importance of, trade of Pakistani products in America. However, APCF, an organization of Pakistani business figures, rightly demands American government's cooperation toward developing Pakistan's economy by offering Pakistan free trade in the United States. The members of APCF repeatedly said that Pakistan is a frontline partner of America in the war against terrorism, which has cost the nation a fortune. They maintained that the war on terrorism has left Pakistan facing economic turmoil, unemployment, hunger, poverty and other social evils.
Terrorism is the root cause of all other social evils in Pakistan. The extremists employ unemployed people, offer them a significant amount of money, and turn them into terrorists. This has resulted into closure of factories and industries, discouragement of foreign investment, and much more. They added that Pakistan has paid an incalculable cost to continue to be an American frontline ally in the war against terrorism. Now it is the American counterpart's turn to tackle the issues that Pakistan and the people of Pakistan are facing and seek a solution for its shattered economy.
Because of the fact that Pakistan has become a front line state in the war on terror and the public safety is provided more by luck than the country's security apparatus, Pakistan's businesses are suffering. Foreign investments in Pakistan are down to trickles. There is shortage of jobs, shortage of electricity and natural gas, shortage of working infrastructure, and shortage of food and shelter especially for those who have been displaced by the on-going war in Swat Valley and the recent floods. Pakistan needs trade not aid to bolster its economy. Pakistan needs to export more. The United States needs to import more from Pakistan. That is a viable way to strengthen Pakistan's economy. The poverty in Pakistan provides a constant supply of individuals who are willing to blow up themselves not just for their beliefs in "jihad" but to provide money for their families. Economic assistance is urgently needed by Pakistan from its ally in the war against terror, the United States through the implementation of free trade and commerce between the two countries.
The APCF insists that Pakistan should be provided higher export share in the American market, custom duties be reduced on Pakistani products and the 'Free Zone Bill', which has already been granted by the Congress, should be implemented after properly passing it through the Senate so that the unemployed people in Pakistan could have some sort of job prospects and not fall prey to the Taliban tricks.
On September 29th, several Executive Directors and members of APCF gathered in Rayburn House Building where members of the US Congress and Senate were invited to come and express their thoughts on these issues. On this occasion, Congressmen Andrea Carson (Indiana), Brad Sherman and Adam Schiff (California), and Congresswomen Judy Chu (California) and Sheila Jackson (Houston) attended the convention despite their hectic November Elections schedule which demonstrated their sincerity and commitment toward Pakistan.
Congressman Andrea Carson said that the convention was a smart move by American Pakistani CEO Forum to make their voice heard on Capitol Hill. He maintained that Pakistani Americans are playing a pivotal role in every field of life; they have become the country's assets and the government realizes their importance. He added that he would definitely raise these issues in both the Congress and the Senate of Pakistan getting its fair share in trade.
Congresswoman Sheila Jackson, while agreeing with Congressman Carson, said that to raise these issues on the Capitol Hill was the right step to take. She said that she had been to Pakistan quite a few times and understands the fact that Pakistan's shattered economy is the result of its co-operation with the American government in the war against terror. The American government should seriously think about the demands raised at the APCF's platform. It should be clear, she added, for the United States to know where Pakistan, which has been our friend and long time ally, stands on our priority list. It looks like Pakistan is putting much more efforts to consolidate Pak-American relations than the US is.
Congressman Adam Schiff from California stated that the ongoing terrorism in Pakistan could prove to be lethally dangerous for both Pakistan and America. He appreciated Pakistan's determination to eradicate the roots of terrorism from South Asia and insisted on the importance of America's commitment to eliminate terrorism by increasing trade with Pakistan. The significance of increasing trade with Pakistan, he maintained, which can help fight terrorism in Pakistan and Afghanistan, has been ignored by the American think tanks. Pakistan products should be promoted in American market and export restrictions on Pakistan should be lifted. However, the local union system can be an obstacle in this regard, but there are a number of ways in which the US government can help Pakistan, he said.
Congresswoman Judy Chu, also from California, lauded the Pakistani community's position in California in general and praised Pakistan government's assistance to its US counterpart in particular. She said it was now America's turn to help Pakistan to come out of this turmoil by increasing trade between the two countries. Congresswoman Chu applauded the initiative taken by APCF to raise concern over Pakistan's economy and trade.
Congressman Brad Sherman, in his speech, acknowledged that Pakistan was one of the most important countries in the South Asian region and the most central country among the Islamic world in maintaining global peace. The American authorities would have to focus on the issue of increasing trade with Pakistan.

Innumerable Pakistani business owners and community members voiced their concern to the American authorities to anticipate the threats which could result from the worsening Pakistan economy and insisted on relaxations on trade with Pakistan to boost the country's economy. Several attendees from California, Chicago, Dallas, New York, New Jersey, Houston, Texas and Washington DC stressed the importance of lifting restrictions on Pakistan's trade with America and promoting and accommodating Pakistan products in the American market.

At the end of the meeting, members of APCF passed two resolutions to work on during this year: to increase US trade with Pakistan by $ 8.0 billions over next years. Work on $ 20-25 billions in aid to Pakistan for dams, containment reservoir building and hydro-electric projects through the United Nations and the World Bank.