Islamic Relief Raises Funds to Continue Its Good Work in Pakistan
By Akhtar M. Faruqui
Pictures by Anwar Khawaja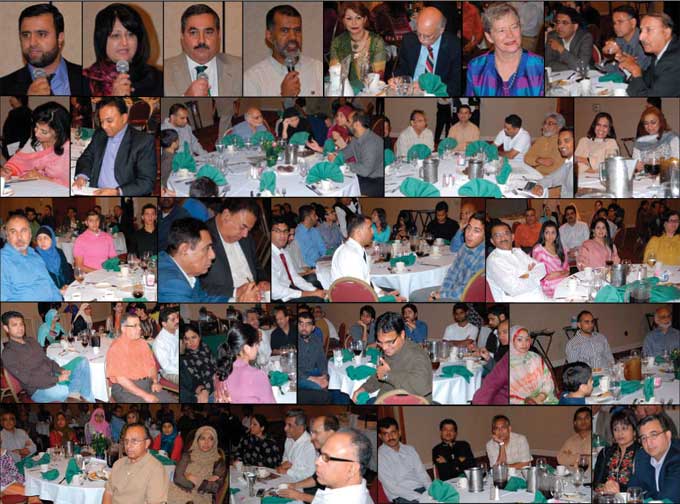 Pictures above: Glimpses of the fundraiser organized by Islamic Relief in conjunction with COPPA at the Knotts Berry Farm Resort Hotel in Buena Park
Buena Park , CA: Islamic Relief, one of the leading and highly rated charity organizations in the US, furnished proof of its deep concern for Pakistan flood victims on August 21 when it successfully organized a fundraiser at the Knotts Berry Farm Resort Hotel in Buena Park in conjunction with COPAA.
Nearly all leading lights of the community, including Dr Meher Tabatabi and Mr. Kaiser Madad, turned up to attend the fundraiser. COPAA President Mr. Adnan Khan was also present along with members of the Council's Board. Dame Barbara Hay, Consul General of Great Britain, was among the distinguished assemblage.
The three main speakers that evening – COPAA President Adnan Khan, Islamic Relief SW Regional Development Coordinator Abdulghafoor Mahboob and Pakistan Development Coordinator/Country Specialist Shaista Khan - spoke eloquently and described the pathetic conditions in which the flood victims are helplessly perched today. They emphasized upon the audience the pressing need to provide relief and succor to the victims.
Abdulghafoor Mahboob told the audience that Islamic Relief "outperforms most charities in the US" and its 500-strong complement of volunteers currently at work in Pakistan is playing an important role in the relief operations. The charity has been active in Pakistan since 1992 and "does wonders" with its unrelenting strivings.
(Islamic Relief provides emergency aid and long-term development services. In 2005, the charity helped raise more than $70 million in aid for the victims of the deadly earthquake in northern Pakistan. In 2006, the government of Pakistan presented Islamic Relief with the Sitar-i-Isaar –Star of Dedication – for its hard work in providing relief to the people of Pakistan.)
Shaista Khan enumerated the services provided by Islamic Relief to the flood survivors – food, hygiene kits, tents, sanitation facilities, temporary shelters, emergency items, etc. "The supplies are dwindling. We need your help," she told the gathering. She exhorted the Pakistani-Americans present to "act now to save lives." She also forcefully emphasized that images of the catastrophe do not portray its magnitude or severity.
Islamic Relief has increased its fundraising goal for the Pakistan flood victims to $4 million owing to the worsening conditions in the region. It has also collected more than $23 million in in-kind donations.
Islamic Relief launched its appeal on July 30 and since has been providing emergency assistance to survivors in part, by:
• Administering camps housing thousands of internally displaced people and setting up another camp for hundreds more Pakistanis.
• Constructing sanitation facilities in Nowshera using fiberglass slabs.
• Distributing family hygiene kits to benefit more than 20,000 people in Nowshera and Mardan, with 1,570 more kits on the way.
• Transporting hundreds of tents to disaster zone for distribution.
• Ordering and procuring 4,000 food parcels which are now ready for distribution to displaced families.
• Distributing household kits which include mattresses, mosquito nets, etc. in Sibbi and Nowshera to benefit nearly 20,000 people.
• Providing kitchen sets containing cooking pots, utensils, etc. to benefit nearly 20,000 people in Sibbi and Nowshera.
• Purchasing and preparing to distribute temporary shelters to house more than 5,600 displaced victims.
• Setting up hygiene sessions to educate flood victims about importance of hygiene for their health.
Islamic Relief USA is also coordinating a $23 million aid shipment filled with medical supplies and medicines to benefit flood victims.
The world's biggest search engine, Google, has featured Islamic Relief as an organization to support in the wake of the worst flooding in Pakistan's recorded history. Only two organizations were featured on the page.